Prime Minister Abe Shinzo became Japan's longest-serving prime minister as of the 20th of November, beating previous-record holder Katsura Taro by having served for a total of 2,887 days. He has enforced legislations that are unbenefitial to ordinary citizens and permit Japan to engage in the overseas wars such as "Peace and Security Legislation Improvement Act", "State Secrets Protection Law", and twice increased consumption tax. There is nothing worthey to note on his foreign diplomacy which just follows the US and treats Korea as a hostile country.
Construction of the new base in Henoko has been accelerated since the start of his adminstration. He has repeated, "We will provide sincere explanation" and "reduce the burden placed on Okinawa". But he has not yet shown any sign of respect to the results of the recent elections in Okinawa but pushes construction of the new base forward. Support for Abe cabinet has declined by 6% after the issue of cherry blossom-viewing event, but it is still too high. Non-ruling parties must unify as soon as possible to bring down Abe administration.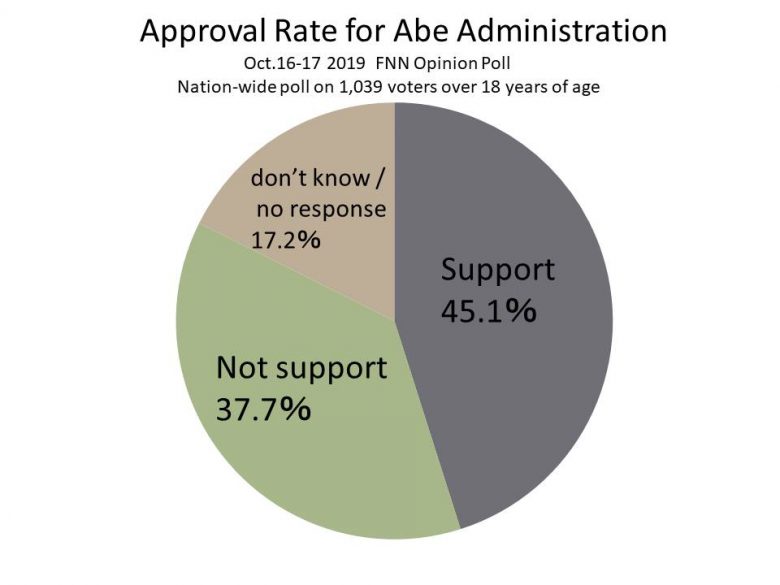 (In front of the Gate)
In the occasional light rain, nearly 30 people resumed the sit-in from 8:30 a.m. At 9:00 a.m. when concrete mixer trucks arrived being lead by a police patrol car, 20 men of the riot police force started removing the protestors. The protestors kept on shouting to the truck drivers while being surrounded by the riot police force.
"Don't destroy the Oura Bay!"
"Stop the illegal construction!"
This was repeated three times the day including noon and 3 p.m., and a total of 183 deliveries were made.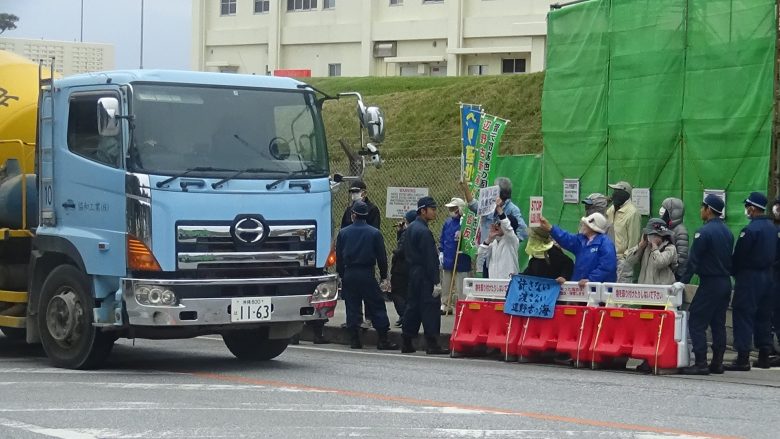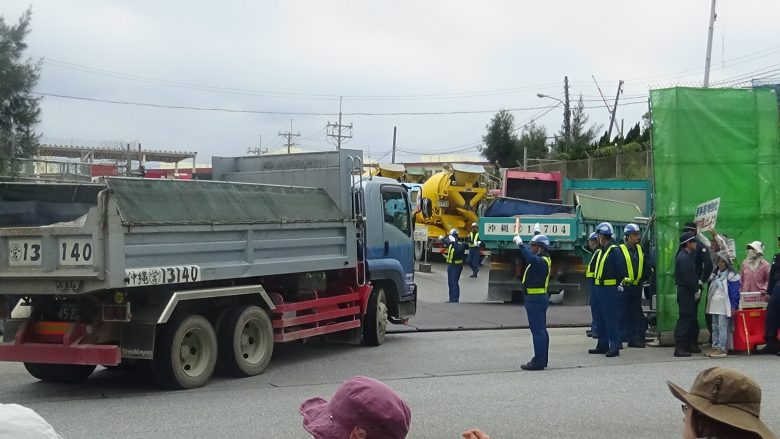 (In front of Ryukyu Cement Pier in Awa)
From 7:30 a.m., about 15 people resumed the protest rally against the dump truck drivers. Nearly 40 dump trucks were blocked by the protestors and lined up on the national highway not being able to enter the Pier grounds.
The canoe team with 9 canoes came to the pier to prevent the cargo ships from leaving. The team successfully delayed two ships by 40 minutes respectively, but the team was captured by the Japan Coast Guard and brought back to the beach each time. A total of 485 truckloads of earth and sand was loaded to cargo ships, and 3 ships left the pier.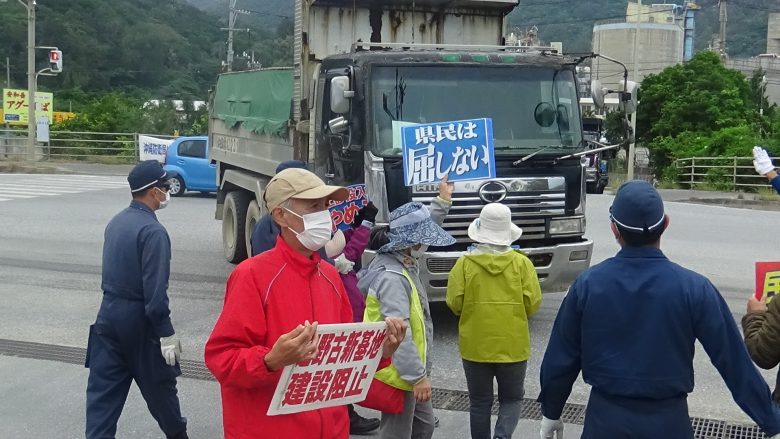 (Infront of the Shiokawa Pier in Motobu)
At 8 a.m., Motobu Town citizens and GOGO Drive campaign members blocked the dump trucks. But about an hour later, about 30 men of the riot police force arrived from Awa and removed the protestors. The delivery operation continued until past 3 p.m., and 292 truckloads of earth and sand were delivered.
Mr. Takahashi Hidenori, a member of the canoe team and 61 years old, gave the following comment.
"I have supported the protest since the referendum held in Nago City in 1997. But the number of participating protestors has been decreased. It may be because the protest sites have been split into Henoko, Awa, and Shiokawa. However, more municipalities in the mainland are issueing a statement of support for stopping the construction in Henoko. I like to see that Kobe City Council will issue the support statement. If this movement is extended to all municipaliteis in Japan, it is possible to bring down Abe administration."