A tremendous amount of earth/sand is required for landfill in the Oura Bay, approximately 25 milliom square meters which is beyond the capacity of Okinawa Prefecture to supply. Procurement will be made and transported by sea from 10 sites in Seto Inlands Sea and Kyushu Region. The anti-base movement with a protest slogan that "no hometown earth for construction of a military base" has gotten active day by day in local governments which are candidates for supplying earth/sand.
It has turned out in some localities that earth/sand cannot be carried out due to risks for environmental destruction or the soil regulations already in force, and therefore, the Okinawa Defense Bureau started to seek alternative sites.
The earth/sand are currently supplied from Motobu Town (in Kunigami area) in Okinawa Prefecture, amounting to 6.8 million square meters.
Motobu Town known as a supplier of high-quality crushed stones, has already leveled a few mountains. Construction of the new military base has changed a once-scenic beauty Motobu Town to a ghastly site. Destroying one of the most bountiful sea in the world by leveling mountains. How stupid it is!
A photo below shows a quarry in Motobu Town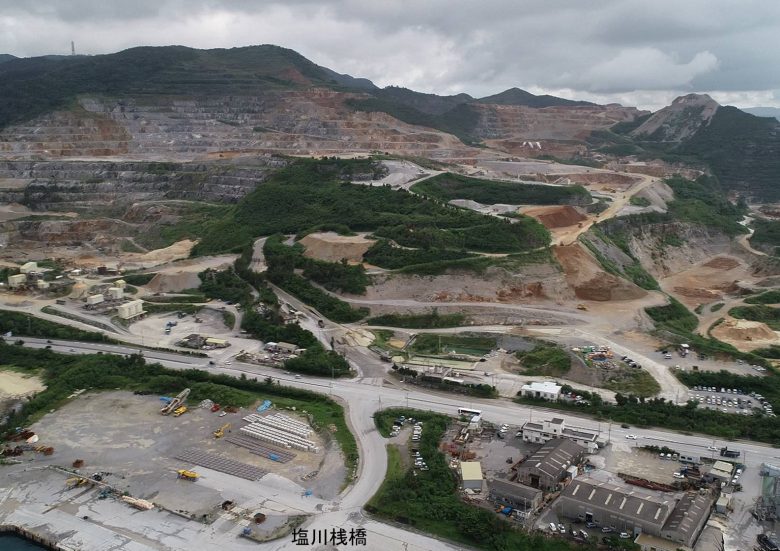 (In front of the Camp Schwab Gate)
About 50 citizens started the sit-in from 9: 00 a.m. The number of riot policemen changes in to that of protestors. About 30 protestors gathered today. It is really hard for a limited numer of the riot policemen to attend two protest sites, Motobu and Shiokawa. Sorry to have given you troubles!
The protestors were removed by the riot police three times; once in the morning, at noon, and once in the afternoon, and 153 vehicles, including concrete mixer trucks, delivered the material.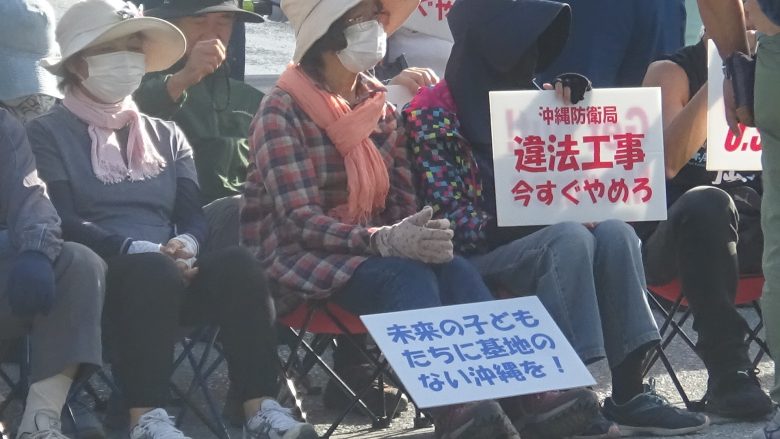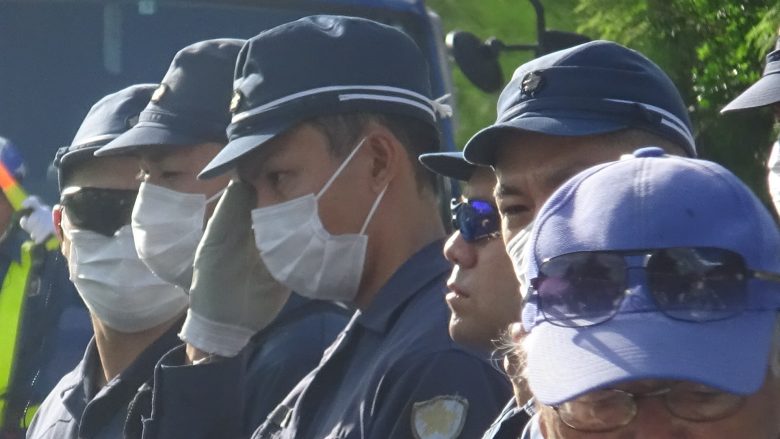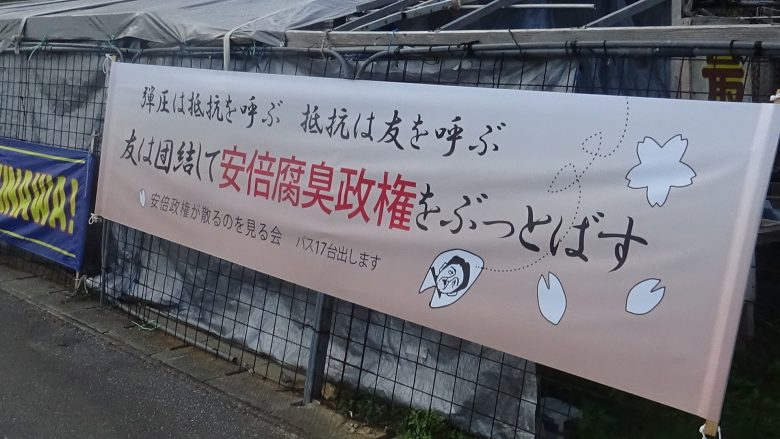 (On the sea at the Oura Bay)
The protest was cancelled due to high waves of the sea. The protestors were engaged in preparation for a mass rally on the sea to be held on the next day. No unloading of earth/sand nor landfill work was done at the Oura Bay.
(In front of Ryukyu Cement Pier in Awa)
Loading to a carrier ship was not done because Ryukyu Cement company used the pier for its own business of transporting crushed stones. But deliveries of earthl/sand into the pier gounds were carried out all day long.
Soaking wet in intermittent heavy rain, the protestors continued the rally in front of the gate. Go Go Drive members with 12 cars blocked the exit and delayed the deliveries. 445 vehicles delivered earth/sand into the pier.
No work was done at Shiokawa Pier.