On the day before yesterday, one year after the prefectural referendum, Governor Tamaki talked to the press:
Abe administration has been carrying out the new base construction in spite of the fact that 72% of the referendum votes opposed the land reclamation. "The government's policy to ignore opposition to the construction poses questions on democracy in our country." The Governor highly praised the Uchinanchu youths who took an initiative to call for a referendum and received nation-wide attention as well as support from the municipal assemblies. He is determined to keep on appealing that "democracy in Japan is being tested" through his talk-caravan and visits to U.S.
Lawyers and scholars have commented on accumulating problems on the new base construction. One of the comments was "Stop the construction for the time being, and discuss alternatives".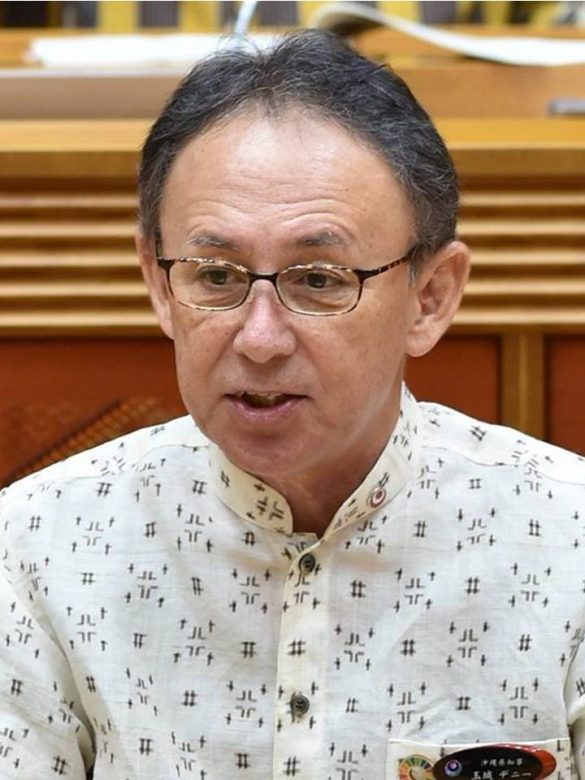 (In front of the Camp Schwab Gate)
Approximately 40 people resumed the sit-in from 9 a.m. The "5-Days Intensive Action" campaign participants from various parts of Japan raised their voices to critisize Abe administration. They clapped loud and laughed with the parody songs on the prime minister Abe and Okinawa Defense Bureau. It was pointed out that Okinawa Defense Bureau left the civilian security guards without a respirator. "The government employees wear respirators, but leave civilian security guards without a respirator?", an angry voice was raised demanding to deal with the situation immediately.
A convoy of delivery trucks run 3 times, and 158 truckloads in total were delivered.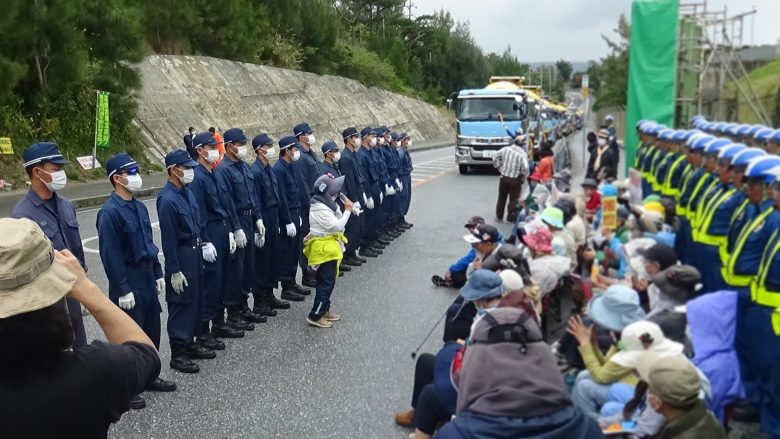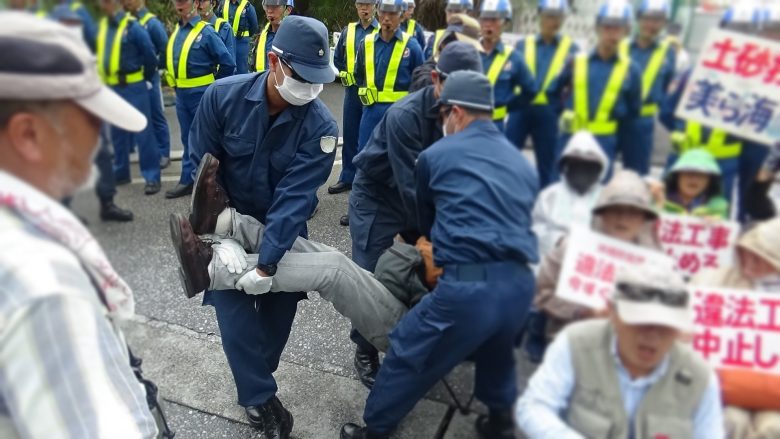 (In front of the Ryukyu Cement Awa Pier)
Following the yesterday's "5-Days Intensive Action" campaign, several dozens of people gathered in front of the pier at 6:30 a.m. Devided into 2 groups; the entrance and the exit, they protested against the dump trucks, "Do not destroy the sea!" and "Do not cooperate with illegal construction!"
After 7 a.m. 12 dump trucks that had been within the pier grounds started transporting the earth/sand from the storage pile to the conveyer belt. We have no ways to deal with this part of the operation. However, in order to delay bringing in new earth/sand, intensive rally with 12 cars of the "GoGo Drive" campaign was continued. Although the earth/sand newly brought in was much less than that of the usual daily delivery, 797 truckloads from the strogae pile were loaded to the cargo ships.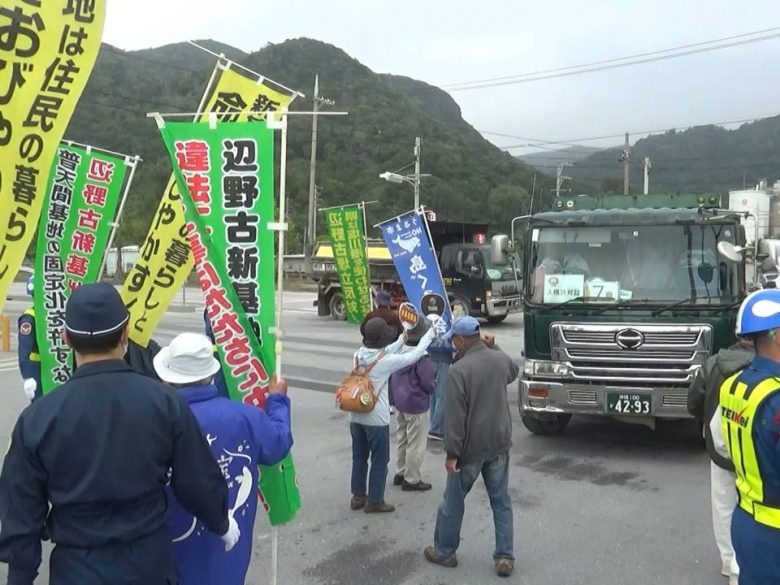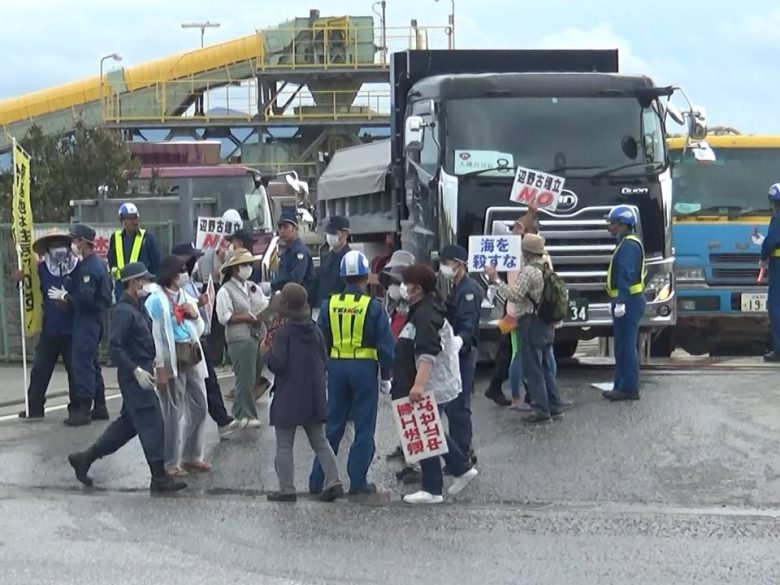 (Shiokawa Pier at Motobu Port)
Approximately 50 people were ready by 6:30 a.m. to stop the earth/sand deliveries. They had kept on rallying in front of several dump trucks that arrived about 7 a.m. to stop them until the riot police arrived at 2:00 p.m. After that, the protestors roamed within the pier grounds to delay the deliveries.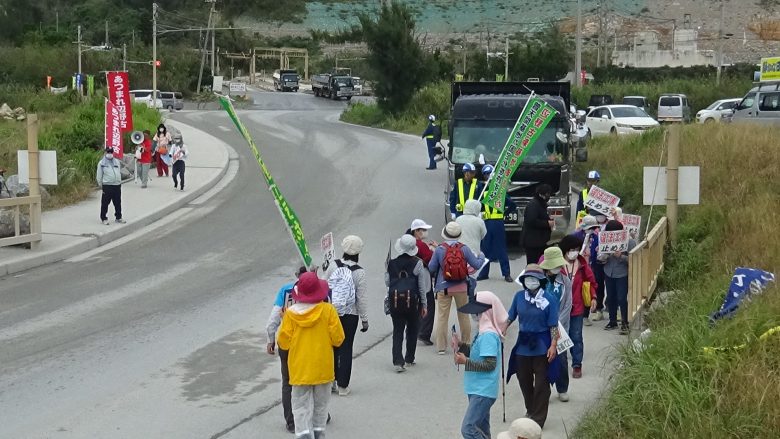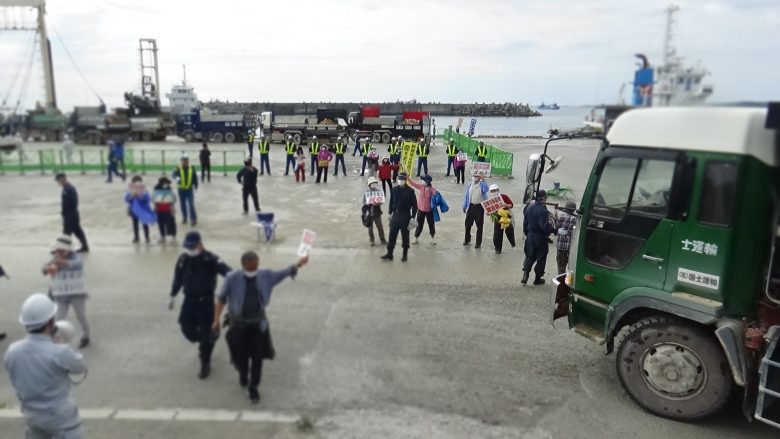 Number of dump trucks to date and percentage against the total
The weight and the volume of earth/soil were estimated per experts' advice
Number of dump trucks which made delivery from December 2018 to the end of December 2019 114,601(1.68%)
| | | | | | | |
| --- | --- | --- | --- | --- | --- | --- |
| | 22(Sat) | 24(Mon) | 25(Tue) | 26(Wed) | 27(Thr) | 28(Fri) |
| Awa | 0 | 0 | 797 | 713 | | |
| Shiokawa | 0 | 0 | 153 | 366 | | |
Number of dump trucks
※
Weightt of earth/sand

※①

Converted to volume

※②

Volume per Total

※③

145,247
871,482t
435,741㎥

2.113%
※ Cumulative since Dec. 1, 2019
※① Calculated by assuming that the average truckload per dump truck would be 6 tons
※② Calculated by assuming that a specific weight of soil/sand set to be 2