The intensive meeting held on the 1st Saturday of every month in front of the gate is usually attended by about 800 people, but the meeting in March was cancelled due to coronavirus outbreak. At the meetings, reports by Diet members on the issues discussed during the Diet session and by civil engineering experts on technical issues on the new base construction have been made, which provided a great learning opportunity for us. It is a big dissapointment that
Inadequate responses by Abe administration at the early stage of the outbreak has accelrated the virus to spread fast and widely. Some foreign countries have closed doors to Japan to avoid a risk of coronavirus infection. A coronavirus outbreak could have been a great opportunity for Abe administration to recover from unfavorable evaluation that they received because of the scandals of cherry blossom viewing party*, casino bribes*, and other inappropriate actions by the cabinet members.
However, they missed out an opportunity again. Being dogmatic and self-rightous, and disregarding the public opinion, the administration has proved that they also lack a risk control ability.
Regardless of the situation, the landfill work in Oura Bay has been going on. Who would trust the administration that conceals the data on the soft seabed and insists that "improvement of the soft seabed presents no problems"? We want the administration to resign as soon as possible. Impact of their actions and inactions is heavy on Okinawa and Japanese citizens whose tax money they waste.
* See the daily report of 1.31
The bird's eye picture taken on Feb 26th shows the current status of the landfill work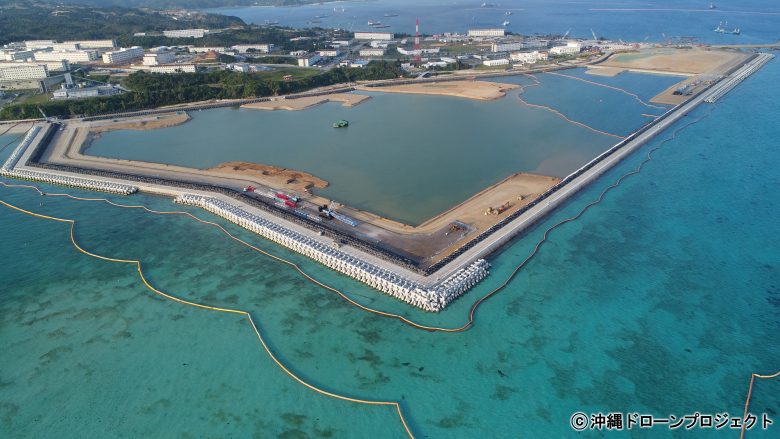 (In front of the Camp Schwab Gate)
The number of participants is small, maybe because of the coronavirus outbreak. Approximately 20 people resumed the sit-in rally. Trucks made deliveries 3 times, and total 107 truckloads were delivered.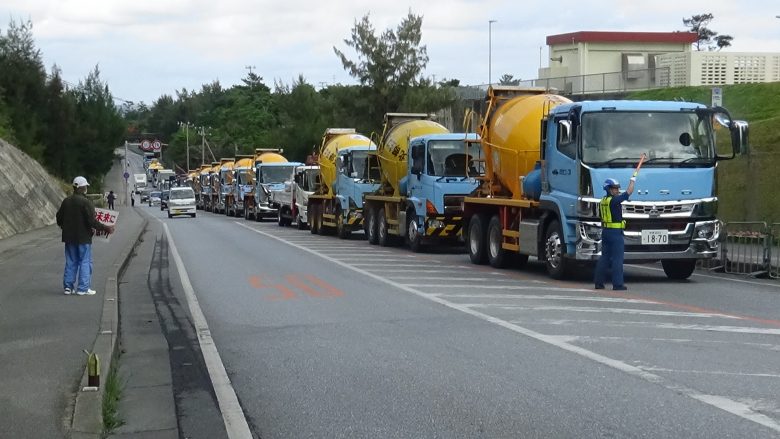 (In front of Ryukyu Cement Awa Pier)
The protest rally was held at 3 locations; the Pier entrance, the exit, and on the sea. The number of trucks has greatly increased because dump trucks are entering from both sides of the road. A pile of earth/sand in stock yard has grown to 5 meters high now. Delivered to the Pier was 750 truckloads, and 838 truckloads were loaded to 3 cargo ships.
The canoe team, "Henoko Blue", went out on the sea with 1 rubber boat and 14 canoes and successfully delayed the departure of the 1st cargo ship for about 1 hour and 20 minutes.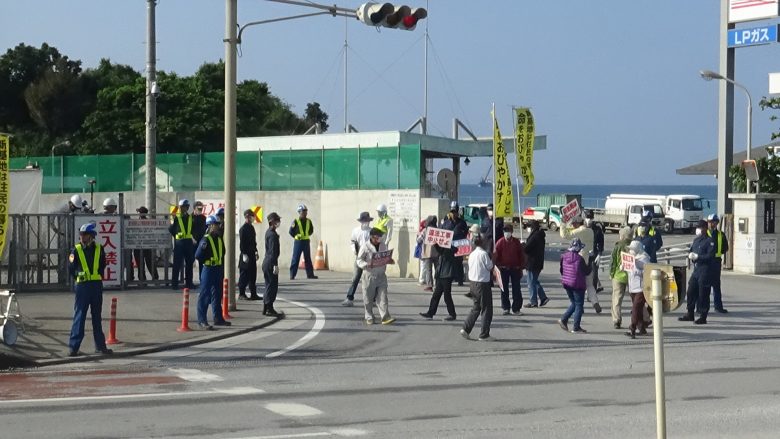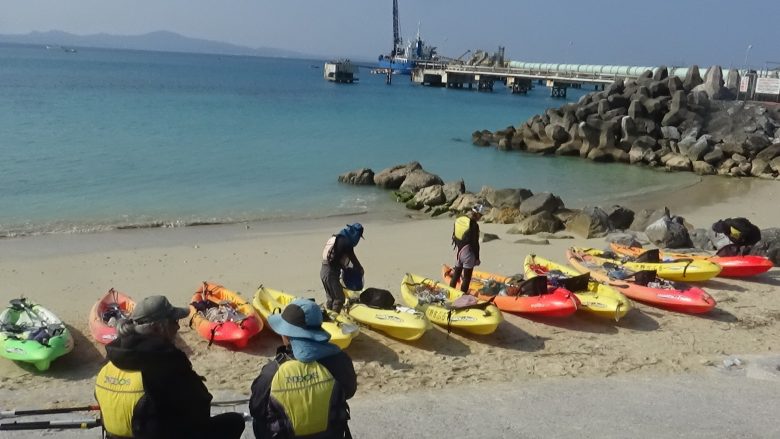 (Shiokawa Pier at Motobu Port)
Four members of Shimagurumi Motobu Town rallied all day long. The number of attending security guards amounted to over 50. They keep on standing without respirators. That is not the way to treat them. The Okinawa Defense Bureau who hired the security guards should take management responsibility to safeguard its employees from not only the fine particles of dust stirred by trucks but also coronavirus.
Three cargo ships were loaded with 446 truckloads of earth/sand.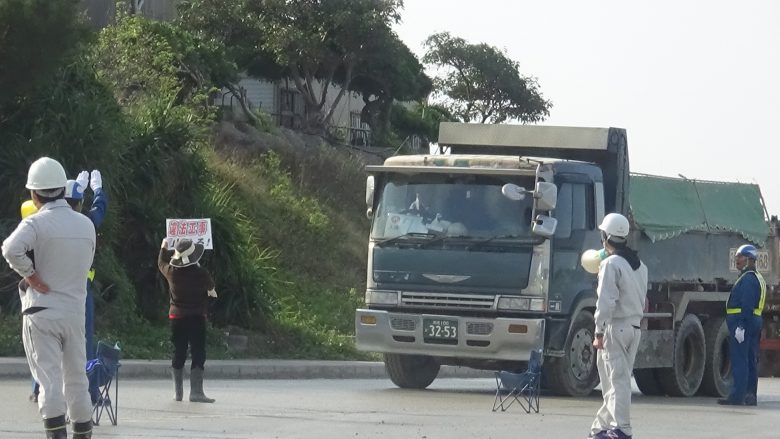 number of dump trucks to date and percentage against the total
The weight and the volume of earth/soil were estimated per experts' advice
Number of dump trucks which made delivery from December 2018 to the end of December 2019 114,601(1.68%)
| | | | | | | |
| --- | --- | --- | --- | --- | --- | --- |
| | 29(Sat) | Mar.2(Mon) | 3(Tue) | 4(Wed) | 5(Thr) | 6(Fri) |
| Awa | 0 | 963 | 647 | 564 | 675 | 838 |
| Shiokawa | 0 | 311 | 348 | 378 | 184 | 446 |
Number of dump trucks
※
Weightt of earth/sand

※①

Converted to volume

※②

Volume per Total

※③

153,076
918,456t
459,228㎥

2.227%
※ Cumulative since Dec. 1, 2019
※① Calculated by assuming that the average truckload per dump truck would be 6 tons
※② Calculated by assuming that a specific weight of soil/sand set to be 2