On April 10th, the fire-extinguishing foam containing PFOS, which is classified as "carcinogenic to humans," was massively leaked off Marine Corps Air Station Futenma and reached off-base local residential areas. The "mass-leakage incident" has provoked the Okinawans' wrath. 719 barrels of fire-extinguishing foam (equivalent to 143,000 liters) spilled into the nearby streams and neighborhoods. Rivers, fields, streets and gardens of residential houses were covered with white foam.
Internationally more and more countries have been prohibiting the use of fire-extinguishing foams containing PFOS, known as toxic to humans. PFOS is no longer manufactured in the United States. The Air Force decided in 2016 to stop using foam that contained PFOA and PFOS, and the U.S. military is reportedly moving ahead with plans to collect and destroy unused fire-extinguishing foam that contains PFOS and PFOA. However, U.S. military officials in Japan have said the fire-extinguishing foam used at Futenma contains PFOS.
After massive leak, Commanding officer of MCAS Futenma visited the residential area. Without doing anything, he asked if there was anything that they could do. The local firemen and city officials are taking care of the clean-up job. Local people have been enraged against the U.S. military by saying, "It's too irresponsible not to clean up after spilling the dangerous chemicals to off-base neighborhood." The prefectural government of Okinawa demanded access to the base to investigate the accident.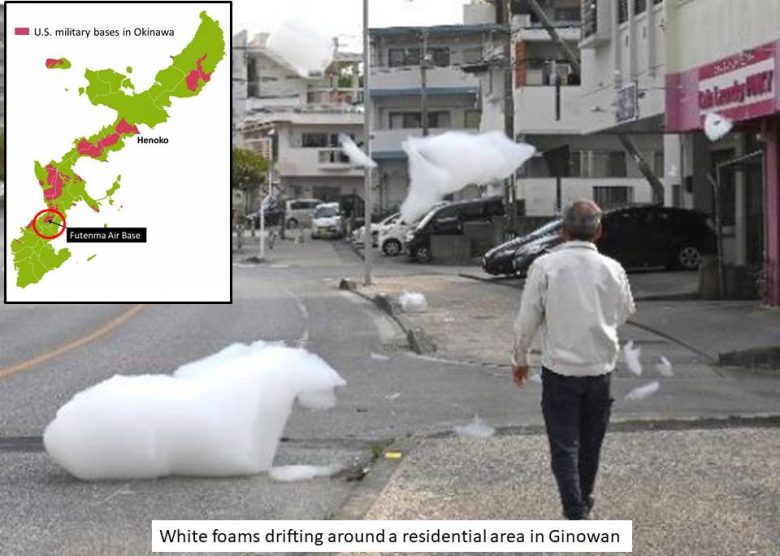 (In front of the Camp Schwab Gate)
On April 13, All Okinawa Kaigi decided to stop "Shimagurumi Bus" service transporting people from various places of the Prefecture to the Camp Schwab Gate in order to prevent the infection of coronavirus among the people. The unavoidable decision was made as the number of COVID-19 infections is increasing in various cities including Naha, Uruma, and Ginowan, as well as the enclosed space on bus would make the infection risk higher. The service suspension will last until the end of May. During this time, protest action will be kept by individual participants.
Despite the cancellation of Shimagurumi bus service, 15 people gathered from 8am to keep protest action alive as usual. Inamine-san from Nago said, "if no one is here to protest, the gate would be kept open. They would freely bring in construction materials without any obstacles. I cannot sit and watch that happen."
Toal 187 truckloads were delivered in 3 rounds.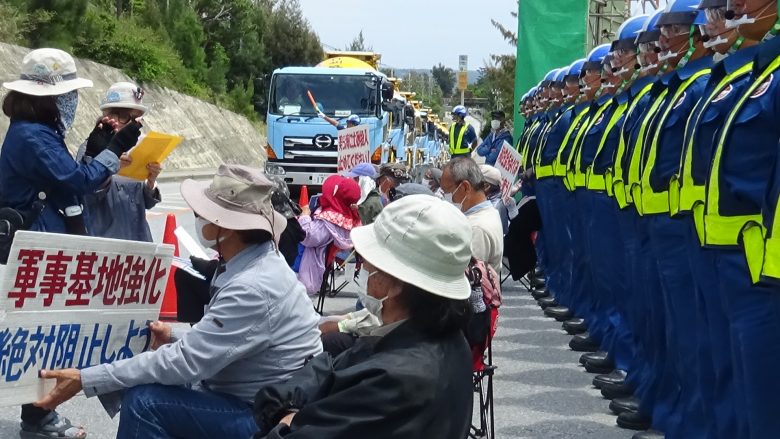 (Ryukyu Cement Awa Pier)
Ten people got together in Awa and kept protesting at the entrance and the exit of the pier. As the work was continued until around 4pm, 629 truckloads of earth and sand were brought in. 925 truckloads including the one piled up at the temporary storage site were loaded to 4 cargo ships.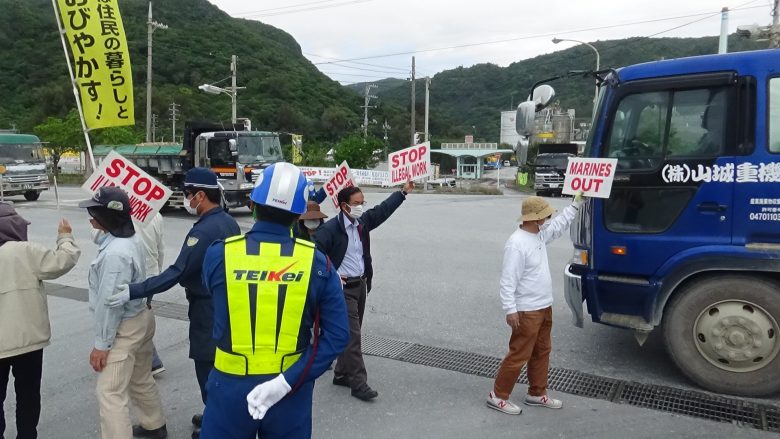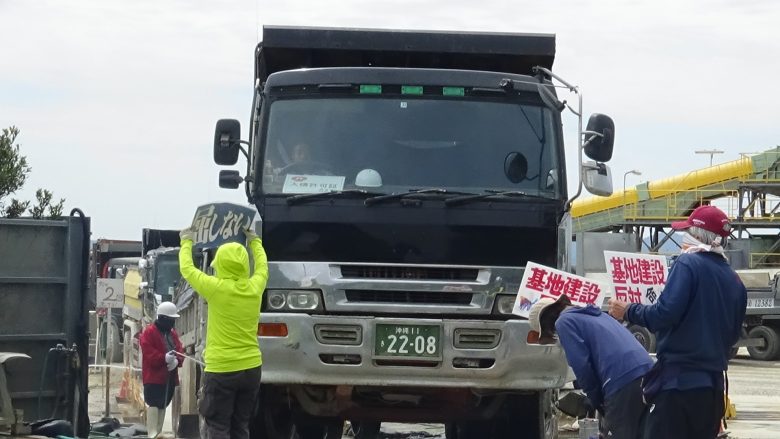 (Motobu Shiokawa Pier)
A group of 5 people from Motobu Town kept protesting whole day, by walking in front of dump trucks.
394 truckloads of earth and sand were loaded to 4 barges.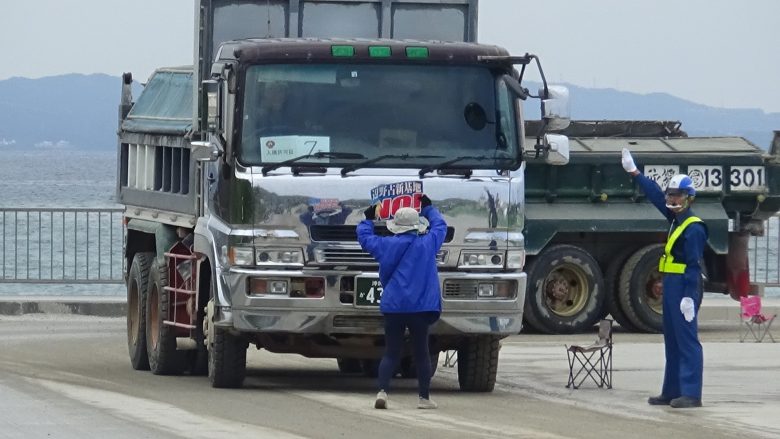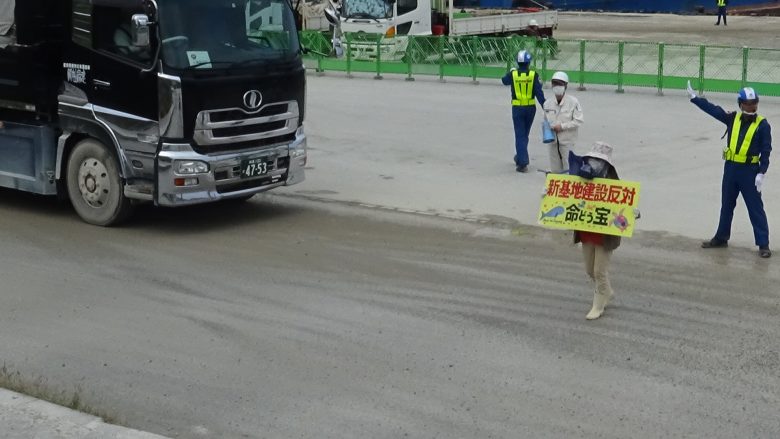 Number of dump trucks which made delivery from December 2018 to the end of December 2019 114,601(1.39%)
| | | | | | | |
| --- | --- | --- | --- | --- | --- | --- |
| | 11(Sat) | 13(Mon) | 14(Tue) | 15(Wed) | 16(Thr) | 17(Fri) |
| Awa | 0 | 268 | 847 | 925 | | |
| Shiokawa | 0 | 0 | 292 | 394 | | |
Number of dump trucks
※
Weightt of earth/sand

※①

Converted to volume

※②

Volume per Total

※③

179,939
899,695t
449,848㎥

2.182%
※ Cumulative since Dec. 1, 2019
※① Calculated by assuming that the average truckload per dump truck would be 5 tons
※② Calculated by assuming that a specific weight of soil/sand set to be 2
※③ Percentage against 20.620.000m3, the total volume of earth and sand required for the landfill.