(July 27, 2018 Ryukyu Shimpo)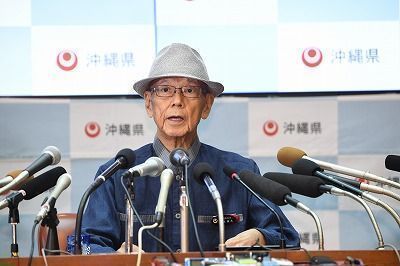 On July 27 at 10:30 a.m., Governor of Okinawa Takeshi Onaga held a special conference at the Prefectural Office.
Regarding the replacement facility for Futenma Air Station being built in Henoko, Onaga announced that he will revoke his predecessor's approval of the land reclamation permit.
Onaga said, "To allow the approval to fill in public waters to remain in effect — despite recognition of ODB violations of 'Points to Note' [included in the approval] and its ex post facto non fulfillment [of terms] — would not be in line with public interest."
He publicly indicated that he is pursuing revocation procedures.
The Okinawa Prefectural Government's first steps in these procedures are to hold a hearing with the central government doing land reclamation work in Henoko, and to notify the Okinawa Defense Bureau (ODB) of the hearing.
The Okinawa Defense Bureau has informed the Okinawa Prefectural Government (OPG) that if things go quickly land reclamation work will begin on August 17.
Onaga will use the best of his administrative authority to block soil deposits in the ocean area of Henoko.
At the beginning of the conference, Onaga criticized the Abe administration's stance.
Onaga said, "The U.S. and North Korea are continuing efforts toward denuclearization of the peninsula and easing tensions.
I cannot approve of the Japanese government's stance, coercively pushing forward with the Henoko replacement facility plan decided upon over 20 years ago.
I feel uneasy about what will be left in the wake of the current sweeping movement for peace."
Regarding the construction work that is currently being moved forward, he explained, "I think it is insolent the way construction is being conducted.
Construction was moved forward without environmental conservation measures or even preparing prior consultations.
I have concluded that we cannot overlook things like notification of soil depositing as set forth in the Okinawa Prefecture Red Soil Prevention Ordinance." Furthermore, he asserted, "I will exhaust all methods and put all my strength toward fulfilling my committment to not allowing the new base in Henoko to be built."