On the 3rd of January, Mr. Ryuichi Sakamoto, a muscian, started a world-wide signature campaign to "Stop construction of a new military base" via his face book. He is such a famous musician in the world that his appeal was rapidly spread via SNS, with the number of signatures increased threefold, from less than 5,000 to more than 15,000 at 21:00pm on Jan 7.
The campaign wa started by Nature Conservation Society of Japan (NACS-J) last October after Mission Blue, the U.S. environmental NGO, declared Oura Bay as "Hope Spot", one of the important marine areas in the world. Mr. Sakamoto shares the NACS-J website with his face book entry of "Let's sign" in English and Japanese. Expectation is high that the campaign will draw international attention on the issue of a new military base in Henoko, as did the campaign lead by Robert Kajiwara two years ago.
→署名サイト(English)
→署名サイト(Japanese)
Ryichi Sakamoto Tuitter https://twitter.com/ryuichisakamoto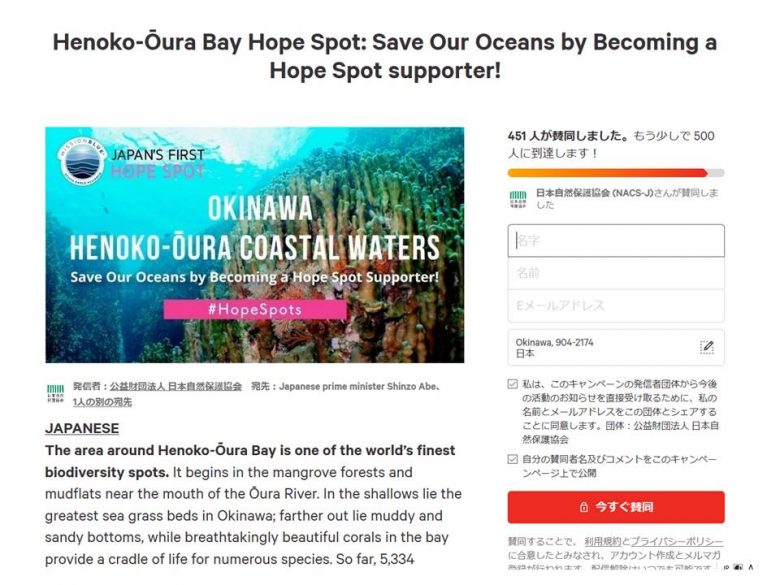 (In front of Camp Schwab Gate)
About 60 protestors staged a sit-in in front of the gate and continued to rally all day. The number of the vehicles delivering material has been decreased almost by half since the last summer. No policy on how to improve the soft seabed in Oura Bay has been determined, but the government of Japan has slowly reclaiming a shallow water of the sea by Henoko. It seems as if the government of Japan wants to show off that the reclamation is progressing alright.
Meantime, the sea is surely and slowly killed day by day. The drone regulation law has made it difficult to monitor the landfil situation from the above, but almost 30% of the sea at Zone 2 and 2-1 have been already reclaimed with earth/sand.
172 vehicles delivered the material in three times.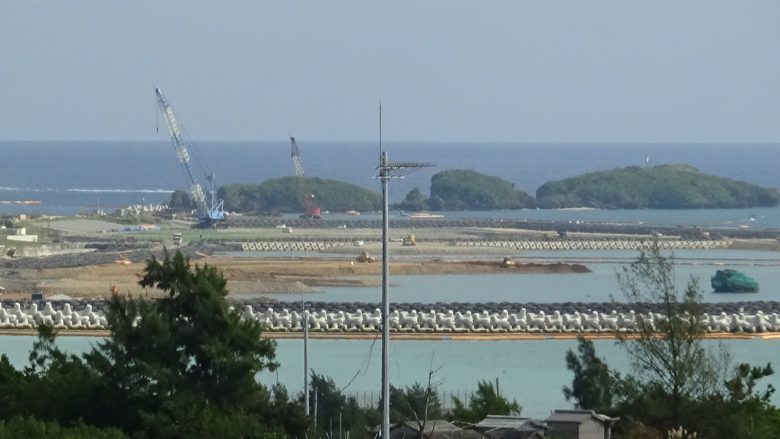 (In front of Ryukyu Cement Pier at Awa)
About 30 members of "Okinawa Peace Forum" of Naha City rushed to the pier at about 9:00am and started the protest, singing songs. They continued to stand there to delay the run of dump trucks in front of the gate in the morning. In the afternoon, the number of protestors was decreased to four, but they continued the protest until after 17:00pm when regular work hours ends. 576 vehicles delivered earth/sand, and three carriers left the pier for Oura Bay.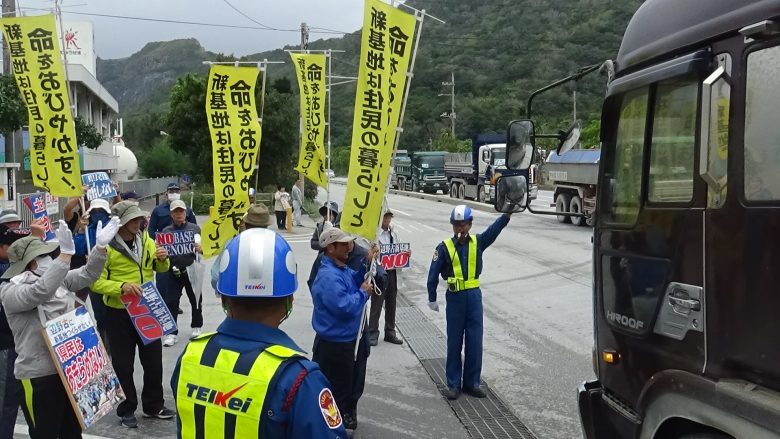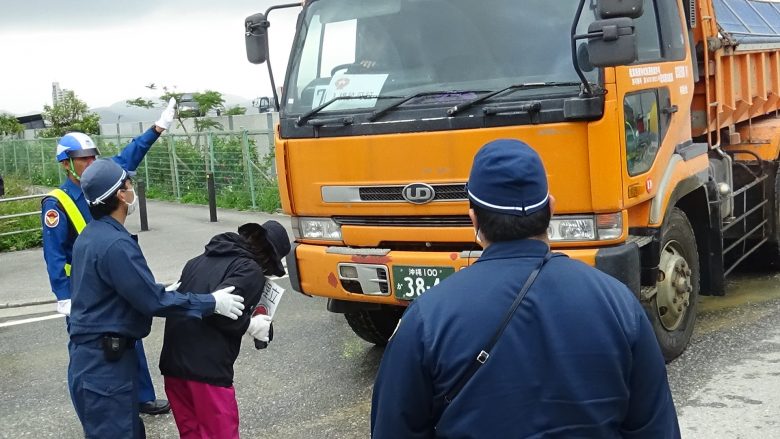 (Shiokawa Pier at Motobu Town)
The carriers could not dock at the pier due to high waves, which resulted no work for the day.