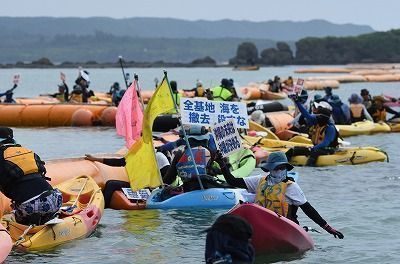 June 25, 2018 Ryukyu Shimpo online edition
A team of about 70 vibrantly colored citizens' canoes face the Japan Coast Guard's black inflatable boats, separated by an oil fence.
As a backdrop to the contrasting colors of the two sides, the "thuds" of the machinery steadily performing seawall construction resound.
On the morning of June 25 on the shore portion of Camp Scwab in Henoko, Nago City, citizens began their on-water protest. As a team, the 70-or-so canoes and 9 protest boats faced the shore, and those aboard called at length for base construction work to stop, fervently yelling things like, "cease illegal operations," and "protect the coral."
However, the Japan Coast Guard warned the protesters that they were conducting their protest in the temporary restricted zone.
On June 25 at about 9:10 a.m. near the shore of Camp Schwab in Henoko, Nago City, citizens on the ocean protest construction of a new base in Henoko.
At about 9:30 a.m. the protest became tempestuous, and many protestors in canoes crossed the oil fence.
Many of the canoes were blocked by the Coast Guard's boats and forced back onto the other side of the oil fence.
Citizens call "protect the coral" from 70 canoes and 9 boats to protest Henoko base