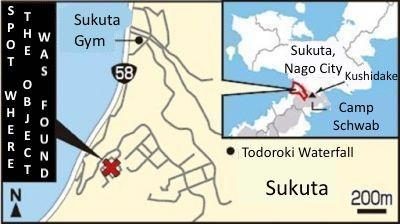 June 22, 2018 Ryukyu Shimpo online edition
On June 21 at about 2:00 p.m., an object resembling a bullet was reported found at a small work cabin in an orchard in Sukuta, Nago City. No one was injured, but two panes of glass in the cabin were damaged.
According to the property manager, a 44-year-old man of Nago City, the bullet-like object is about 5 centimeters long and 1.2 centimeters in diameter.
The object appears to have flown in from the southeast, breaking the glass of a sliding door, ricocheting off a wall, and hitting a high window in the cabin.
Sukuta is adjacent to Camp Schwab, where live-fire training is conducted.
Incidents involving stray bullets have occurred in Sukuta in the past.
The Prefectural Police are conducting an investigation and think that it is possible that on this occasion, too, it could be a U.S. military bullet.
The Nago Police found the bullet-like object took custody of it.
They will use the proper channels to appraise the object, and depending on the results, they plan to make inquiries about the object to the U.S. military.
The Okinawa Defense Bureau (ODB) notified surrounding cities, towns and villages, including Nago City that the military would be conducting live-fire training between June 18 and 24. As of June 22, the Prefectural Military Base Affairs Division has been moving to coordinate a visit to the site to verify the circumstances surrounding the object.
According to the property manager, on his way home after some work on June 21 around noon, he noticed some glass in the cabin was broken.
After searching the rooms, at around 2:02 p.m. he made his report.
At about 5:00 p.m. on the previous day, the property manager had been inside the cabin to do some cleaning and had not noticed anything unusual at that time.
The cabin is about large enough for five or six people to sit while on break or when sorting fruit.
The property manager said: "Routinely, [U.S. military] firing is audible. I think [the object] belongs to the U.S. military.
I thought this place was safe because [training] is controlled, but now I want to request that measures against the recurrence of such an incident be taken."
In an interview with Ryukyu Shimpo, the Ministry of Defense's ODB said that it is gathering information.
In 2002 in Sukuta, Nago City, a U.S. military M2 machine gun was fired at close range to a field where farm hands were working, and a stray bullet landed near workers in the field.
Orchard cabin windows damaged by stray bullet near Camp Schwab, police suspect U.S. military