(In Front of the Gate)
If we protest, let us do it with dance and songs. When Mr. Kinjo Minoru, a sculptor, visits us, he makes us relaxed with songs and laughter. Approximately 40 people sat and kept on singing until removed (like pulling burdock roots out). From Tokyo, 10 students of Senshu University joined us. They stared in amazement at the riot police removing the protesting citizens who were totally no violent. Three times from the morning into the afternoon, 226 truckloads deliveries were made mostly by concrete mixer trucks.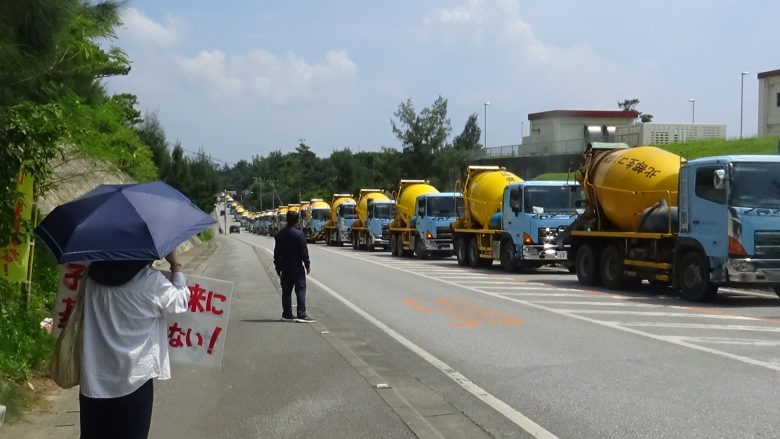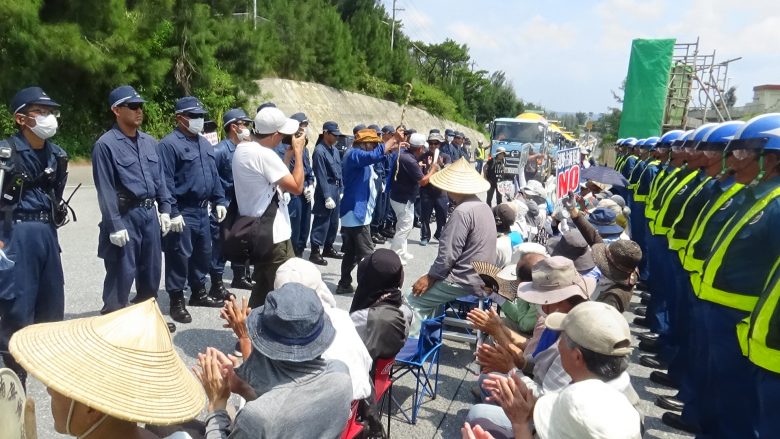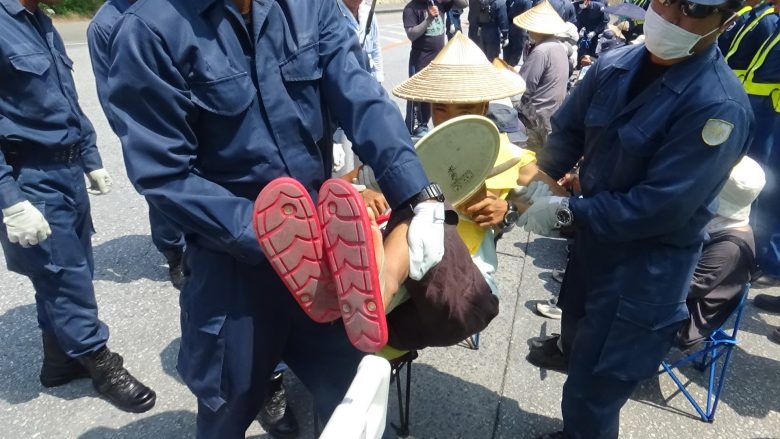 (On the Sea in Oura Bay)
Two boats and 14 canoes went out on the sea to protest. They confirmed that wave dissipating blocks were being dropped into the sea at K1 seawall, which is approximately 100m away from the floats. The canoe members went over the floats to approach K1 (see the pictures), but were caught by the Coast Guard and brought back to the beach.
They do not give up. Trying to stop reclamation and being caught and brought back to the beach was repeated many times today, and it will be repeated many times tomorrow, the day after tomorrow, and on the fallowing days to come.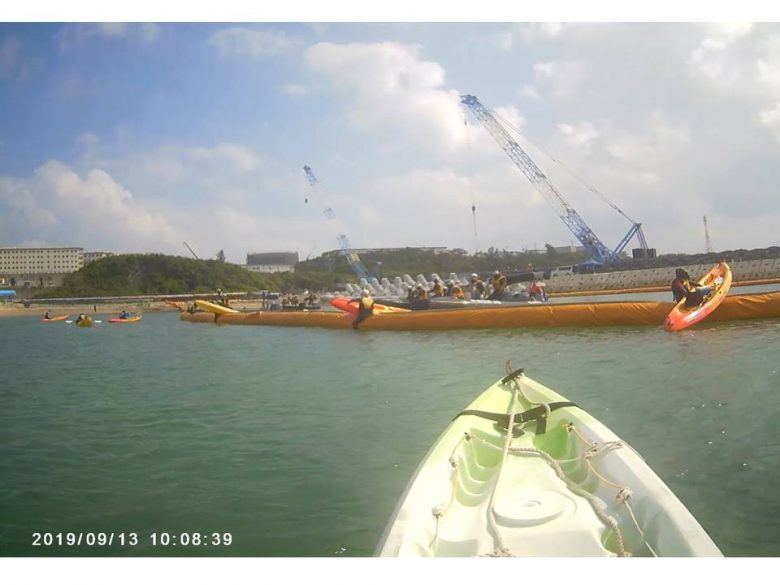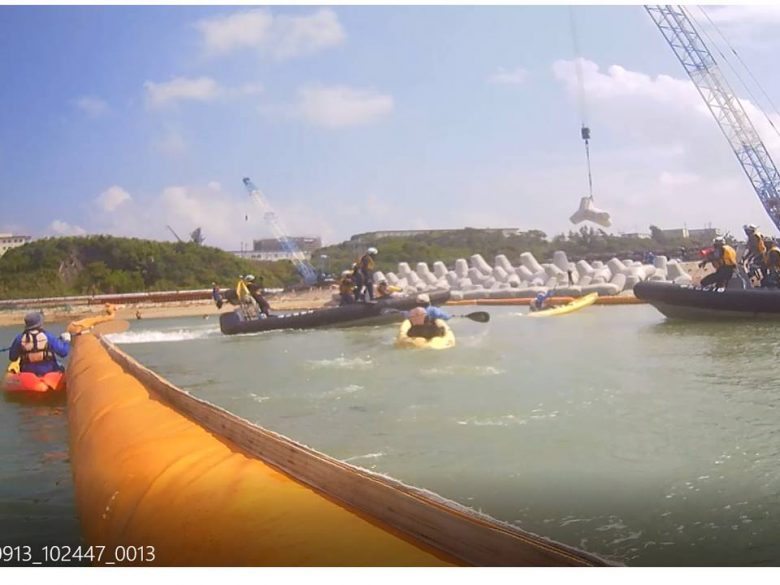 (Protest in Front of the Piers)
Maybe because a tropical cyclone is coming closer, no delivery of earth and sand in Awa and in Shiokawa. In Awa, earth and sand in storage were loaded to cargo ships, but loading was stopped due to malfunctioning of the conveyer belt in the afternoon. When a typhoon comes, the construction work definitely stops. This typhoon season is not yet over. How many times more can we expect typhoons to stop the construction work?
(Other)
As per the records maintained by Motobu Town "Shima-Gurumi Kaigi" (Island-wide Conference), details of loading of earth and sand are as follows:
– Ryukyu Cement Co. Pier in Awa, during the period of Dec. 3, 2018 – Aug.31, 2019, approximately 72000 truckloads
– Shiokawa Pier in Motobu Town, during the period of Apr. 25- Aug.31, 2019, approximately 5600 truckloads
Provided that one truckload is about 6 tons and that the specific gravity of earth and sand is about 2.0, a total volume of earth and sand used for landfill is estimated to be approximately 232,800m3. The total volume to complete the landfill is projected to be 20,620,000 m3.
Therefore, 232,800÷20,620,000=0.0113
That is to say, only 1.13% of landfill is completed.