Today is the final day of the five-day campaign. Anticipating that empty trucks might arrive during the night, 5 of us decided to stay up all night and kept watch. From around 7 o'clock in the morning, people started to join us one by one. All is well that ends well. The campaign leader got everyone excited by stating that "Today is the last day of the campaign. We shall halt the landfill dumping activities."
At 8 o'clock, the number of protestors at the entrance of the pier reached to approximately 100. There was no sign of a dump truck so far. At 9 o'clock, no sign of a staff of the Defense Bureau, and at 10 o'clock, still none. It seemed that they finally had given up their work for the day. Optimistic comments, like "we won!" and "for 5 days we successfully stopped the construction!" were made amongst the protestors.
A group of young people from the mainland Japan gave a performance of "Henoko Sōran Bushi" of which lyrics and dance were edited from the traditional version to fit the Henoko situation, and the audience laughed and applauded enthusiastically. Until the evening several tens of people remained to keep guard.
The United Henoko committee that organized the five –day campaign this year also organized "500 protesters for one week" last year. On the first day of the last year's campaign; however, the heavily mobilized riot police removed all of the protestors within a few hours —a memory that is still vividly alive amongst the protesters. This time the committee took a great care in preparation for the five-day campaign: a notice of the campaign was sent all over Japan, the significance of the five-day campaign was discussed at social gatherings prior to the campaign, and an elaborate plan of the campaign was completed. At social gatherings it was reconfirmed that "Justice is on our side. When a large number of people show their presence and act with confidence, the construction work will be stopped." And this is exactly what we successfully accomplished during these 5 days.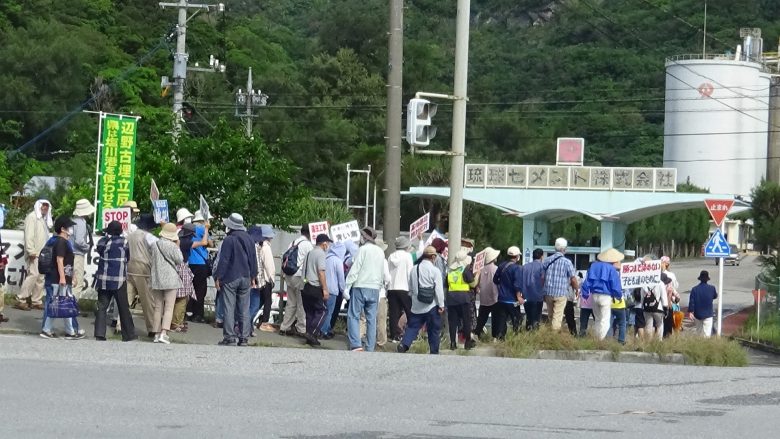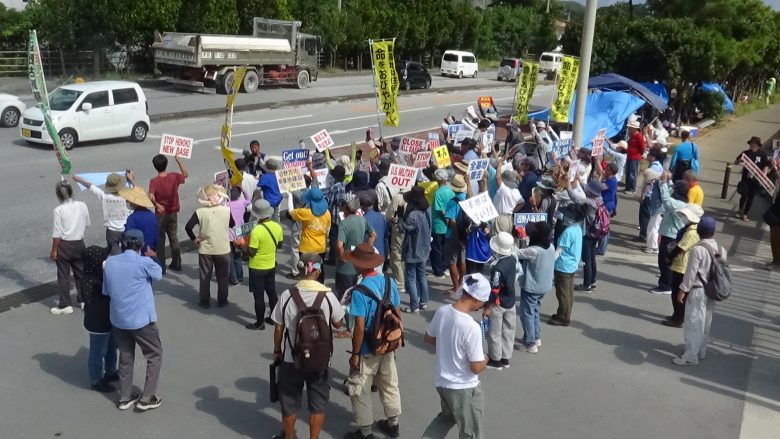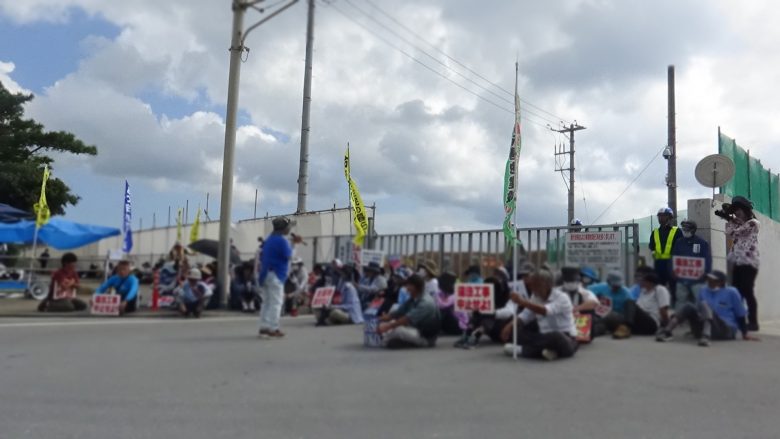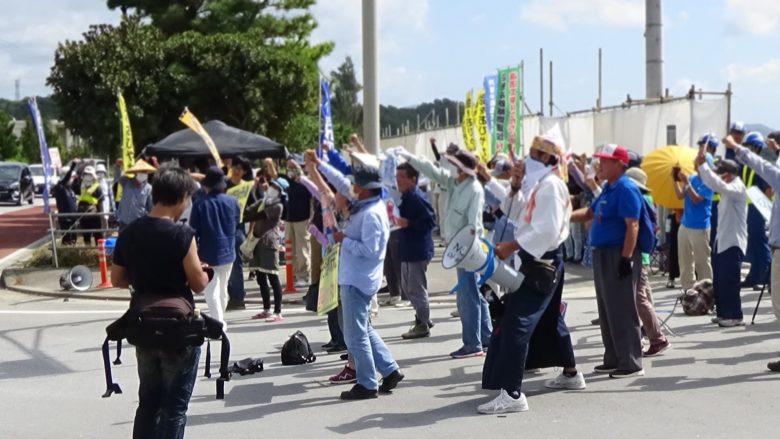 (Others)
A great news was announced. An American environmental NGO designated Henoko's Oura Bay as a "Hope Spot" being one of the most important maritime regions in the world. The designated area covers the Oura Bay and stretches 44.5 km of waters between Tenninya in Nago City and Matsuda in Ginoza Village. Over the world there are more than 110 places designated as "Hope Spot," but this is the first one in Japan. The authorization is given by the U.S. based NGO, Mission Blue. The NGO was founded in 2009 by an oceanographer, Silvia Earle, who emphasized the importance of the sea by Henoko and stated that, "we have to support the biodiversity of the ocean, since it is the very basis of our existence." Regarding the new military base construction, she added the following message.
"This is the time for everyone who is aware of the importance of our irreplaceable nature to express her/his doubts loud and clear."