August 14, 2018 Ryukyu Shimpo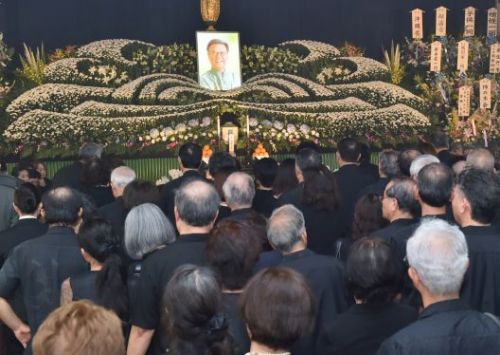 A memorial service for Okinawa governor Takeishi Onaga, who passed away at age 67 on August 8, was held at Daitenji temple in Naha August 13.
This is the first time that an Okinawan governor has died while still in office.
Approximately 4,500 attended the ceremony to say farewell to Governor Onaga, who fulfilled his duties as the leader of Okinawa's government right up until the end.
Observers came to pay their respects and give gratitude to the man who spent his live pursuing the belief that the unreasonable nature of the base issue in Okinawa should be made known nation-wide.
Okinawa Prefecture organized an executive committee from members of the Okinawa Prefectural Assembly and other related organizations who will continue to make preparations for a public memorial.
At noon on August 13, a car carrying Governor Onaga's remains and portrait departed from his home and traveled past Naha City Hall and Okinawa Prefectural Office, where Onaga held office during his life, before making its way to the funeral at Daitenji.
Employees from both Naha City Hall and the Prefectural Office as well as many Okinawan residents followed the procession carrying banners with messages such as "Thank you Governor Onaga."
At the funeral held right before the memorial service, former governor Keiichi Inamine said in his remarks, "The heart of Okinawa that longs for peace will be passed on to the next generation."
At the general incense offering, representatives from political offices, businesses, and organizations were followed by countless other residents to say their farewells.
Governor Onaga had one of the highest approval ratings amongst all of Okinawa's governors for standing up to both the Japanese and American governments' efforts to relocate MCAS Futenma to Henoko in Nago City, and for calling for a reduction to Okinawa's excessive base-hosting burden.
His sudden passing was met with surprise and sadness, with condolences and flowers coming in from not just Okinawa but all over the country.
Governor Takeshi Onaga died at 6:43 p.m. on August 8 after being hospitalized due to complications from pancreatic cancer.
(English translation by T&CT and Sam Grieb)