(In front of the Gate)
Singing "Okinawa, let us stand up now" as usual, 40 people resumed the sit-in at 8:30am. No dump truck today. But many people gathered here from within and outside of Okinawa and voiced their protest against bringing in the construction material. One participant's speech was welcomed with a large applaud. "The daily protest in Henoko is like a small dot that is often erased. However, continuing the daily protest eventually connects the dots into a line, makes the line thicker and into a plane, then into a three dimensional object. So will our protest grow and be extended to the world. Do not give up! Let us continue the protest!"
The maximum number of today's participants reached 160.
Picture #1: A hand-made banner says "Life is a Treasure".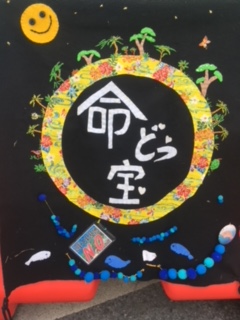 Picture #2: The right side of the yellow line on the road belongs to a US military base, while the left side is a national highway of Japan.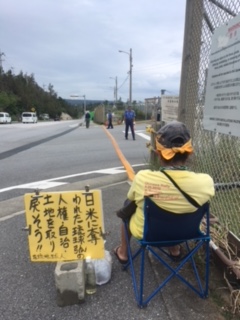 Picture #3: A hand-made fan to appeal to the passing drivers.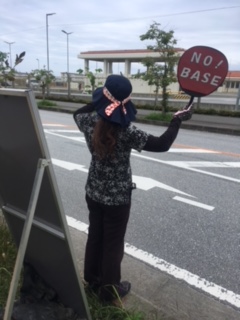 (On the Sea)
Two boats to protest, 15 canoes, and 25 people on board. Most of the canoe members were detained again today. The contractors were engaged in lowering the antipollution film into the sea.