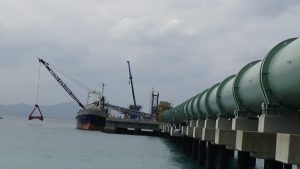 On December 6 at 9:50 a.m. at the Ryukyu Cement Co. pier in Awa, Nago City, citizens opposing the construction of the new base protest on canoes while sediment continues being loaded onto the ship (Photograph by Jan Matsumoto)
December 6, 2018 Ryukyu Shimpo
On December 6 at the construction site for the Futenma Replacement Facility in Henoko, Nago City, the Okinawa Defense Bureau moves forward with hauling sediment from the Ryukyu Cement Co. pier in Awa, Nago City.
Hauling work resumed on December 5 in spite of the Okinawa Prefectural Government's repeated administrative guidance for halting operations. Citizens who carry out sit-in protests raised their voices in anger against the hauling work being forced through, saying, "Isn't Japan a law-governed country?"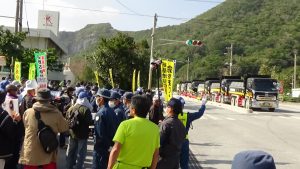 On December 6 around 8:30 a.m. a woman raises a banner saying, "I want to protect this sea."
The ship carrying sediment to Henoko docked at around 7:00 a.m. at the pier. Then, around 8:00 a.m., about 80 riot policemen removed some 25 citizens who were staging a sit-in protest. Construction vehicles loaded with sediment entered the Ryukyu Cement Co. lot one after another. Sediment was loaded onto the ship by a conveyor belt.
At 8:46 a.m., a canoe team that stages sit-ins on the sea at Henoko began a protest at Awa with 10 canoes and one rubber boat. They raised a banner bearing the words, "Stop the new base," facing it toward workers on the ship carrying sediment, urging the workers to halt hauling work.
(English translation by T&CT and Megumi Chibana)