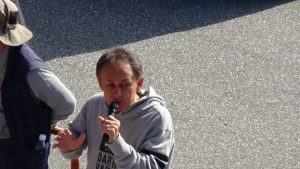 Governor Denny Tamaki responds to reporters' questions on December 15 at Henoko Fishing Harbor in Henoko, Nago City.
December 16, 2018 Ryukyu Shimpo
On December 15 as part of construction of the Futenma replacement facility in Henoko, Nago City, soil deposits into the planned land reclamation area at Cape Henoko on Camp Schwab continued. Work temporarily stopped when the soil hauled in on December 14 was all used. Okinawa Governor Denny Tamaki, observing the spot where soil was being deposited, told reporters, "The OPG is firmly pursuing lawful means of opposition." Governor Tamaki also participated in the protest gathering in front of the gate to Camp Schwab. He said, "I will go on to demand true democracy in response to the violence of the central government. I will continue the discussion, but when I should stand up [to the government] I will stand up. I will never give up."
Two of the cargo ships that deposited soil on the shore of Camp Schwab on the morning of December 15, photographed in the afternoon of the same day in Henoko, Nago City (Photograph taken via small drone)
Several barges piled with soil went from the K9 seawall off the Schwab shore to the planned land reclamation area and deposited soil one after another. When one barge unloaded its batch of soil, the barge would leave the seawall and go to a carrier ship anchored nearby to receive another batch of soil. Once the carrier ship's soil was gone, the day's work ended. The Japanese government appears to be awaiting the next shipment of soil to resume depositing work, and plans to accelerate the work at the beginning of next week. On this day the deposited sand was hauled from the Ryukyu Cement Co. pier in Awa, Nago City. The Okinawa Defense Bureau (ODB) is not following the essential procedures set out in the Red Soil Prevention Ordinance, and has received administrative guidance from the Okinawa Prefectural Government (OPG) amidst the soil hauling.
Governor Tamaki spoke in front of the citizens gathered to protest. He said: "We could not avoid greeting this unbearable day. However, we will certainly handle it. We are using all our strength and doing everything within our power to handle this. Our fight is not over."
After the protest gathering Governor Tamaki observed soil depositing operations first-hand from the wharf at Henoko Fishing Harbor. He made his discomfort known to reporters, saying, "Coming to the actual spot gives me a bizarre tearing sensation in my chest." In response to Minister of Defense Takeshi Iwaya's perception that it will be difficult to return Futenma Air Station by 2022 at the earliest, Governor Tamaki refuted: "How soon will Futenma be returned? It is not something a democratic nation would have trouble deciding."
No materials were brought in through the Camp Schwab gate on this day.
Interview with the governor
The exchange between a group of reporters and Governor Denny Tamaki, who had just observed the site of new base construction in Henoko, went as follows:
Q: How did you feel observing the actual site? What did you pray for at uganju?
A: "It tears at my chest. We will not shrink away or step back. Until [the site] is restored to its original state, we will demand that the central government act in the way it ought to, as a democratic nation. This has renewed my determination to work together with Okinawans. I prayed, 'Please bestow Okinawans with the strength to build a peaceful future.'"
Q: In your greeting you said, " I will continue the discussion, but when I should stand up [to the government] I will stand up," but have you decided on a policy?
A: "I do not plan to run up on the deadlock that is 'Henoko is the only solution.' I will continue discussions, along with experts, in the hope of coming to a settlement. Soil depositing is illegal. We are pursuing a series of methods that should be adopted and that abide by the law. The OPG is firmly pursuing lawful means of opposition."
Q: Minister of Defense Takeshi Iwaya said it will be difficult to return Futenma Air Station by 2022 at the earliest, but what do you think of him making this statement on a day when soil deposits are taking place?
A: "It is the government's method to say something convenient prior to starting, yet to paint over it afterward. It is the same as when [the government] said it was probably possible for residents of Henoko Ward to be offered separate compensation, but afterward took back those words and said it was not possible. The government keeps deceiving its citizens. Removing the danger of Futenma Air Station should come first. The government is standing on the excuse of 'Henoko is the only solution' to act illegally. His statement exposes the government's failings. I resent it."
(English translation by T&CT and Erin Jones)