(In front of the Gate)
Lies and concealment have been revealed through the Q-and-A session of the Diet, and the people in front of the Gate were boiling with anger. So many answers given by the Administration have held Okinawa in contempt:
– The Administration finally admitted the existence of "soft seafloor" after having kept it in secret for several years.
– 77 thousand sand pillars are required to reinforce the soft seafloor.
– The budget and the schedule to complete the construction of the new have not been finalized yet.
– Prior to the Referendum, the Administration had already decided that the construction work would be continued on the day after the referendum, regardless of the result of the votes.
– "Okinawa may have Okinawa's democracy, but Japan has Japan's democracy", said the Minister of the Defense.
The speakers in front of the Gate were excited and threw strong words to the riot police men who responded without an expression, like a Noh mask.
Three times a day from the morning through the afternoon, 305 truckloads in total were delivered for the day.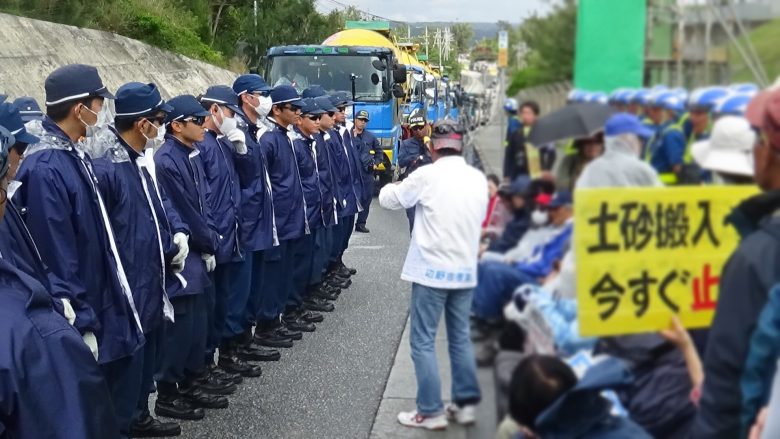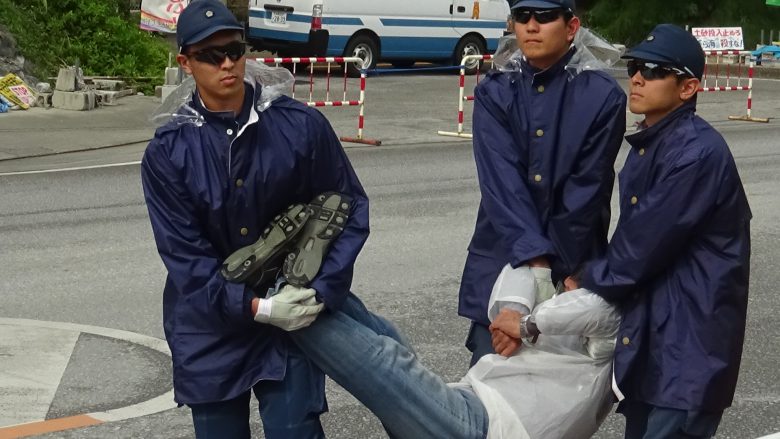 (On the sea in Oura Bay)
One boat went out for monitoring and confirmed that both K8 construction and depositing to the zone 2-1 were in progress.
(In front of Ryukyu Cement Pier in Awa)
Although small in the number of participants, we rallied to the dump trucks that brought dirt and sand. Truckloads of 542 were delivered to the Pier, and 3 carrier boats departed the Pier for Oura Bay.