(In Front of the Gate)
Seventy-three people in the morning, and the maximum number of participants for the day reached 131. Deliveries of 296 truckloads were made for the day.
(On the Sea in Oura Bay)
Two boats and 8 canoes were on the sea to protest. On the sea in front of K8 seawall to memorialize the 2nd year into the reclamation work, we read a statement to urge immediate halt on construction of the new base and rallied around the seawall.
Due to high waves, the rally was cancelled by noon.
(Shiokawa Pier in Motobu Port)
From 7:30 a.m. dump trucks gathered to Shiokawa Pier to prepare for shipping, but citizens' protest rally prevented loading to cargo ships, and only one truckload was transferred to a cargo ship.
A total of 100 people from the Defense Bureau and a security service company, 50 men from the riot police force, and 10 security vehicles were positioned. The number of citizens was 20-30 at the most. The protest rally lasted to 5 p.m. Only 24 truckloads were transferred to a cargo ship.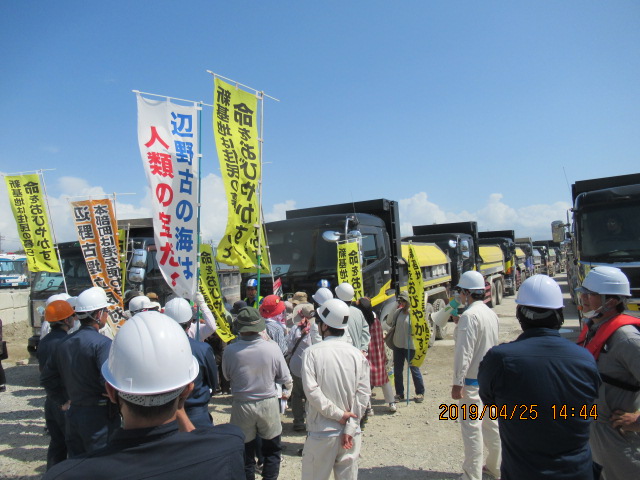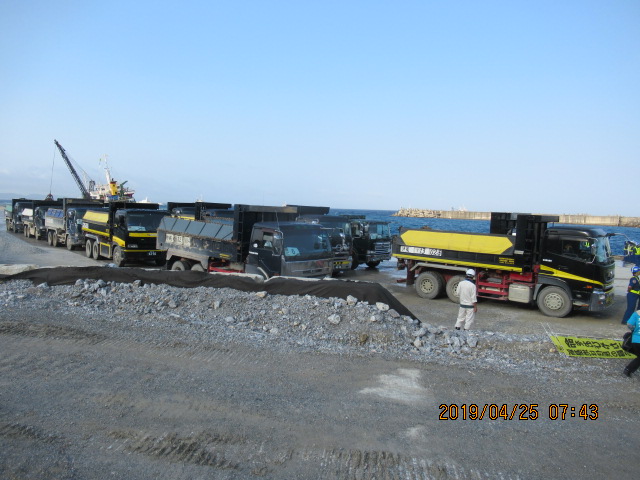 (In Front of Ryukyu Cement Pier in Awa)
No loading to a cargo ship.
(Other)
An appeal to the highest court that Messrs. Yamashiro Hiroji and Inaba Hiroshi made was not accepted, so that the guilty verdict was fixed.