(In Front of the Gate)
Approximately 100 people gathered in front of the Gate, and 60 resumed the sit-in protest. Seven member of a medical services association who are specialized in caring the elderly watched over us across the road. They have given us their support for almost 4 years now. Whether a weather is hot or windy and cold, they watch over us, and we are grateful. They have taken care of countless cases of heat strokes and bruises. A male nurse spoke over a microphone and received large applause.
"When I was little, my family lived by Kadena base. We suffered from loud noise and always faced with a risk of accidents. I am married and have kids now, and I do not want my children to go through what I experienced. That is why I am here now!"
Three times a day, 263 truckloads in total were delivered today.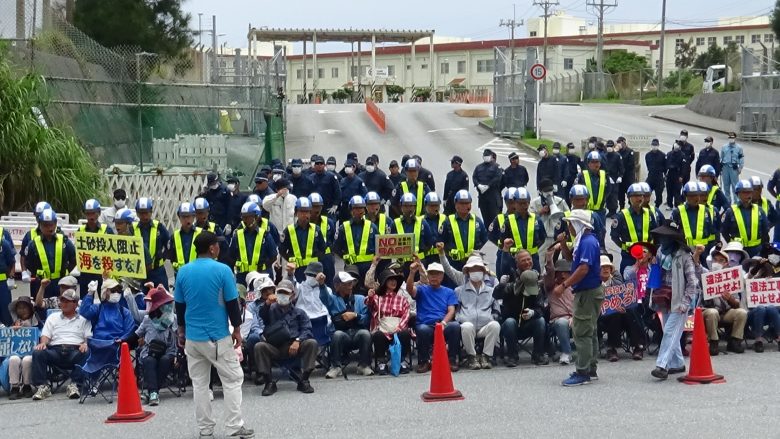 (In Front of Ryukyu Cement Pier in Awa)
Only seven people rallied all day long. The conveyer belt was broken again due to rain, and the work was stopped for 1.5 hours. In spite of that, 576 truckloads of earth and sand were delivered, and 3 cargo ships left the Pier.