(In Front of the Gate)
From 8:30 a.m. approximately 20 people resumed the sit-in protest and were immediately removed by the riot police force, but continued to rally against the trucks going into the base.
"Do not destroy the sea!"
"Do not join the illegal construction work!"
Three times a day from the morning through the afternoon, 242 trucks in total went into the base.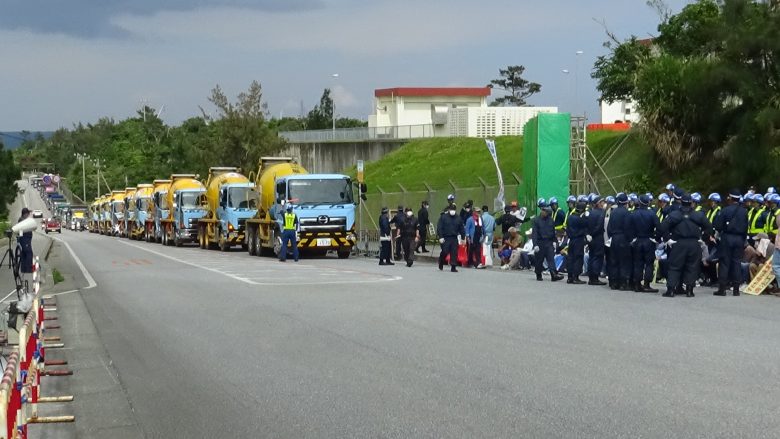 (In Front of Ryukyu Cement Pier in Awa)
For Wednesday Intensive Action, over 100 people gathered and rallied in front of the gate to the Pier. Dump trucks loaded with earth and sand come continuously one after another. Under the strong sun, 100 people rallied taking turns and drinking water, and reduced largely the number of deliveries.
The team of 14 canoes went out on the sea and tried to stop the cargo ships leaving the Pier. Although detained by the Coast guard for 1.5 hours on the sea, the team successfully reduced the number of ships leaving the Pier down to only 1. Deliveries of 428 truckloads were made for the day.
Mr. Okayama Chisei (44 years old) who has lived in Okinawa for 14 years talked to us.
"Although the will of the people is clearly presented by the Prefectural Referendum, neither governments of Japan and USA have love. Only the grass root movement by the citizens can change the administration that does not feel the pain of the people. The most important thing is love. The opposite of love is indifference, which is a sin. I join the protest because you share the pain of other people."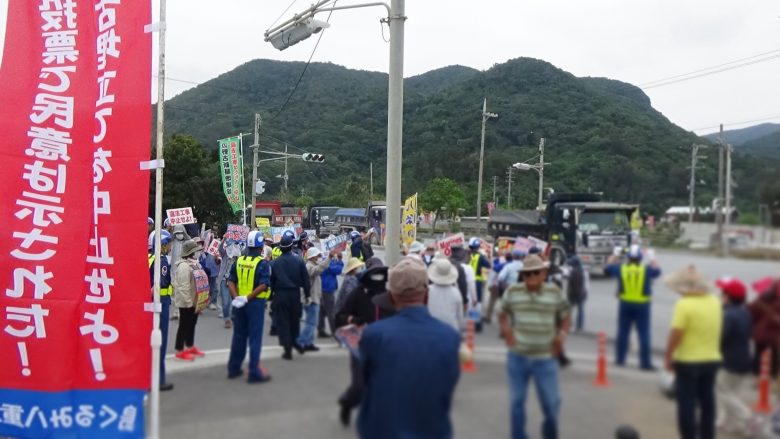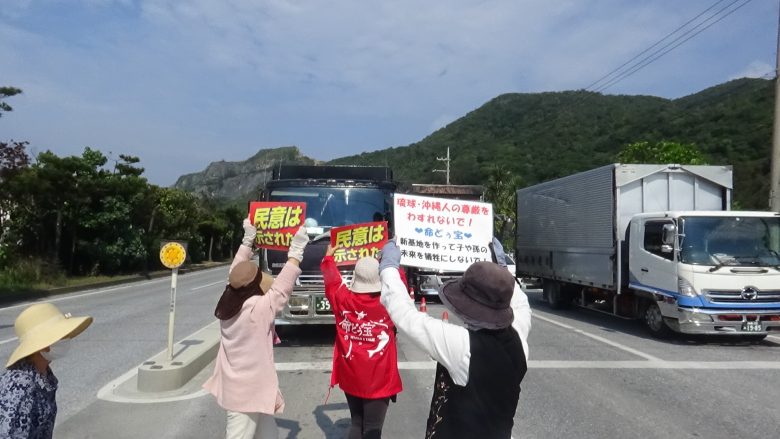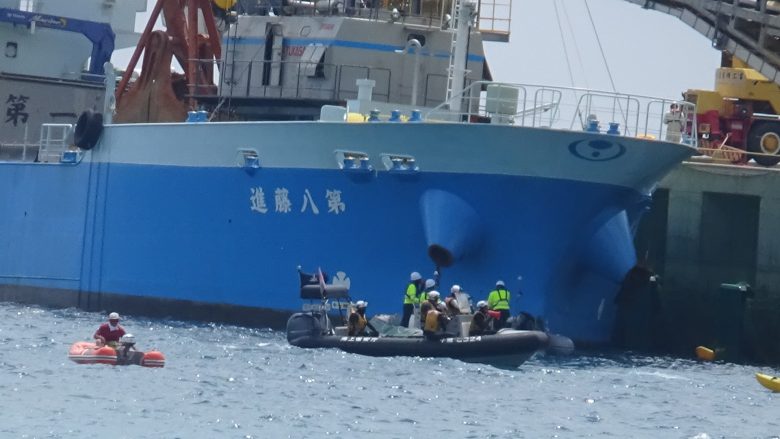 (Other)
Ms. Itokazu Keiko, a member of the House of Councilors filed a complaint on the 7th to Naha Local Court stating that the poster for the House election to fill a vacancy in an Okinawa district was in violation of the public election laws.
The poster said that "Women are no good at politics. They belong to kitchen" and were posted all over the election district. Ms. Itokazu criticized in a press conference that "the poster statement belittles woman candidates, and should not be permitted".
The poster was obviously made by a male candidate opposing a female candidate in an attempt to bring down a female image. It was another action of those in favor of the new base construction in their desperate trials to use whatever is available to win.