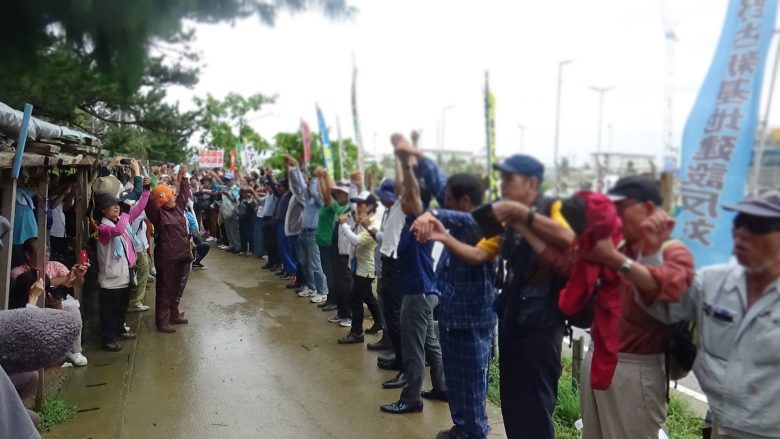 (In front of the Gate)
Approximately 50 people resumed the sit-in in front of the Gate. Many speeches were made to support the candidate Takara Tetsumi supported by All Okinawa to win the House election on 21st and corner Abe Administration. One speech was concerned with a political crisis.
"We need to unseat Abe who distorts, hides, and falsifies the facts; otherwise, democracy in Japan will collapse."
Three times the day, 128 trucks in total made deliveries.
July 7th was the 5th year anniversary day since the start of the sit-in in front of the Gate. At the Tent Village, approximately 350 people gathered from early in the morning. Mr. Yamashiro Hiroji, the chairperson of the Peace Okinawa Movement spoke, looking back the past 5 years.
"It has been a difficult time, but singing and dancing have helped us to continue the protest movement. The prolonged movement has required perseverance and sanguine disposition."
Holding hand in hand, the protestors were singing and dancing in a line, and a cheerful mood prevailed in the Tent Village.
(In front of Ryukyu Cement Pier in Awa)
The protestors on the sea in the Oura Bay joined the group in Awa to rally together concurrently from the land and the sea. In front of the Gate, approximately 40 people rallied shouting aloud all day long to the trucks transporting earth and sand.
"Do not kill corals with red clay."
"Do not join illegal construction!"
On the sea, one boat and 11 canoes stayed with the cargo ships to delay their departure from the pier.
A total of 662 truckloads of earth and sand including those stored within the ground of the cement company were loaded to cargo ships. Due to the strong tenacious action by the canoe team, one of the cargo ships could not leave the pier today.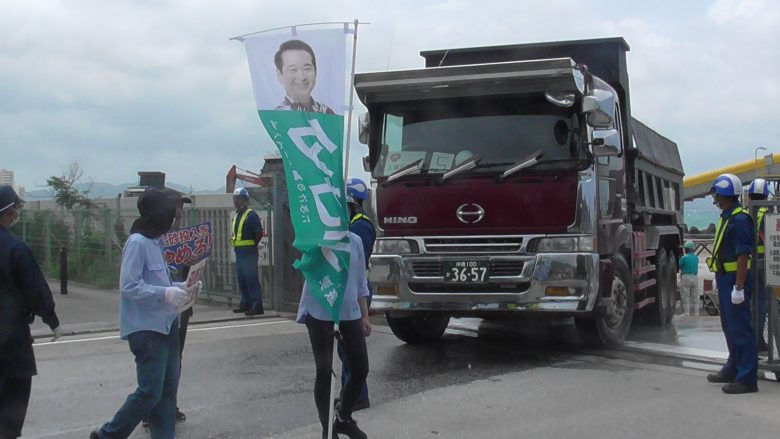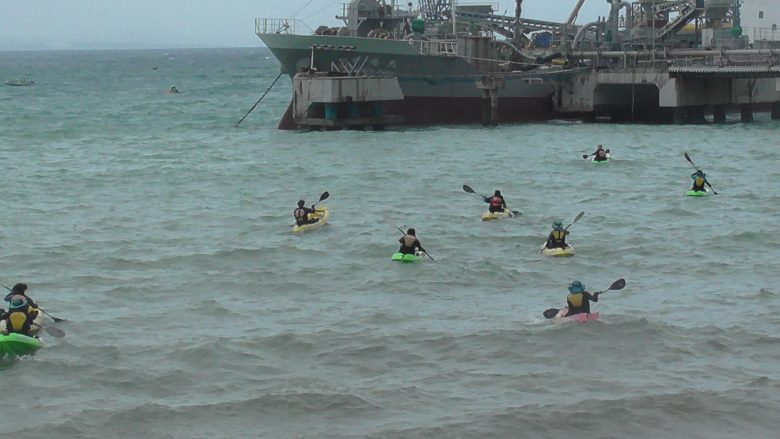 (Shiokawa Pier of Motobu Port)
As shown in the picture, the guard men from a private security company lined up along the road side. The Defense Bureau insists that "it was for securing the safety of the citizens". Obviously, it was to keep the protesting citizens away from the dump trucks transporting earth and sand. However, the pier is used also by other organizations, and it is not permissible for the Defense Bureau to exclusively occupy it.
Mr. Yamashiro Hiroji, the leader of the day, spoke to the participants.
"We should not allow the Defense Bureau's free access to the pier. Next week, let us visit the Prefectural Port Authority and request an explanation."
He even suggested to start a sit-in rally in the Prefectural Government Office.