(In Front of the Gate)
The construction work is going on in spite of the mid of the national election. During the prior national election, the Administration temporarily stopped the construction work to avoid stirring a minus image; however, no such consideration is given this time. They may be so confident of winning the election that they seem to expect no bad effect from continuing the construction work. If so, we must double our effort to win the election to give a really strong blow to Abe Administration.
Ms. Hopkins Uehara Eriko, a former resident of Okinawa, and her family of three came from Ireland to visit the rally in front of the Gate. Observing the riot police force removing the citizens by force from the sit-in, her husband, Edward expressed his frustration.
"It is not the time to spend money on military installations. Japan is going backward."
Eriko appealed that "let us focus on the next generation", and joined the sit-in with her family.
Trucks, mainly concrete mixer cars, delivered 181 truckloads today.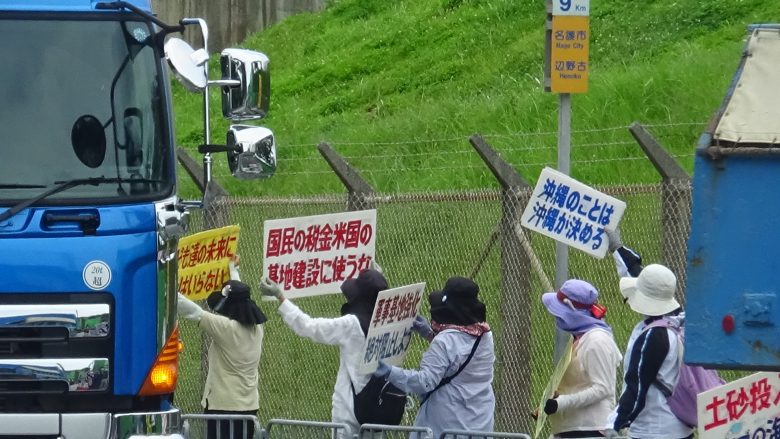 (On the Sea in the Oura Bay)
One boat and 7 canoes went out on the sea to the construction site and confirmed that unloading earth and sand was going on, and rallied at K8 and K9 seawalls.
Sea swallows travelled from Australia were enjoying flying high above the Hirashima Island.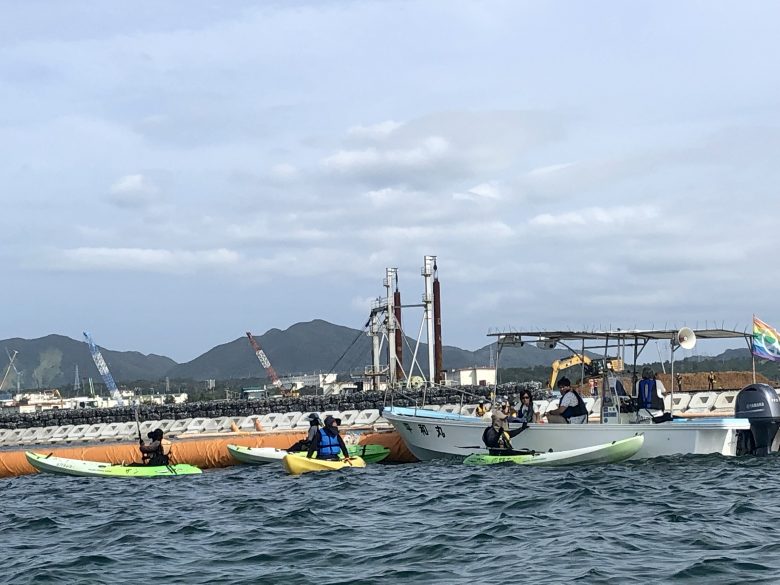 (In Front of Ryukyu Cement Pier in Awa)
Although approximately 30 protestors rallied aloud, 622 truckloads of earth and sand stored within the ground were loaded to the cargo ships. From the quarry, a new batch of 368 truckloads were delivered.
No loading at Shiokawa Pier.