(In Front of the Gate)
Another typhoon is coming closer. In the midst of intermittent pouring rain, approximately 40 people kept on rallying. Probably due to the typhoon, deliveries (127 truckloads) were made only in the morning (twice). The typhoon stopped the construction work for this week!
The watermelons sent to us in a care package boosted our spirit. We adjourned after vowing aloud,
"Let's keep on pushing again from the next week!"
(On the Sea in Oura Bay)
Due to the typhoon, rallying on the sea was cancelled. The reclamation work was also cancelled due to the typhoon.
(Protest in Front of the Piers)
No activity at the Pier in Shiokawa, so that approximately 50 people came to rally in front of the gate through which dump trucks go in and out. Thirteen members of GOGO Drive campaign joined the rally and successfully delayed the deliveries by trucks.
At about 11:00 a.m., approximately 20 trucks turned around and went back for the reasons unknown, and the earth and sand in a temporary storage by the Pier were loaded to cargo ships. It may be to prevent the earth and sand (red clay) to be washed to the sea. Or it may be the result of the citizens' protest and Okinawa Prefectural Government's demand to take measures to prevent red clay flowing into the sea. The earth and sand in the storage were cleaned out.
Deliveries of 136 truckloads were made today. Due to the typhoon, no work will be carried out for the rest of this week both on land and sea.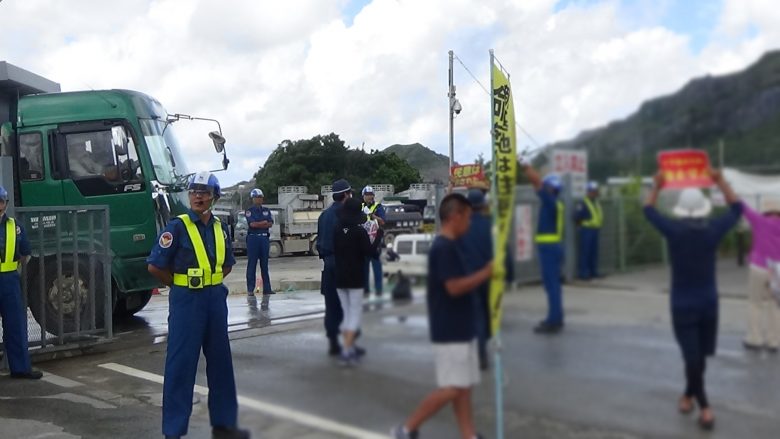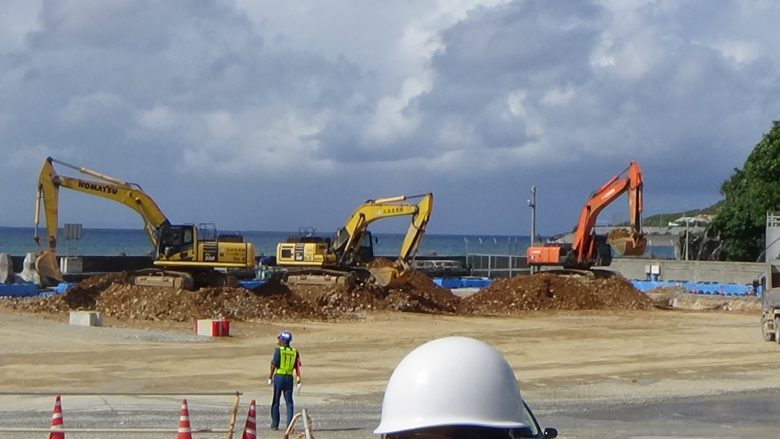 (Other)
In regards to the incident of dropping a window frame by a CH53 helicopter of US forces, on 27th last month, Okinawa Prefectural Government requested a meeting with a person in charge in the Us forces. But the US forces did not respond to the request; therefore, Okinawa Prefectural Government went to the US forces to make a protest. A colonel of the Marines stated that "they apologize for causing anxiety among the citizens", but did not provide any detail explanation as to why or how it happened. Okinawa Prefectural government demanded to suspend the helicopter from flying for one week and clarify the cause of the incident.
On 4th (of Sept.), it was sighted that US Marine helicopters landed at and left from the former North Training Field that had been already returned to Okinawa Prefecture. The particular spot that the helicopter landed was a part of the National Park and was returned to Okinawa Prefecture in December of 2016. A person in charge in the Prefectural Government stated,
"Claiming no knowledge of the return of the training field to Japan is not a good enough reason. If landed knowing that it was already returned to Japan, it would be an emergency landing without a prior notice, and that is a big problem."
No prior notice of landing was received by Okinawa Prefectural government. The incident will stir strong protest.