(In front of the gate)
From 9 A.M. onwards, concrete mixer trucks started to arrive one by one at the base. Thirty residents sat down in front of the gate. The alarmed riot police lined up inside of the base, and within 5 minutes after they came out of the base, they started the eviction. A woman screamed continuously. Everyone was removed from the sidewalk within ten minutes, and the trucks started entering the base. Around noon and 3 in the afternoon, the similar scene was witnessed repeatedly, and 190 trucks with materials went into the base to make deliveries.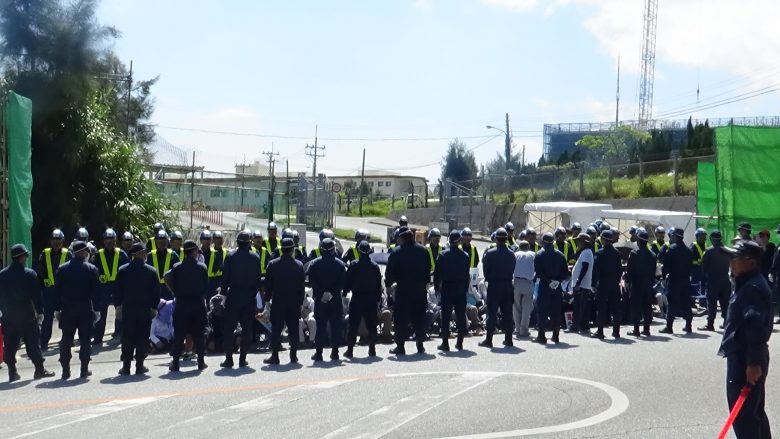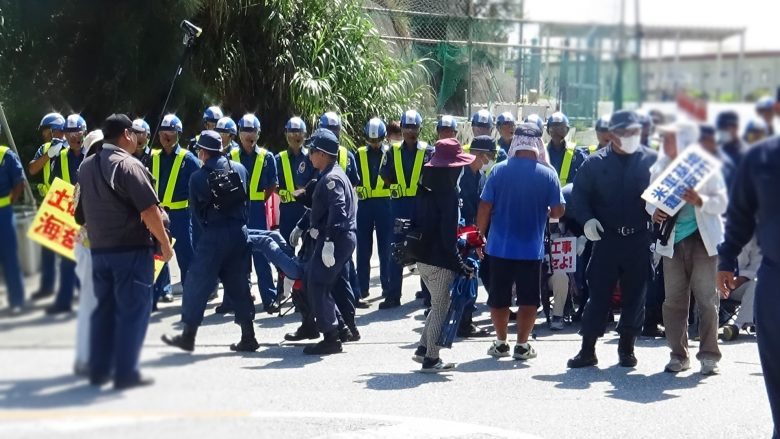 (On the sea in Oura Bay)
One boat and 9 canoes took part in the protest. In the morning, we made attempts to stop the cargo ships that were loaded with earth and sand to enter the bay. After capturing all canoe members, the Japan Coast Guard came aboard the boat and took its command. After the cargo ships entered the bay, we tried to reach the seawall by going over the floats, but we were captured by the Coast Guard and brought back to the shore. Around 11 A.M., dumping earth and gravel was resumed into the area planned for landfill. With this, the landfilling that was interrupted for some time due to several typhoons was resumed to be carried out in its full capacity again.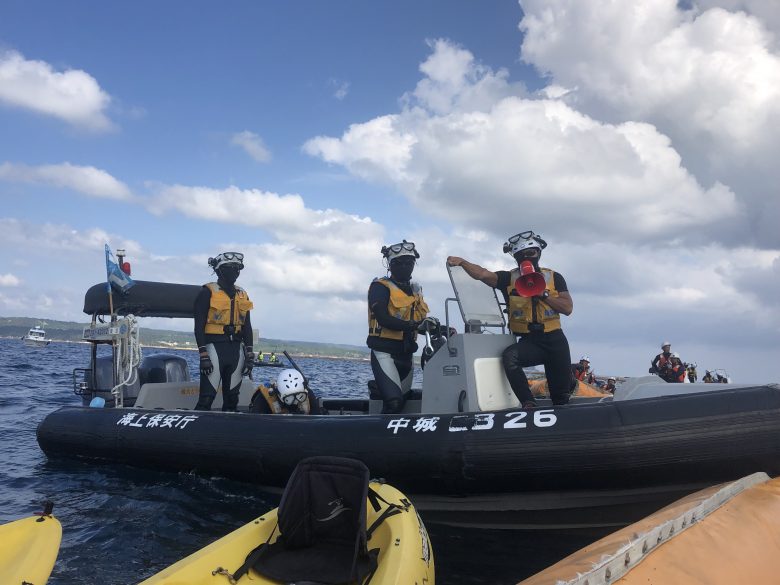 (Protest in front of the Shiokawa Pier and the Awa Pier)
No loading of earth and sand onto the cargo ships took place in Awa nor in Shiokawa.
(Others)
The Ryūkyū Shinpō (Newspaper) reports about the plan of the U.S. to have intermediate-range ballistic missiles ready for operation in Okinawa on a massive scale within the scope of two years. In 1982, a treaty between the U.S. and Russia was signed to dispose all Intermediate-range Nuclear Forces (INF), but in October last year, the U.S. announced that this treaty would be discarded in light of Russian transgressions. On August 2nd, the treaty expired. It is expected that the U.S. will discuss the matter with Japan after the year-end of 2020 through 2021.
The maximum range of this new type of intermediate-range ballistic missile is 5500 km; therefor, they can reach Russia, Australia, and India. Furthermore, the missiles are capable of carrying a nuclear warhead; therefore, can easily be loaded with an atomic bomb similar to the one that hit Hiroshima.
The news has spread over Okinawa like wildfire and evoked criticism from the city councils and prefectural assembly. Governor Denny Tamaki stated at the prefectural assembly that: "Whatever reason might be given, it constitutes absolutely no ground for bringing nuclear weapons over to Okinawa. Strengthening the U.S. military bases by the deployment of the missiles is out of the question." Against the news that the Okinawans share a deep feeling of anxiety, strong voices of opposition are being raised.