January 15, 2019 Ryukyu Shimpo
Five Okinawan cities are refraining from, or undecided about, participating in the prefectural referendum over the reclamation of land in Henoko, Nago City. In reaction to this news, Henoko Referendum Committee representative, Jinshiro Motoyama launched a hunger strike in front of Ginowan City Hall at 8 a.m. on Jan. 15.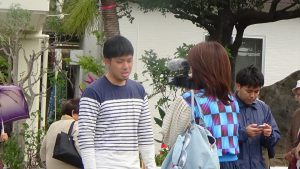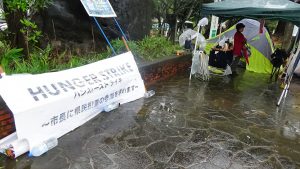 The 27-year-old committee representative will only consume water until the city mayors announce participation in the referendum. Motoyama is also collecting signatures for the cause.
In the morning, Motoyama passed out flyers to solicit understanding from the city hall employees arriving to work. The flyer stated: "The will of 100,000 Okinawan people who signed the petition calling for this referendum should not be ignored. I will protest until the mayor announces the city's participation in the referendum."
His new petition is addressed to the five mayors of the cities currently not slated to conduct a referendum ballot. One line read: "Voting rights are the bedrock of democracy. It is unacceptable to allow this lifeline to be taken away."
The petition may be signed by individuals who reside outside the five cities in question. As for the hunger strike, there are talks about live streaming the efforts online.
Committee Representative Motoyama himself is a Ginowan native. "Every Okinawan has a right to vote. How can politics deny us of that? As a citizen, the fact that I'm disenfranchised is frustrating. I want all Okinawans to vote together," he said. "In the past, Okinawa has secured rights through staging hunger strikes. I want to do what I can."
(English translation by T&CT and Monica Shingaki)