(In Front of the Gate)
Under the scorching sun, 50 people, a bit more people than the usual Friday gathering, resumed the sit-in in front of the gate. The riot police increased the attending number of policemen to match. The protestors who were "pulled out of the sit-in" were carried about 30 meters away to a temporary detention site.
Presence of a larger number of people alone gave us courage. After being released from the detention, we called out our slogans aloud in chorus repeatedly in the protest rally.
Three convoys of the total 211 trucks made deliveries.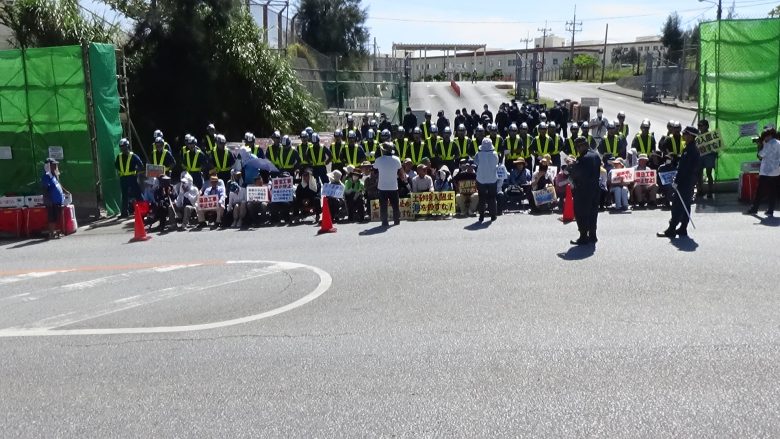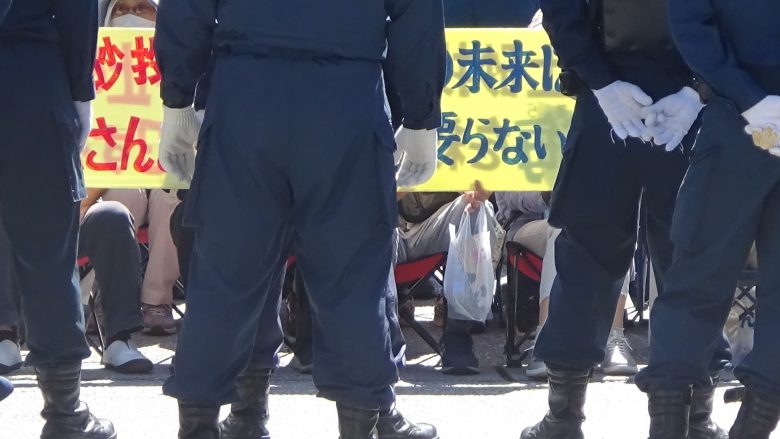 (On the Sea in Oura Bay)
Five cargo ships loaded with earth and sand came into the bay. In an effort to stop the cargo ships to come into the bay, 2 boats and 8 canoes tied themselves to the oil fences parts of which were opened to allow the cargo ships to go through, but were removed by the Japan Coast Guard within 1 hour.
Today, no unloading operation from the cargo ships took place nor dumping for reclamation.
(In Front of the Piers)
No delivery of earth and sand was made in Awa. We suspect that the Defense Bureau estimates the 5 meter high pile of earth and sand by the pier is sufficient for the construction works for 5 days during which our Intensive Action protest takes place.
Delivery of earth and sand was resumed yesterday in Shiokawa after one week absence. From 7:00 a.m., dump trucks came continueously one after another. Because the pier is located close to a quarry, the trucks return faster. During the morning, dozens of Okinawa Peace Forum members stood courageously in front of the dump trucks at 3 gates to slow the truck traffic. Delivery operation was continued till past 5:00 p.m., and 365 truckloads were delivered, and 2 cargo ships left the pier.
A woman from Tokyo who participated in the protest rally talked to us."Looking from here, the sea is blue and absolutely beautiful. But I have learned that earth and sand shipped out from here destroy the sea. It hurts me so much."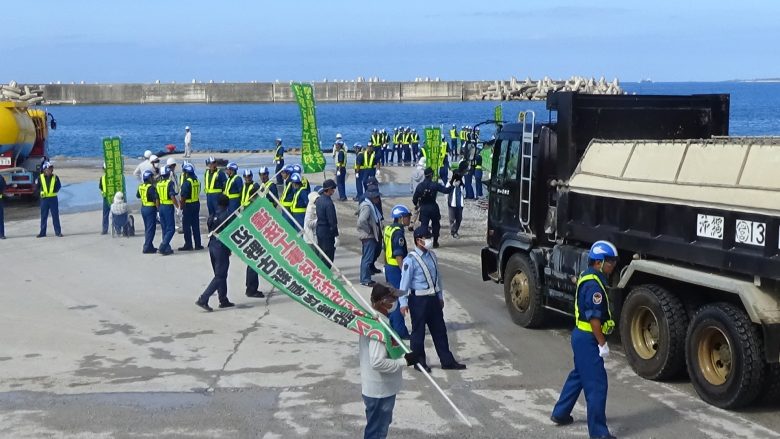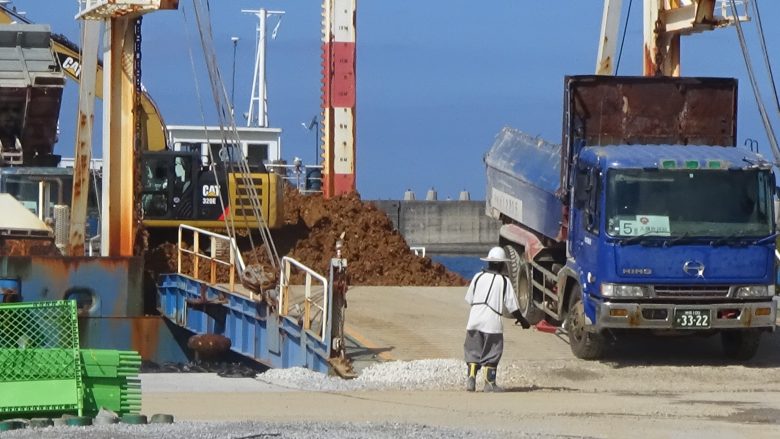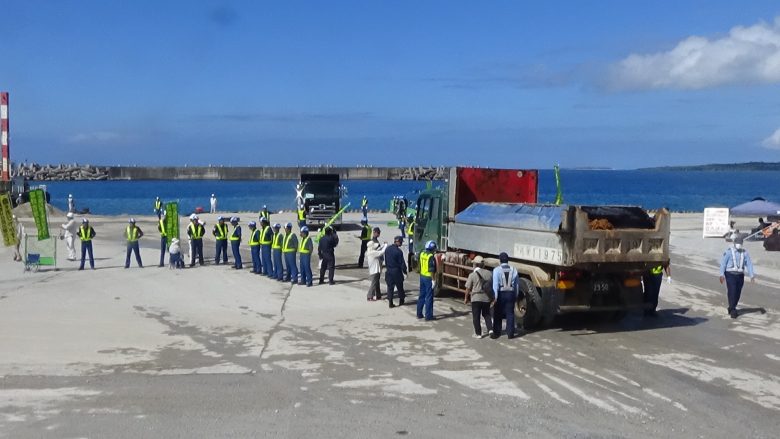 (Others)
Due to a heavy rain of the early morning yesterday, red soil pollution has covered off the shore of Setake of Oura Bay, as confirmed by a survey conducted by Okinawa Drone Project. An ordinance of the Okinawa Prefecture strictly forbids red soil flow into the sea. It severely damages the corals. In the landfill work in Henoko proceeded by the Defense Bureau, it was confirmed many times that red soil flowed around the anti-pollution sheats into the sea. The experts on civil engineering have pointed out clearly that "the short anti-pollution sheats that do not reach the sea bottom are not effective and do not serve the purpose of anti-pollution. It is in violation of the prefectural ordinance."