Due to a national holiday (Health and Sports Day), work operations were entirely stopped both on land and at sea.
(Others)
As the preparation is in process for the 5-day intensive action to stop the transportation of earth and sand at Awa which will be held from October 21 to 25, it was found on Oct 11 that Okinawa Prefectural Police Department had installed "No U turn" road signs so that any motor vehicles driven by people other than those involved in the transportation of earth and sand could not repeatedly circulate on the road. Signs were put up at several spots within 1 km along the street in front of the Awa Pier. Participation in the 5-day intensive event from Oct 21 has been nationally called for and 100 vehicles and more than 500 people are expected to join the event. If 100 vehicles effectively disturb the dump trucks from entering into and leaving from the pier and several hundred protestors march at the gates, the transportation of earth and sand should be almost impossible. Although installing "No U turn" signs is a countermeasure by police against the people's action, the protest organizers seem to have found some antidote to it.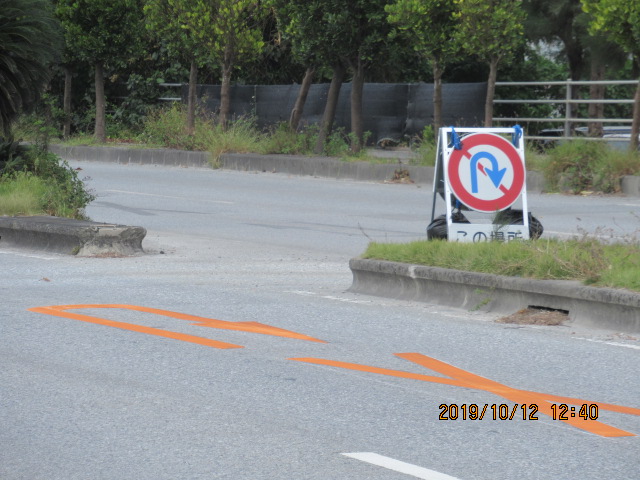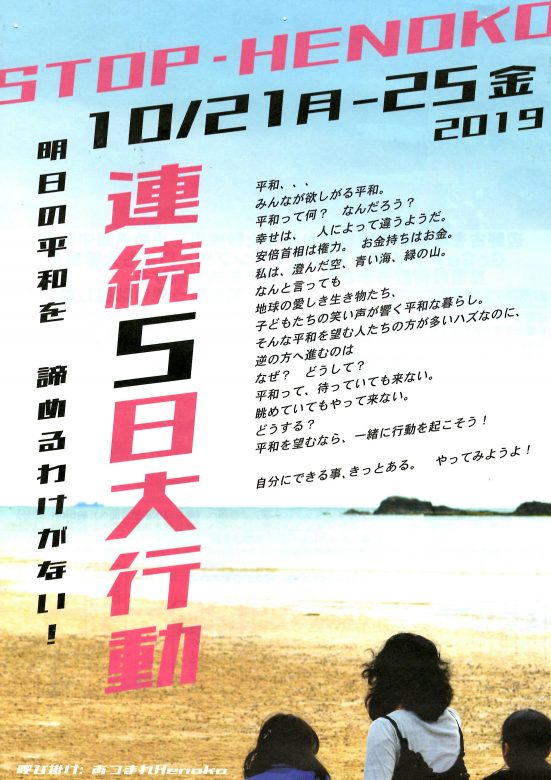 In the original construction plan by the Okinawa Defense Bureau, earth and sand for the land reclamation at Oura Bay was planned to be collected at and transported from 21 locations in Okinawa and other prefectures. However, a document acquired through filing a Freedom of Information Act requst revealed additional survey has been carried out at 41 more places both in Okinawa and other prefectures. Totally 25 million cubic meter of earth and sand is needed for the reclamation, among which 16 million cubic meter has been planned to be imported from the sites located in other prefecture (See the map of the planned sites below). However, due to the regulations to prohibit the mining or to restrict the total amount of earth and sand to be collected, which are applied at certain sites, Okinawa Defense Bureau has added some more sites located in Kagoshima, Nagasaki and Miyazaki to their survey list.
The opposition movement against the transportation of earth and sand to Henoko has been growing and become powerful across the chosen sites. Protestors are determined not to allow earth and sand from their hometown bo be used for the construction of the new military base in Henoko. With the expansion of the number of sites for mining earth and sand, the protest movement would be spread to the entire area of western Japan.