COVID-19 is spreding widely and fast in Okinawa. Since the 1st case of infection was detected on Feruary 14, new cases are detected every day. Now the total reahced 95 as of April 16. In case of Nago City, one case was detected on 12th, and more cases were detected among the construction workers of the Camp Schwab. On 17th, Okinawa Defense Bureau announced a temporary suspension of the landfill work for prevention of further spread of COVID-19, but it is not clear if the work would be continured or not from the next week.
It is not known when the outbreak of COVID-19 would end. If it ends 2 months from now or 6 months or mayber longer than that. If the construction work is suspended once, it would be difficult to resume, which Okinawa Defense Burea knows well. However, I wonder if the construction work would be continued when 3rd, 4th, and more infected cases are detected among the construction workers. "Construction first" attitude of the central government is now in question.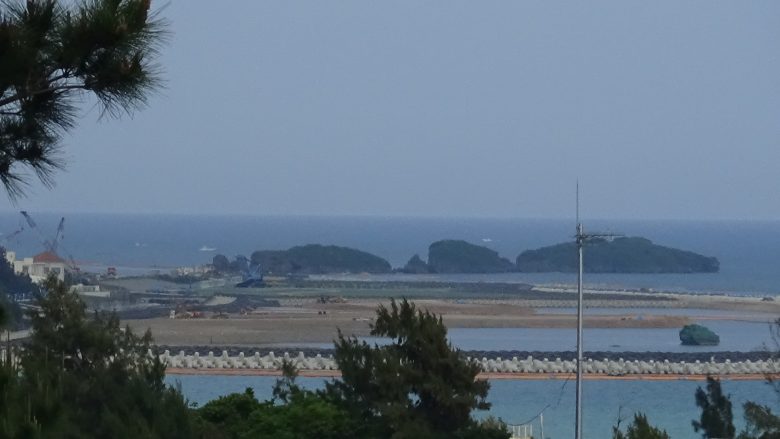 (Infront of the Camp Schwab Gate)
Having confirmed that a case of COVID-19 infection was detected among the construction workers, Okinawa Defense Bureau suspended the work on 16th. However, nearly 20 concerned citizens gathered in front of the gate at 8:30 a.m., monitored the truck delivery operation, and confirmed that no delivery was made. We cancelled the protest rally on the sea. The Defense Minister Kono stated that, "the construction work will resume as usual from tommorrow".
(In front of Ryukyu Cement Awa Pier)
Nearly 10 people rallied at the entrance and the exit of the pier taking measures against COVID-19. Okinawa Defense Bureau staff and the riot police members looked distressed maybe because of COVID-19. I wonder if they may be wishing that the construction work would be suspended.
728 truckloads of earth/sand were delivered, and 707 truckloads were loaded onto 3 cargo ships. The operation continued to 8:00 p.m. last night, and 738 truckloads were shipped out. The declaration of the state of emergency issued by the central government had been ignored by another branch of the government, and the contruction work is proceeded.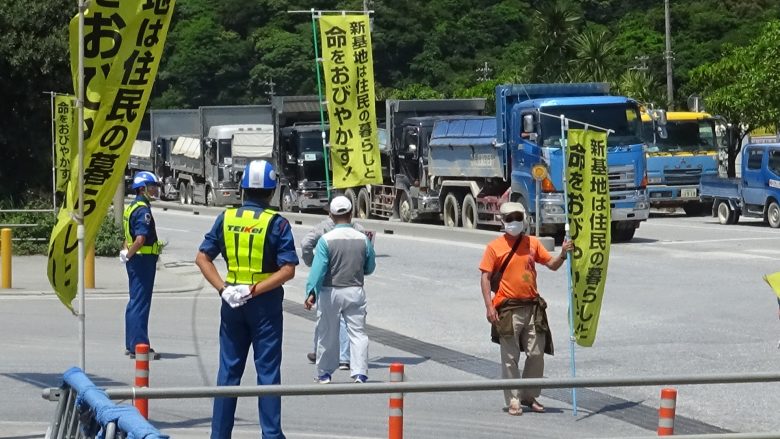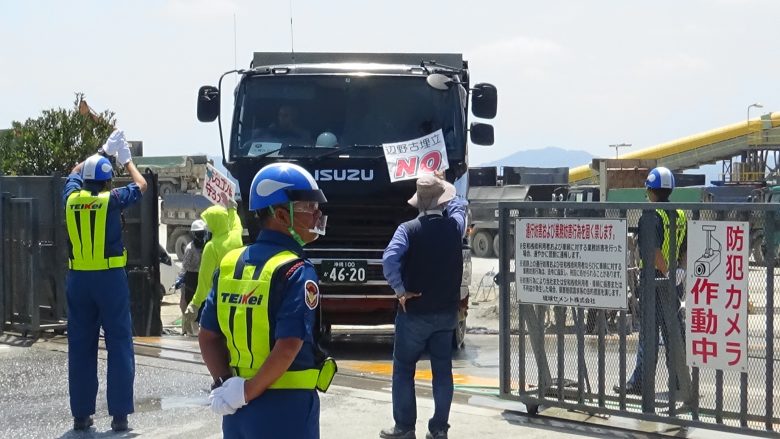 (Motobu Shiokawa Pier)
Since the dumping operation of the landfill was temporarily suspended, we asumed that shipping out earth/sand would also be suspended. However, shipping operation was proceeded as usual. Approximately 80 people including Okinawa Defense Bureau staff and the riot police members work closely at the site, which is inducive to infection. The operation should be suspended immediately to prevent further spread of COVID-19, shouldn't it?
396 truckloads were loaded to 4 cargo ships.
One of the Okinawan who came to join the protest expressed his anxiety, "Since they are loading earth/sand to ships, they do not intend to suspend the dumping operation for a long time. They are, I am sure, going to ignore the requet for self-restraint issued by Okinawa Prefectural government and resume the construction work."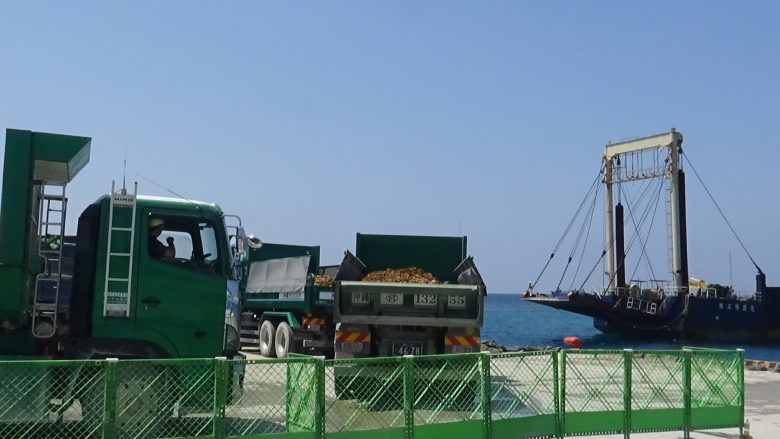 Number of dump trucks which made delivery from December 2018 to the end of December 2019 114,601(1.39%)
| | | | | | | |
| --- | --- | --- | --- | --- | --- | --- |
| | 11(Sat) | 13(Mon) | 14(Tue) | 15(Wed) | 16(Thr) | 17(Fri) |
| Awa | 0 | 268 | 847 | 925 | 738 | 707 |
| Shiokawa | 0 | 0 | 292 | 394 | 354 | 364 |
Number of dump trucks
※
Weightt of earth/sand

※①

Converted to volume

※②

Volume per Total

※③

182,134
910,670t
455,335㎥

2.208%
※ Cumulative since Dec. 1, 2019
※① Calculated by assuming that the average truckload per dump truck would be 5 tons
※② Calculated by assuming that a specific weight of soil/sand set to be 2
※③ Percentage against 20.620.000m3, the total volume of earth and sand required for the landfill.