Severe attitude of Abe administration towards Okinawa has come to be more explicit. On the day after Okinawa Prefectural government declared "state of emergency" to prevent Covid-19 contagion, Okinawa Defense Bureau submitted a "request for changes in the construction design" to the Prefectrual government. It was the day when most of the Prefectural government workers started staying at home in compliance with the state of emergency policy. A large volume of document was forced on the Prefectural government to process. It was an arbitrary action taken at bad timing.
Many "All Okinawa" candidates won the recent election, and we kept the majority seats of the Prefectural Assembly, although 2 seats were lost. Focusing on 2 seats, the chief cabinot secretary Kan stated that it has proven that more Okinawans have come to understand our policy". When they lost in national or gubernatorial election, his usual comment was, "I have no comment. We will proceed on construction of the new base as planned."
Yesterday, Abe administration publicly announced that Aegis Ashore deployment project in Akita and Yamaguchi Prefectures was cancelled because it requires too much additional time and cost to drop the missile boosters safely. We have been explaining the similar situation in Okinawa by opposing against the construction of a new base through many elections and pointing out the insurmountable technical difficulty in construction work and gigantic cost requirement. The cost for Aegis Ashore project is a peanut when compared to the Henoko construction cost. The reasons that caused to cancell Aegis Ashore project do not apply to the new base construction in Okinawa?
Abe administration has been very arbitrary and not been fair to Okinawa.
(In fron of Camp Schwab Gate)
In the severe heat of over 32oC, approximately 70 people gathered to protest, including 8 students from The Ryukyu University and Okinawa International University, and Motoyama Jinshiro (28 yrs) who organised last year the Prefectural Referendum on Henoko new base construction. Upon learning that shipping operation of earth and sand started at Awa and Shiokawa, several dozens of people rushed there, too.
It was so hot that the act of sitting quietly alone made us dizzy. We tried to dealy the deliveries of earth and sand as long as possible, even one second or one minute.
A freshman (20 yrs) from University of Hawaii said in anger, "The riot police neglects our identity and human rights!"
From the morning through the afternoon, the deliveries made by three convoys totaled to 168 truckloads.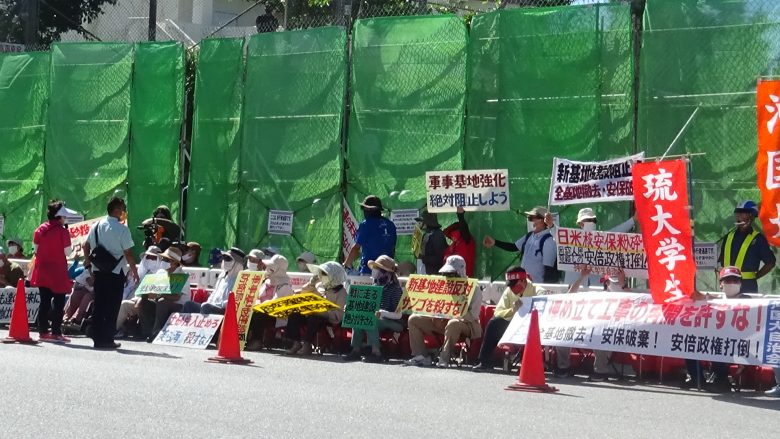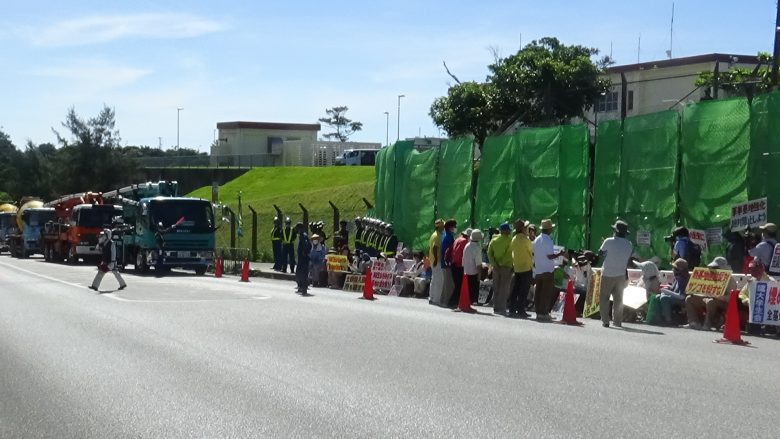 (On the sea in Oura Bay)
Two boats and 9 canoes went out on the sea to protest. The canoe team tried to go over the floats to go closer to the area under reclamation work, but were captured by Japan Coast Guard and brought back to the shore. But they went back on the sea again in the afternoon to rally aloud.
(Ryukyu Cement Awa Pier)
Three days earlier than expected, shipping oeration of earth and sand started, and 15 people rushed to the pier and rallied in severe heat. Dump trucks kept coming in a continuous line without a break. Mr. Yamashiro Hiroji, a person in charge for this day, lead the rally, shouting, "Why do you proceed on the construction when the whole country is in danger of Covid-19 contagion? We, Okinawans, will hold our spirit high and keep on fighting."
The shipping operation continued till 8:20pm, and 691 truckloads of earth and sand were loaded to 3 cargo ships.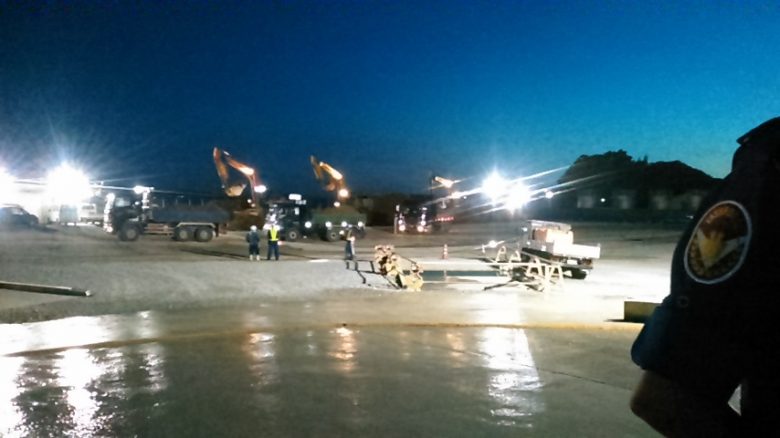 (Motobu Shiokawa Pier)
The shipping operation started from 7:00am. Ten members of Shimagurumi of Uruma City and Motobu Town stood in front of the dump trucks in protest. By 5:00pm, 319 truckloads of earth and sand were loaded to 3 cargo ships.
Number of dump trucks to date and percentage against the total
The estimation calculated on the basis of the number of ruckloads serves only as a reference.
Number of dump trucks which made delivery from December 2018 to the end of December 2019 114,601(1.39%)
| | | | | | | |
| --- | --- | --- | --- | --- | --- | --- |
| | 13(Sat) | 15(Mon) | 16(Tue) | 17(Wed) | 18(Thr) | 19(Fri) |
| Awa | 0 | 691 | | | | |
| Shiokawa | 0 | 319 | | | | |
Number of dump trucks
※
Weightt of earth/sand

※①

Converted to volume

※②

Volume per Total

※③

183,144
915,720t
457,860㎥

2.220%
※ Cumulative since Dec. 1, 2019
※① Calculated by assuming that the average truckload per dump truck would be 5 tons
※② Calculated by assuming that a specific weight of soil/sand set to be 2
※③ Percentage against 20.620.000m3, the total volume of earth and sand required for the landfill.