Agreed on "no new base in Henoko", All Okinawa membership comes from both the left and the right wings. Mr. Miura Shunichi (age 73) was an extreme leftist in his youth, which is hard to guess because he now looks like a good old grand-pa.
Currently he serves as the vice-chairman of a local labor union for day laborers in Kamagasaki, Osaka. He advises the elderly who belong to the bottom of the socio-economic pyramid. Smiling, he told us that he advises the clients on the problems regarding money, work, and health, but that the most important thing is to listen to a client's life history. I can sympathize that having lived alone and away from one's family, one would welcome an opportunity to prove one's existence by telling one's life history.
Nearly 1000 laborers were recruited from Kamagasaki to inspect the inside of the nuclear power stations and exposed to radiation. He advises and represents them to negotiate with Kansai Power Co. With an organized crime group, he has negotiated to improve the recruiting process.
"The day laborers live from hand to mouth; they are not afraid of gangsters. They are strong," he said.
He visited Henoko in October, 2014 for the first time. He had been an extreme leftist, but was deeply impressed by the fact that "Okinawa consolidates conservatives and reformists into one identity in their fight". Being freed from serving in a community kitchen and endless counseling requests, he enjoys and relaxes in Henoko. His boss, the chairman of the labor union, readily gives permission for him to visit Henoko.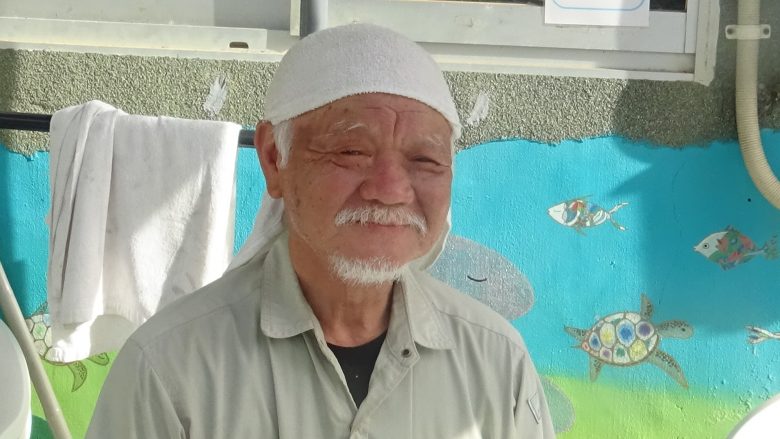 (In front of the Camp Schwab Gate)
On Wednesdays when Shimagurumi of Naha members come to the gate, the women members are in charge and enliven the rally. When the 2nd convoy of trucks came, nearly 50 people protested in the sit-in rally singing and chanting aloud, and marched.
When a new officer in charge ordered the riot policemen to stand on both sides of the marching protestors, demanding calls came:
"Are you suppressing our freedom of speech?" "Do not deny the way of protesting already in practice!"
The officer, a company commander, was recently transferred from the mainland. The way we have protested in front of the gate now seems to come to an end. Although on a minor matter, it is important to be unified in protest. Nothing to be afraid of, if we are unified.
Deliveries were made in three separate convoys, and total 223 truckload were delivered to the base.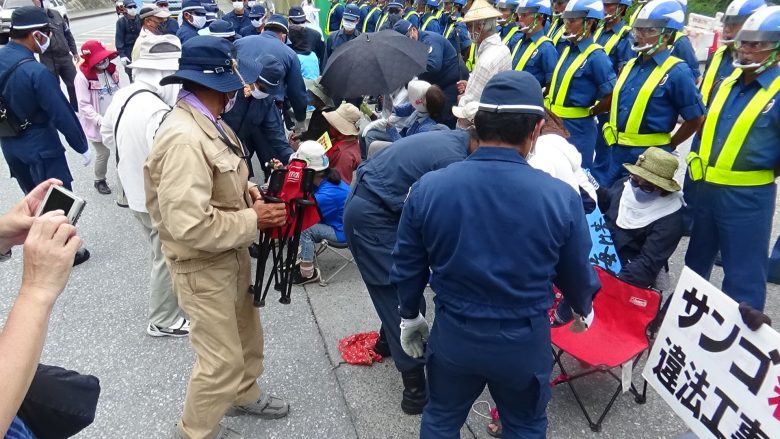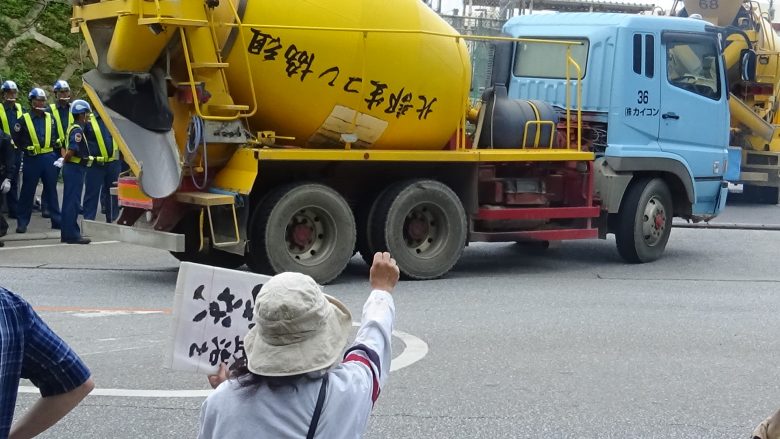 (Ryukyu Cement Awa Pier)
Approximately 30 people divided themselves to protest at both the entrance and the exit of the pier to delay the deliveries of soil and sand by trucks. Six members of GoGo Drive campaign joined. On the sea, 8 canoes and one rubber boat stayed close to a cargo ship and delayed the departure for about one hour. All members were caught by the Japan Coast Guard and brought back to the beach.
At the entrance of the pier, Tanabata* decoration were swinging in the wind. Colorful notes with messages that every Okinawan would wish were hung on bamboo branches: such as "let us bring peaceful islands without a military base", and "let us stop the new base construction and enjoy healthy long life".
* Festivity of stars celebrated on July 7 in East Asian countries.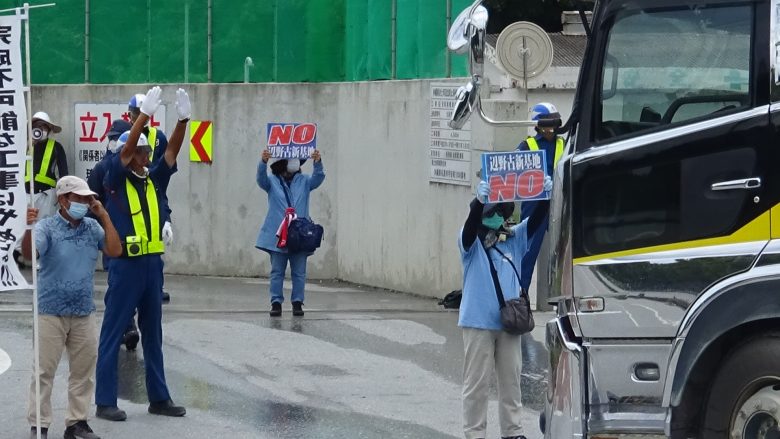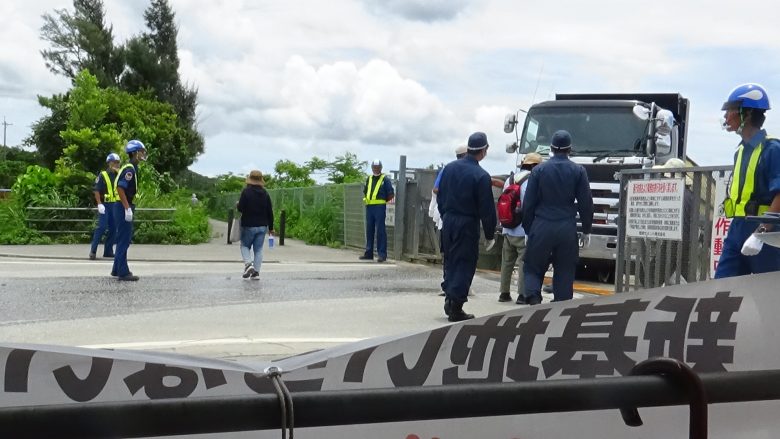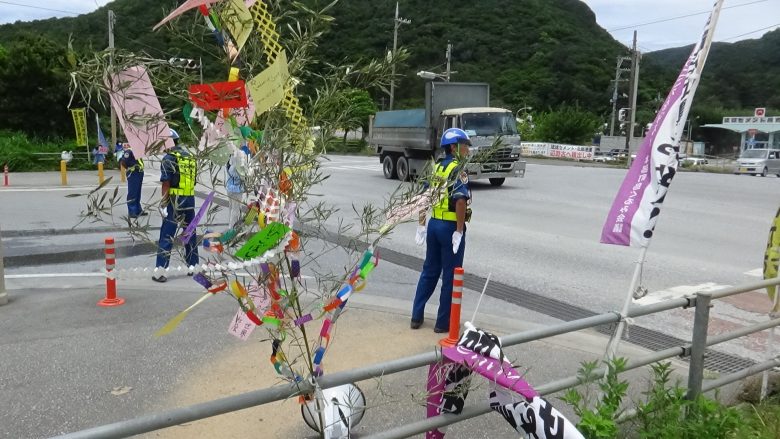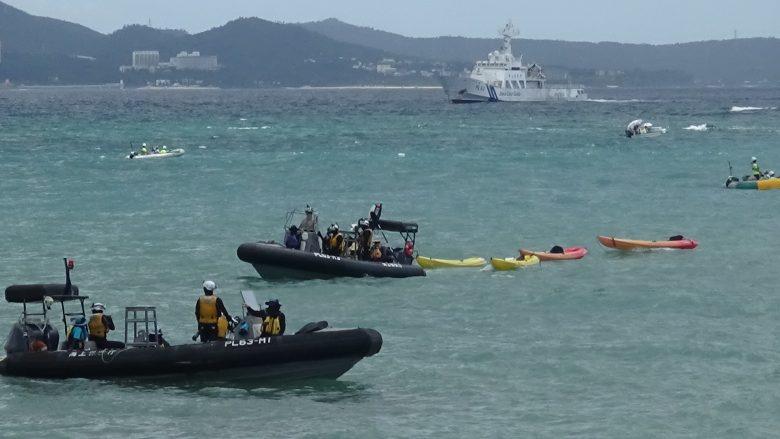 (Motobu Shiokawa Pier)
Delivery of soil and sand started a bit later, from 10:00 a.m., probably because an empty cargo ship was not available. Five members of Shimagurumi of Motobu showed up to stand in protest in front of dump trucks that came to the gate one in every minute and delayed the deliveries. The delivery operation continued until 5:00 p.m., and total 271 truckloads were loaded to 2 cargo ships.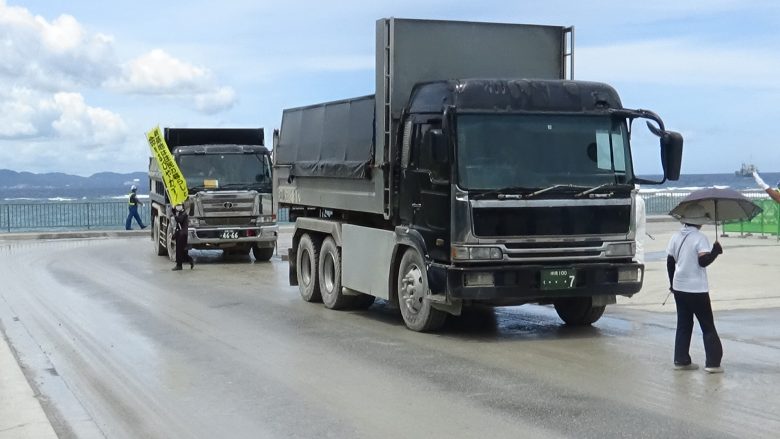 Number of dump trucks to date and percentage against the total
The estimation calculated on the basis of the number of ruckloads serves only as a reference.
Number of dump trucks which made delivery from December 2018 to the end of December 2019 114,601(1.39%)
| | | | | | | |
| --- | --- | --- | --- | --- | --- | --- |
| | 4(Sat) | 6(Mon) | 7(Tue) | 8(Wed) | 9(Thr) | 10(Fri) |
| Awa | 882 | 1066 | 900 | 937 | | |
| Shiokawa | 0 | 394 | 275 | 271 | | |
Number of dump trucks
※
Weightt of earth/sand

※①

Converted to volume

※②

Volume per Total

※③

199,803
999,015t
499,508㎥

2.473%
※ Cumulative since Dec. 1, 2019
※① Calculated by assuming that the average truckload per dump truck would be 5 tons
※② Calculated by assuming that a specific weight of soil/sand set to be 2
※③ Percentage against 20.200.000m3, the total volume of earth and sand required for the landfill.