August 8, 2020 Ryukyu Shimpo
Ryukyu Shimpo utilizes drones to report on U.S. military base issues in Okinawa, such as functional enhancements made to the bases, and the extents of any damages caused by the military. Specifically, drones flying over the waters near Camp Schwab in Henoko, Nago City, can capture the ongoing construction at the planned site of the new base up close. This has helped the paper report on the project's progress and any of its illegalities. Drones have also been used to capture footage of the aftermath of a mountain fire that occurred at Camp Hansen, which helped report on the impacts of the military's activities.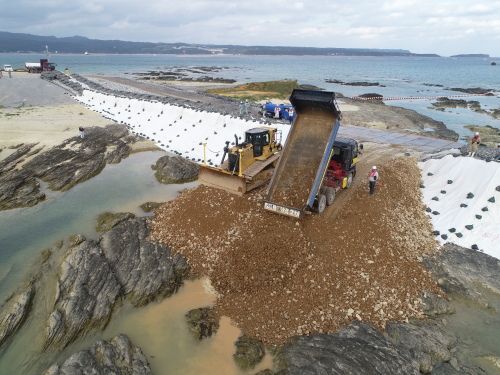 Soil and sand fill the waters at Henoko, Nago City, to build a new U.S. military base. The photograph was featured on the front page of Ryukyu Shimpo's print edition the day after land reclamation began. (Footage captured on Dec 14, 2018, with a drone flying over Camp Schwab.)
A drone also helped document the scene when land reclamation work began at Henoko Bay on December 14, 2018, as part of the new base construction. The very next day, the front page of Ryukyu Shimpo's print edition, dated December 15, 2018, featured a photo of a dump truck unloading soil and sand into the ocean. The recent restriction on drones may thwart the paper's future efforts to capture such in-depth photos of the construction project.
A drone used in "Uruma Kikō—A Bird's Eye View," a project to capture the scenery around Okinawa, took aerial shots of Mount Onna—the training facility attached to Camp Hansen. The footage showed bare patches of land with red surface soils, revealing the environmental impacts of the live-fire exercises conducted by the U.S. military.
On the other hand, drones cannot fly over U.S. MCAS Futenma or Kadena Air Base, due to the manufacturers' self-imposed restrictions.
Drones have helped reporting on the Northern Training Area helipad construction, as well as the Ie-Jima Auxiliary Airfield landing strip expansion. Although these areas were not included in the latest drone use restrictions, the Ministry of Defense has indicated it will expand its scope in the future. Reporting on events happening in these locations are likely to be impacted in the times ahead.
(English translation by T&CT and Monica Shingaki)