October 1, 2020 Ryukyu Shimpo online edition
The Okinawa Defense Bureau (ODB) has recently announced that one part of the land reclamation work for Futenma Replacement Facility construction in Henoko, Nago City, was finished. In response to this, on October 1 Okinawa Governor Denny Tamaki stated in writing that the construction completed is "merely a portion of all the construction" needed for this one part of land reclamation.
Governor Tamaki said that the ODB's political approach is to make it seem as though construction is progressing favorably by completing land reclamation in one part of the zones. According to preliminary calculations by the Okinawa Prefectural Government (OPG), by the end of August the amount of soil deposited would reach 3.2 percent of the total amount, and as such Governor Tamaki emphasized that, in the current circumstances, it is difficult to imagine land reclamation being completed as a whole.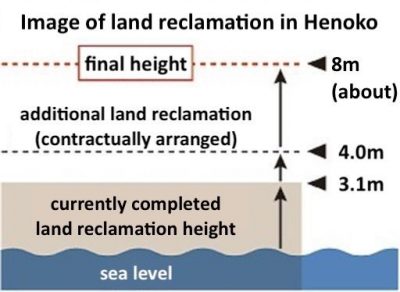 Soil deposits into the land reclamation zone close to Cape Henoko were started in December 2018. On October 1, the OBD announced that land reclamation to the height reported to the OPG was completed on September 30, 2020. The height reported to the OPG is, for the most part, to a height of 3.1 meters above sea level, and 4 meters above at portions of the seawalls. Further land reclamation is necessary to reach completion in this part of the land reclamation zones.
In March this year, the ODB ordered additional soil for construction. Furthermore, it can be seen in ODB documents that the final height of the outer peripheral sea walls is to be 8.1 meters above sea level, and the final height of the land-reclaimed earth is also to be raised to about 8 meters above sea level.
Construction to the height of 3.1 meters above sea level in the part in question, which was recently announced as completed by the ODB, was initially scheduled for completion by March 2020. However, after two extensions, the schedule for completion was changed to the end of September.
Meanwhile, soft seafloors have been found in the ocean area scheduled for construction on the Oura Bay side of Cape Henoko, and the ODB cannot start construction there. An application is being filed with the OPG so as to change the plan to include ground improvement work and to reapprove the plan.
(English translation by T&CT and Erin Jones)