(In front of the Gate)
A little past 8:30am, 40 people resumed the sit-in. About 9:00am, some dump trucks came to the Gate. Three times a day, an approximate total of 150 times, dump trucks went into the US military base. Every time a truck came the Gate for entry, about 60 riot policemen removed and detained us. The maximum number of the detainee today reached 80.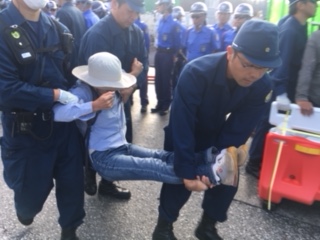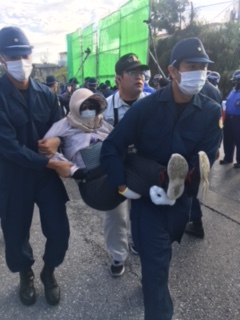 (On the Sea)
The Japan Coast Guard men detain us always without citing a legal basis for detention. One protest boat, 6 canoes, and 10 people on board went out to protest on the sea. The contract workers were placing the antipollution films in the area designated for landfill. The canoe members tried to stop it, but all were detained by the Coast Guard men. The picture shows the canoe members being brought back to the beach.