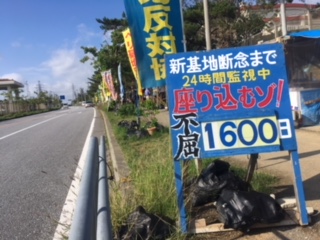 (In front of the Gate)
At 8:30am, 50 people resumed the sit-in, and the number of participants went up to 100 by 9:00am.
Approximately 100 riot policemen removed us to detain in a temporary detention area designated on the sidewalk. Today, again, the protesters came from various places of Japan including some medical service workers. The number of truck loads today was 76, a little less than the usual number.
The maximum number of participants for today reached 120.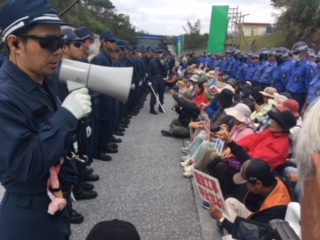 picture : A moment before removal of the protesters. Those with blue helmet lined up on the right are the guards from a private security company.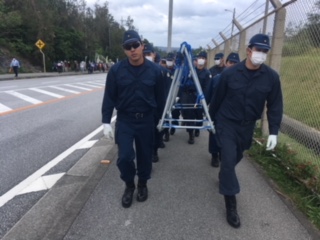 picture : The riot policemen dismantling the temporary detention area by removing the iron fences.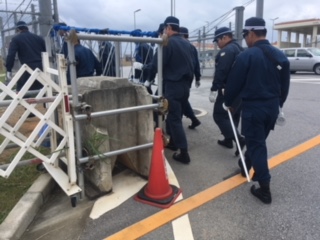 picture : The riot policemen returning back into the US military base that is beyond the yellow line. Before the yellow line is the territory of Japan.


picture : Samples of lunch boxes packed by the participants.
(On the Sea)
Due to a bad weather, the protest activities on the sea was cancelled. A canoe class was opened for those who participates the protest on the sea for the first time.