(In front of the Gate)
At 8:30am, 50 people resumed the sit-in. Before 9:00am, 60 riot policemen started removing and detaining us.
Three times that amounted to a total of 138 units today, the dump trucks brought in construction material. The protest participants came from various places of Japan, and some from Hawaii. Three free-lance journalists from Taiwan photographed us being removed and detained by the riot policemen, and said, "We came to report your protest in Henoko, Okinawa to the people in Taiwan". The maximum number of protest participants for today reached 170.
At the meeting in the Tent, it was reported that "Mr. Inaba appealed our protest movement in Henoko, Okinawa to the World Conference held in Dublin against NATO and the US Military Bases".
One of the protest participants tightly held a stuffed Jud gong.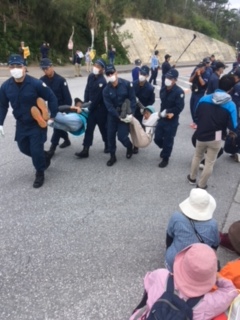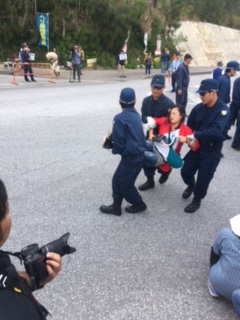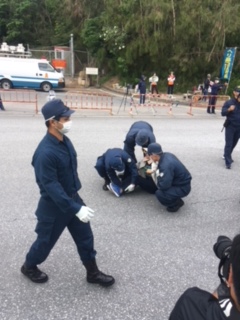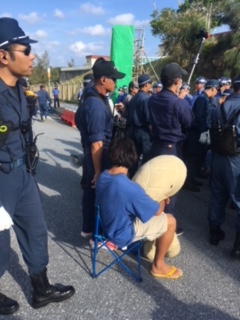 (On the sea)
Due to a bad weather, no canoe went out to protest. However, the protest boats went out several times to the sea to show Ohura Bay to the total of 80 participants. Tens of them joined the sit-in in the afternoon.
Those who went out to the Bay commented, "Very much impressed by the beauty of the Bay. At the same time, we feel very angry with the government of Japan for proceeding to dump dirt into the beautiful sea".