(In front of the Gate)
In a drizzle, approximately 40 people resumed the sit-in protest. Those from outside Okinawa held placards and called out aloud to the trucks.
"Stop the illegal construction work!"
"Do not destroy the beautiful sea!"
At 11:30am, Mr. Robert Kajiwara who initiated the internet petition arrived at the Tent while over 100 people welcomed him by clapping.
"I want to see the voting on site and in real time. The internet petition helped to extend the Henoko message to the world. I would like to take every opportunity to speak about Okinawa to the US government and the UN." He stated.
Three times a day from the morning through the afternoon, 320 truckloads in total were delivered today.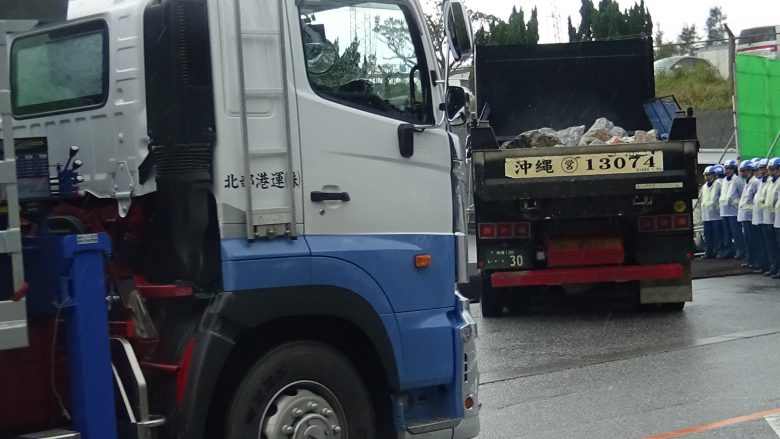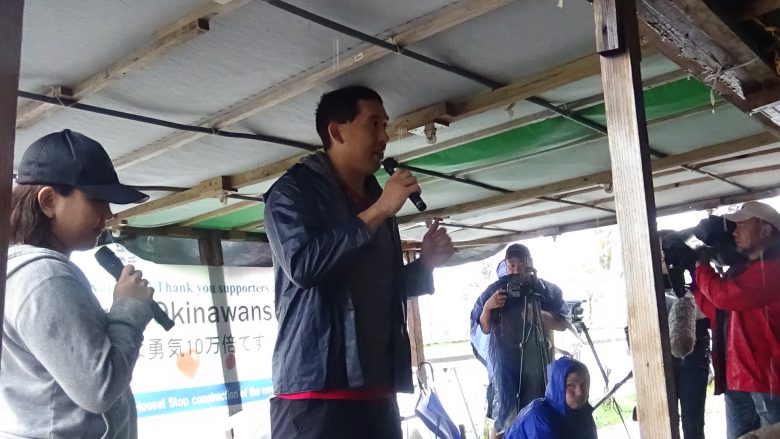 (On the sea in Oura Bay)
Due to a bad weather, the canoes did not participate in the protest on the sea. Two boats went out on the sea to monitor the construction sites and confirmed that both N4 seawall construction and the dumping into the zone 2-1 were in progress.
(In front of the Pier in Awa)
All day long, a small number of people stayed in the protest rally. Although the belt conveyer stopped from time to time, the work continued close to 6:00pm, and 560 truckloads of dirt and sand in total were delivered to the Pier today.
(Other)
In the evening, we held a welcome party for Mr. Robert Kajiwara at a community center. At the opening of the party, Ms. Shimabukuro Ayako presented a Sanshin to Robert-san (san = endearment).
"We are so proud and grateful of your being Uchinanchu (Okinawan). I hope that this Sanshin will strengthen our bond."
Robert-san spoke his wish on the Prefectural Referendum and his thoughts on being an Uchinanchu residing in Hawaii, to which 130 attendees responded with warm clapping many times. Robert-san played the Sanshin, and the attendees danced Kachaashi to his Sanshin. The party spirit went high and merry.