(In front of the Gate)
Approximately 60 people resumed the sit-in from 8:30am, but no delivery was made. Participants from Hokkaido, Osaka, and Nagoya took turns to give yells for support. A man with a group of 10 people from Muroran City criticized Abe Administration.
"The Prefectural Referendum clearly showed the will of Okinawa people. The administration that does not respect local autonomy has no right to rein the central government."
Ms. Sara Belsman, a Dutch woman who was interested in dugong and would study at Kyushu University from April, remarked.
"Construction of a military base does not look right in the rich nature of Okinawa. Environmental protection is not a unique task that Okinawa faces, but the task that the world faces in common."
We rallied to the 3rd gate. Watching over Oura Bay, we listened to the canoe members who explained the status of the construction work in detail.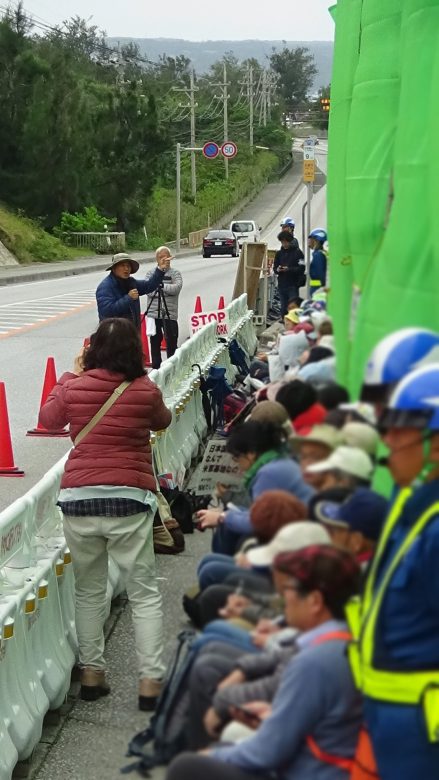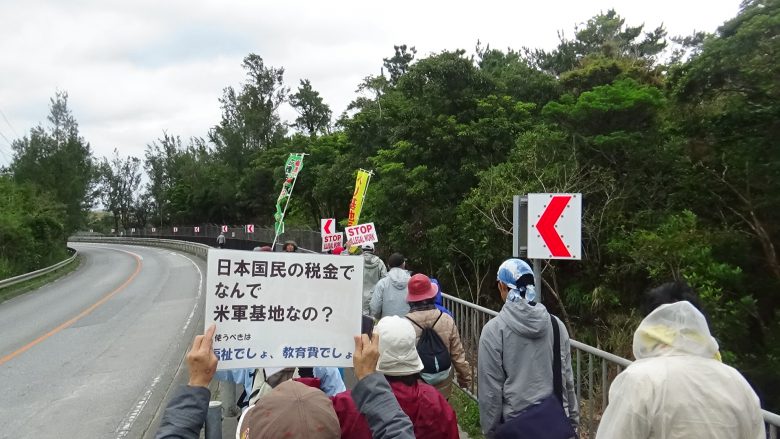 (On the sea in Oura Bay)
Due to high waves, only one boat went out for monitoring. Both construction of K8 seawall and reclamation work were in progress in rain.
(In front of Ryukyu Cement Pier in Awa)
No delivery to the Pier was made.