(In front of the Gate)
At 9:00am, several tens of protestors resumed the sit-in, but were easily removed by the riot police, and dump trucks and mixer trucks went into the Gate one after another. Ms. Takazato Suzuyo took about 10 minutes to explain the history of Okinawa and the new military base, the risks that come our way, and the situation that Okinawan women have been facing. The riot police, the Defense Bureau staff, and the guard men, all male lined up in front of the Gate, where her soft graceful speech went on to sink into their hearts. I hope that it has reached their hearts.
Truckloads of 233 were delivered into the base today.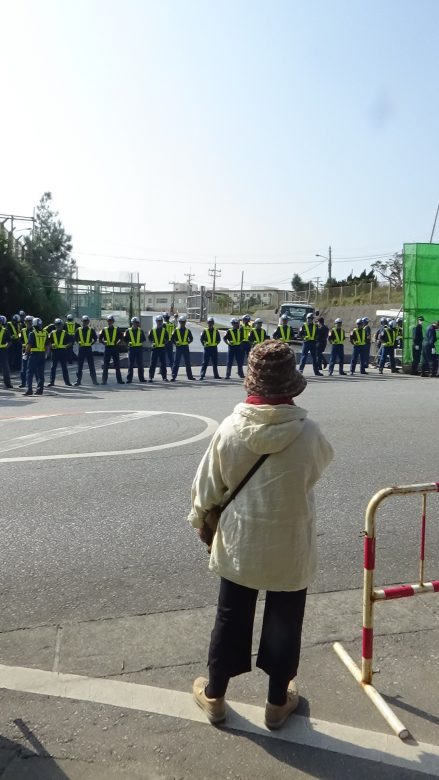 (On the sea in Oura Bay)
One rubber boat and 11 canoes went out to protest. K8 construction was rapidly progressing in order to increase the number of piers available to unload dirt and sand and increase the speed of reclamation. However, beyond K8 seawall, coral colonies are growing. The experts gave a warning that the currents would be greatly changed, and that the change would be detrimental to the ecosystem in Oura Bay."
However, the Defense Bureau forcibly continues construction, claiming that "there will be no effect."
Nothing but sophism. The picture was taken on 8th of this month.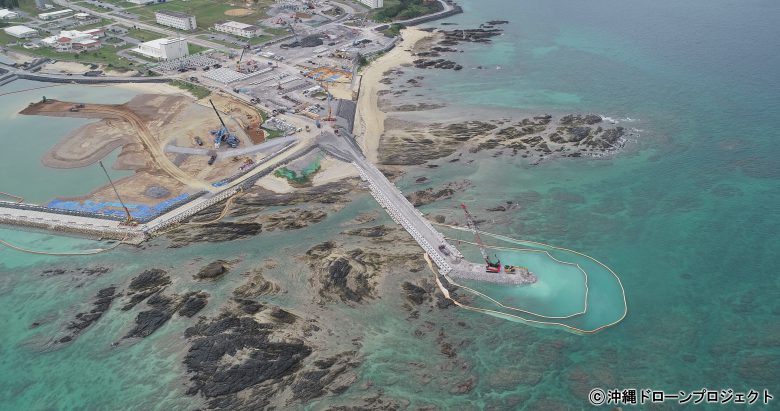 (In front of Ryukyu Pier in Awa)
Approximately 100 people gathered in front of the Pier and rallied all day long and successfully reduced the number of dump trucks to 226 trucks which is less than a half of the usual number. One rubber boat and 12 canoes joined our rally on the sea. They surrounded the carrier boats and successfully delayed their departure from the Pier.
Sparkling sea in emerald green!
"Keep it up! Canoe team!"
"Here! We stand for you!"
Many cheers went from the protestors on land. A journalism major student from the USA and a couple from Ireland joined our protest, which gave an international color.