(In front of the Gate)
From the mainland Japan, 19 people engaged in church related activities came. And from Okinawa International University, 10 students came. We resumed the sit-in in front of the Gate with determination. Mr. Yamashiro Hiroji spoke.
"Members of the riot police, the will of Okinawa people has been clearly indicated, and we are the spokesman. In order to pay respect to Okinawa, do not remove us by force!"
To his quiet words, the man in charge of the riot police on site nodded; however, 86 trucks went through the Gate at 9:30am, 69 trucks at 12:30pm, and 69 trucks at 3:00pm, 224 truckloads in total were delivered for the day.
At 11:00am, 4 members of a traditional folk dance group, Hanakoma, from Hyogo Prefecture arrived with a wooden mortar and musical instruments. Lively songs accompanied pounding rice in the wooden mortar to make Mochi.
"We are visiting nurseries and welfare facilities in Okinawa to show our support. Have some Mochi and energize yourselves to continue your fight."
So stated the group leader, pounded enough Mochi for 40 people, and treated us to fresh Mochi.
They brought us a warm spring day.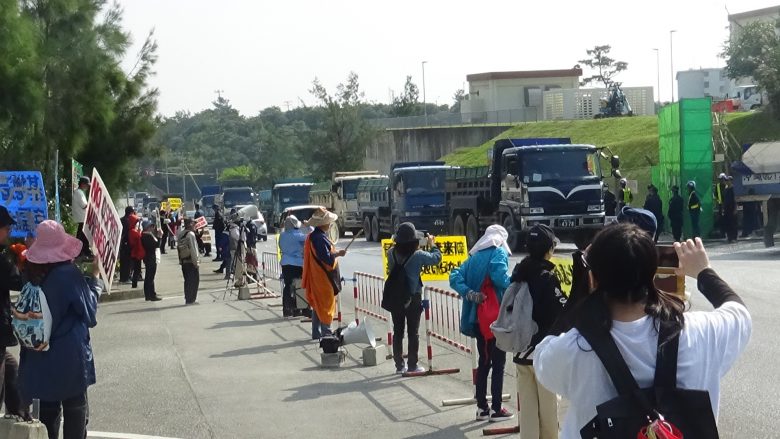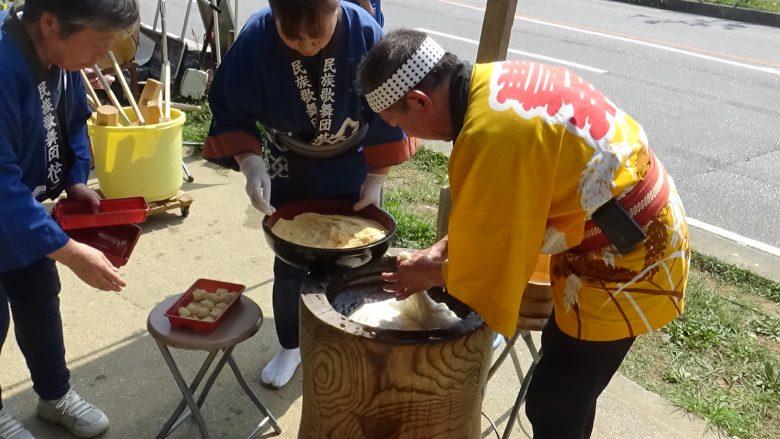 (On the sea in Oura Bay)
Three boats and 10 canoes went out on the sea for a protest rally. They tried to stop the construction of K8 seawall, but the Coast Guard's block was too firm to break through to go closer to K8. The sound of dump cars unloading stones echoed in the Bay, and the cloud of dust flew over the water. The most treasured sea in Okinawa is being destroyed day by day to build the US military base. We do not want to see it. We want the construction stopped immediately. We cannot give up our fight.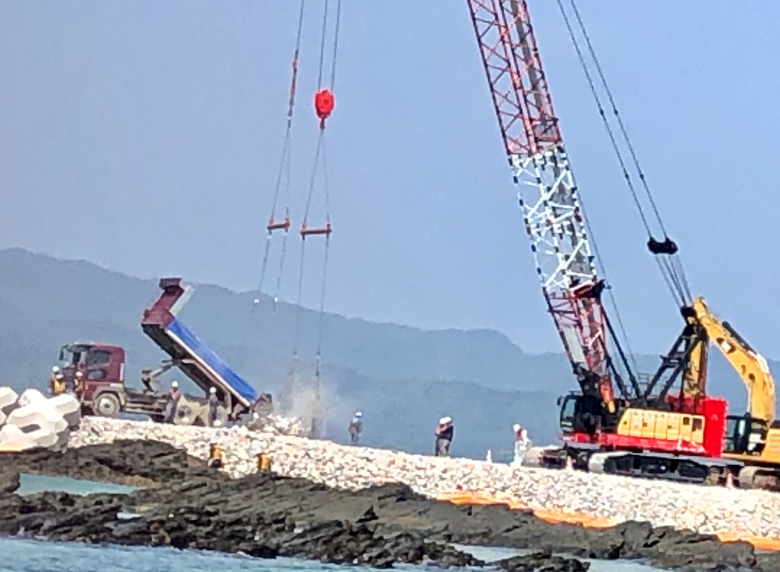 (In front of Ryukyu Cement Pier)
Although small in the number of participants, we called aloud to the dump truck drivers.
"Do not deposit red soil in Oura Bay!"
"Do not participate in the illegal construction!"
We know most of the truck drivers by face because we meet every day. Many of them do not see us in the eye. They drive trucks in need to earn living, but they must have a twinge of conscience. We kept on feeding Okinawa music via loudspeaker.
By3:00pm, 494 truckloads of dirt and sand were delivered.