(In Front of the Gate)
Approximately 30 people resumed the sit-in from 8:30 a.m., but were removed by the riot police force in 10 minutes. After that, at noon and at 3 p.m., 3 times a day, a total delivery of 245 truckloads for the day was made.
As parts of the new base, construction work progresses also on the land. The picture shows construction of what appears to be a new shopping mall, for which our precious tax money is spent. Where in the world can you find a perfect base that costs very little to the USA?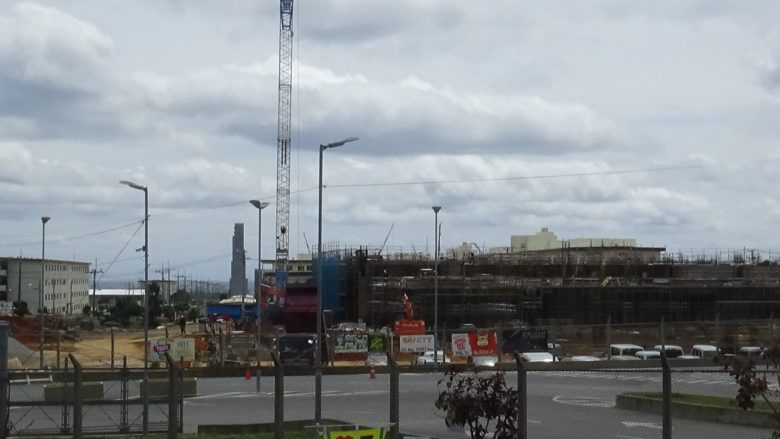 (On the Sea in Oura Bay)
Three boats and 12 canoes went out on the sea to protest from 7 a.m. All canoe members tied themselves to the fences trying to block the barges loaded with earth and sand entering the opening in the oil fences. It took an hour and 40 minutes for the Coast Guard to remove the canoe members off the fences, and the barges were delayed by 2hours to come ashore.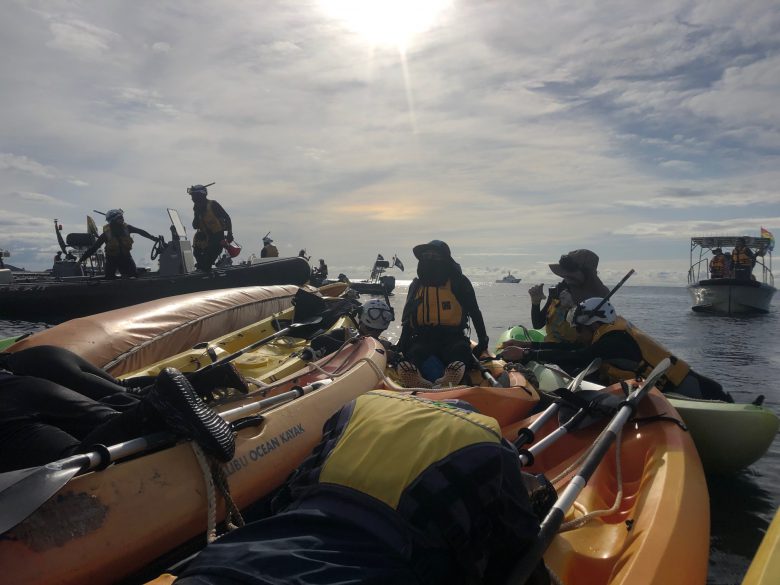 (In Front of Ryukyu Cement Pier in Awa)
Past 10 a.m., delivery of earth and sand was suddenly stopped. It seemed that carrier ships were unavailable. The number of deliveries made was 166 loads.
(Other)
The number of complaints from the citizens added up to 684 in the year 2018, the maximum number in the history of Futenma Air Base that is said to be the most dangerous base. A high noise level of 120 decibel, which is much higher than that of under a railroad bride when a train passes (100 decibel), was recorded. The reasons for higher noise level are more airplanes that are not stationed at the base are visiting the base for training, such as the most advanced stealth fighter F35B and Osprey.
Confirming that the Futenma Air Base is situated in the midst of the residential area and "the most dangerous base in the world", both governments of Japan and USA agreed in 1996 "for US forces to evacuate the base in 5-7 years". However, after 23 years since then, the base is still occupied. Two years ago, parts of the US helicopters were dropped onto the grounds of a nursery and an elementary schools.
The original agreement promised that the evacuation from the Futenma Air Base takes place regardless of the status of the new base construction in Henoko. However, Abe Administration uses "delayed construction of the new base" as an excuse for not negotiating with the US government to have the US forces evacuate the Futenma Air Base. I am afraid that Abe Administration has cheated us.