(In Front of the Gate)
In a drizzle, the riot police force mechanically again today removed the citizens in the protest sit-in. The temporary workers sent from a security service company watching the removal with wooden face and the Defense Bureau staff members calling for caution through a portable microphone. The scene and the actors have been the same for the past 15 years, and all actors are Uchinanchu. Fragmentation of Uchinanchu who have been burdened with the bases is now complete, and the administration that has forced the bases gloats on a red carpet. Making the members of a group to fight among themselves is a commonly used strategy for those in power to push their oppressive policy through. The US government stands behind those in power in Japan. The parcel of land and the cost of construction are provided by the Japanese government. When a problem comes up, it is a "domestic" problem that does not concern the US government. How ridiculous can it get?
Three times a day from the morning through the afternoon, 229 truckloads in total were delivered today.
The protest rally continued in the rain all day long.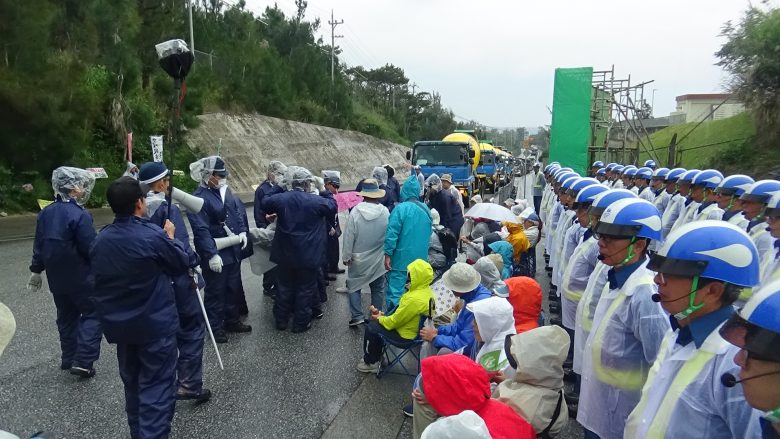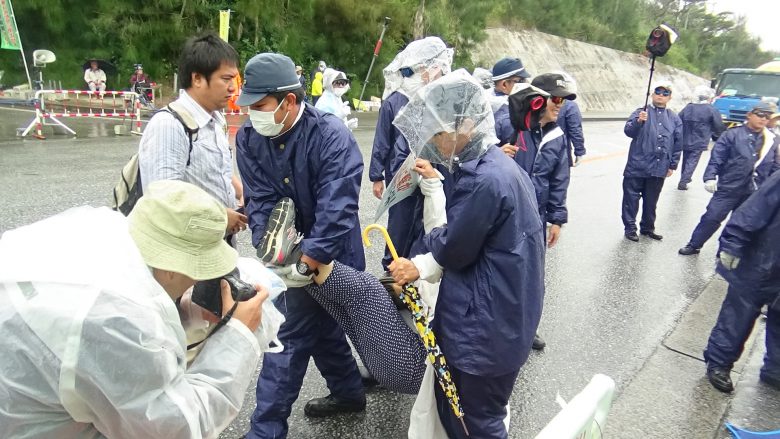 (On the Sea in Oura Bay)
Three boats and 6 canoes were out on the sea to protest. Confirmed were depositing earth and sand in the designated reclamation area and construction of the seawall in progress. One canoe went over the fences and reached K8 seawall, but was restrained by the Coast Guard and brought back to the beach. It was repeated twice in the morning.
The protest in the afternoon was cancelled due to a bad weather.
(In Front of Ryukyu Cement Pier in Awa)
Deliveries of 363 truckloads of earth and sand were made. It was equivalent to the loads of two cargo ships.