(In Front of the Gate)
At 9 a.m. in a drizzle, close to 100 people resumed the sit-in in front of the Gate. Several tens of members of Korea Peace Network joined us to participate the Peace March, so that the number of protestors reached 180 around the noon. One of the Network members spoke up.
"American bases are also in Korea, and they have destroyed our communities and our ecosystem as they have in other countries. When they withdraw from Korea, we will have true peace."
"No base!" He shouted aloud for the audience to follow him in chorus.
The delivery of 316 truckloads of earth and sand was made today.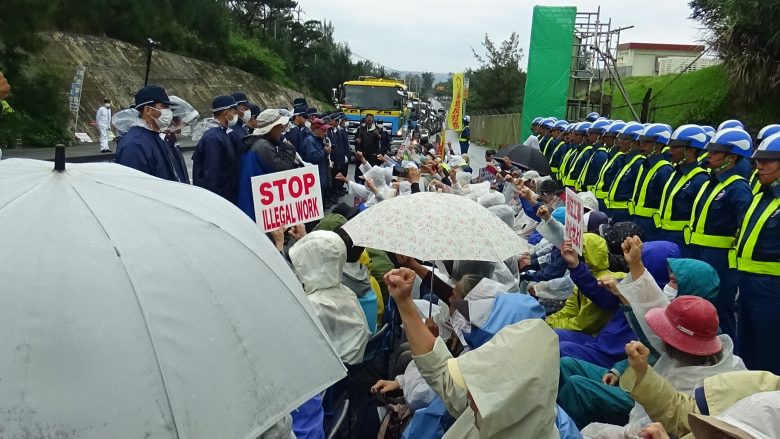 (On the Sea in Oura Bay)
Due to a bad weather, rallying on the sea was cancelled.
(In Front of Ryukyu Cement Pier in Awa)
In a rain, 12 people rallied all day long. Holding up placards, they appealed also to the cars passing by. Many sight-seers on buses waved their hands in response. They must be high school students and visitors from Taiwan on their way to the aquarium in Motobu Town. Young people and non-Japanese respond freely and faster to our appeal, which encourages us.
Truckloads of 643 were delivered to day, and 3 cargo ships left the Pier.
(Other)
Peace March which started in 1979 to accomplish "No base in Okinawa" begins its 42th march today. Two courses are prepared this year: one to go around the military bases in the northern and the mid part of Okinawa and other to visit the battle fields in the southern Okinawa. Many participants come from abroad and Japan, including the several tens from Korea. The March has come to be an international action. In the morning of the 17th, we will gather in front of the Gate of Camp Schwab to appeal "no American base in Okinawa" and "no new base in Henoko" and march to the next town, Ginoza Village.