(In Front of the Gate)
The temperature reached 28oC, like a day in mid-summer. The riot police force members looked fierce today, a revenge of the prior day? In this hot weather, the long sleeve uniform must be unbearable. I felt a bit sorry for them.
About 30 people resumed the sit-in, but were removed in 20 minutes. Three times a day from the morning through the afternoon, 292 deliveries in total were made. Probably the delivered material was for construction of K8 seawall and the ammunition storage facility that was revealed by a picture taken by a drone last month.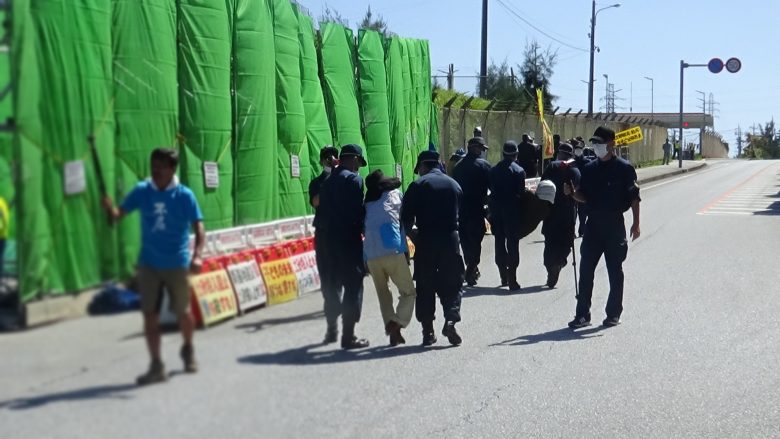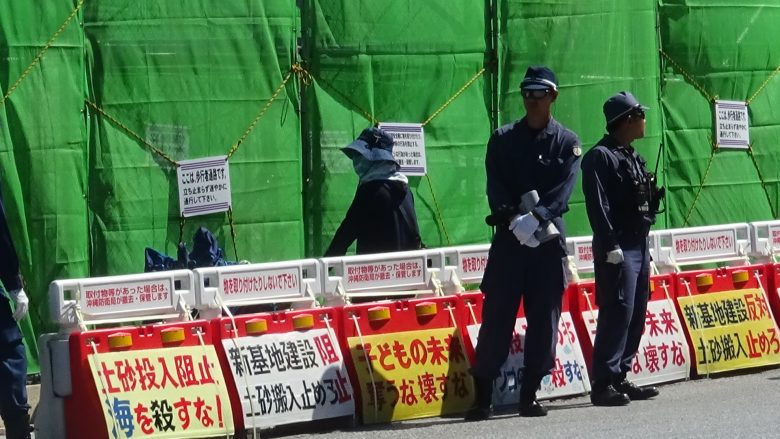 (On the Sea in Oura Bay)
Two boats and 8 canoes were out to protest. It was confirmed that wave dissipating blocks were being set up at K8 and that earth and sand were being deposited in the zones 2-1 and 2.
Seabirds (terns) were flying over Hirashima.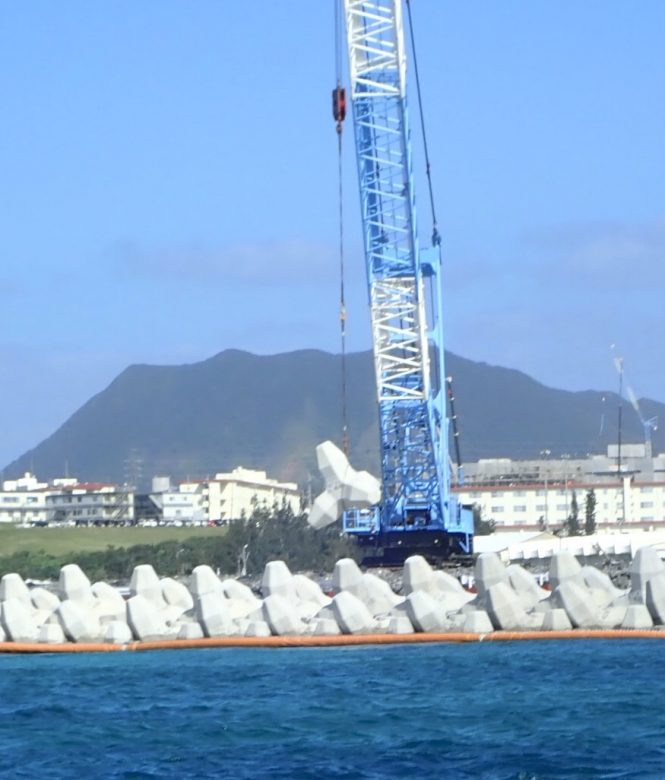 (Protest in Shiokawa Pier of Motobu Port)
At 7 a.m., we received a news that earth and sand deliveries begun to Shiokawa Pier, so that over 30 people went there to rally in protest. This was the 2nd time since the last month; however, there is no urgency to use this Pier before K8 seawall in Oura Bay is completed. Since a request for use has been monthly submitted to Motobu Town, it seemed that they wanted to establish an alibi that the Pier was used at least once a month. The riot police force and Defense Bureau staff were there for security reasons, but they did not try to remove the citizen protestors by force. Their purpose was to establish an alibi; therefore, they were not desperate. Deliveries of 181 truckloads were made.
A member of All Port Workers Union asked repeatedly.
"It is illegal for the Defense Bureau to occupy the Pier for their sole use, isn't it?" The work was finished by noon.
When K8 seawall is completed in July, this Pier will be used in earnest to ship out earth and sand.