(In Front of the Gate)
Gratifying day! Non-violence protestors over-powered dump and mixer trucks in number the first in the morning and made them turn back without making the deliveries. Protestors started gathering in front of the Gate from 8:30 a.m. After participating 3 day long Peace March, people came to participate the protest in front of the Gate before heading home. Approximately 300 people gathered. Flags of Kanazawa University and Ryukyu University were flapping among the flags of Peace Centers of various areas. Mostly young people on their 20s and 30s.
The riot police force standing by in the base and the protestors started to glare at each other. Maybe because of large number of protestors, the riot police force pulled back after 30 minutes of the glaring match, and the Defense Bureau directed the trucks to move onward. Several tens of large tucks slowly passed the Gate without making deliveries.
"We did it! If enough people gathers, deliveries trucks cannot go inside the Gate." Mr. Senaga Kazuo, the leader for the day shouted in joy.
Those who used to see removal of the protestors in the sit-in rally on You-tube got real surprise today. After they go home with a conviction that "A large number of people can stop the construction", and convey the message to their friends, more people will come to join us.
In the afternoon when the number of protestors decreased, the Defense Bureau resumed making deliveries. Go-Go Drive members tried to block the trucks coming out of the Gate, but not much success. By early evening, 179 truckloads deliveries were made, but we definitely reduced the number of deliveries today.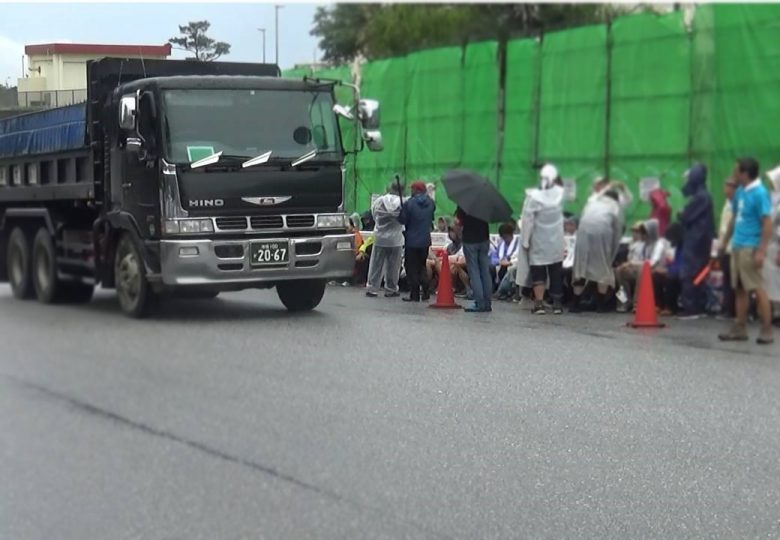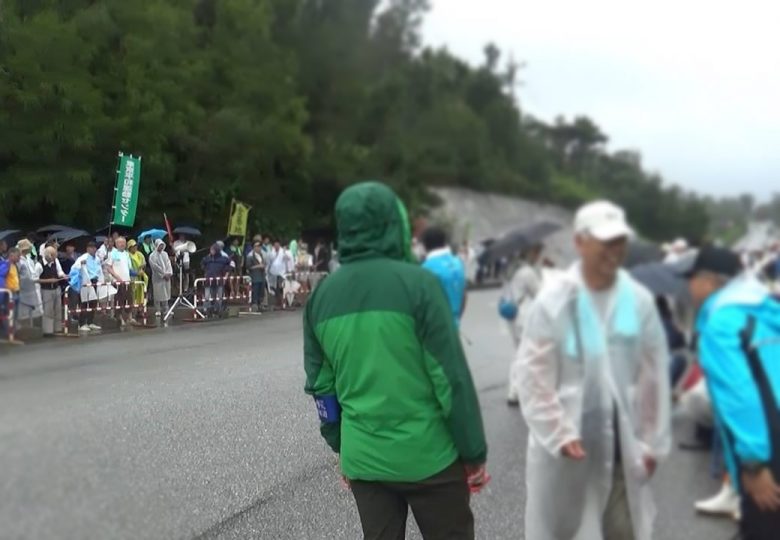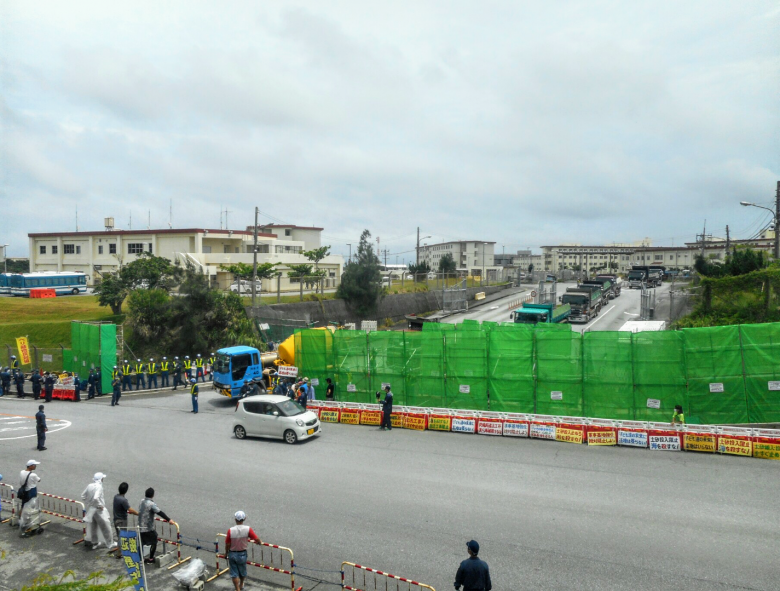 (On the Sea)
Due to a bad weather, rally on the sea was cancelled. We heard that depositing earth and sand and construction of K8 seawall were progressing.
(In Front of Ryukyu Cement Pier in Awa)
For unknown reasons, no delivery of earth and sand was made today. A cargo ship to transport coal was docked at the Pier. It seemed that the owner of the Pier, Ryukyu Cement Company gave priority to their work, which is to transport construction material. It seems that Shiokawa Pier in Motobu Port is to open for use.