(In front of the Gate)
On the day when the public notification of Okinawa Prefectural Referendum was posted, a campaign started in front of the Gate in Henoko, the focal issue on the referendum. Mr. Edward Kuba, a 2nd generation Okinawan from Hawaii, gave a cheer.
"Let us do our best!"
The voting date is 24th, 10 days from today. Three choices, "Yes", "No", and "Neither", are given.
When the number of the elected choice goes over 1/4 of the total number of the qualified voters, the Governor of Okinawa will report the result to both governments of Japan and USA. Although the result has no legally binding power, if the number of opposing votes goes over 1/4 of the qualified voters, the issue will draw closer attention both domestically and internationally.
It will be a strong pressure on the Administration that forcibly proceeds on construction of the new military base.
Today, 315 truckload were delivered.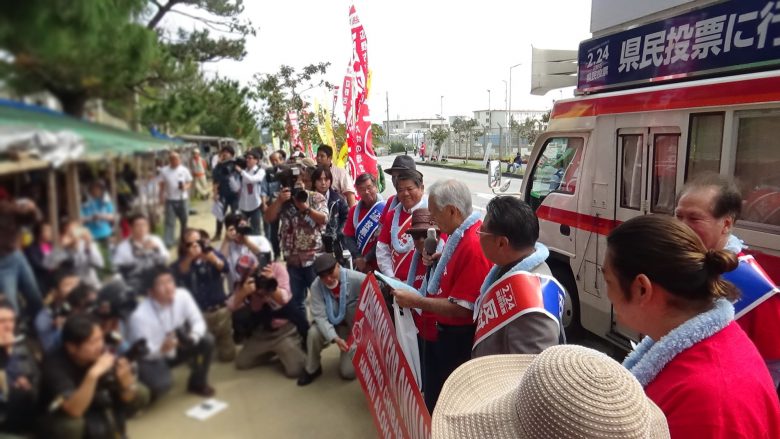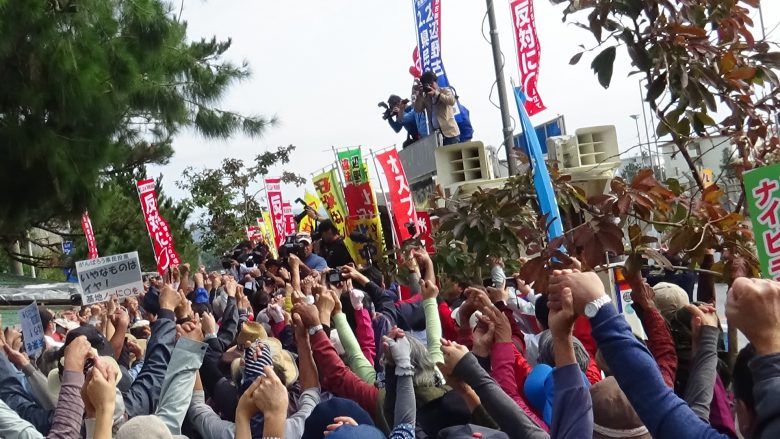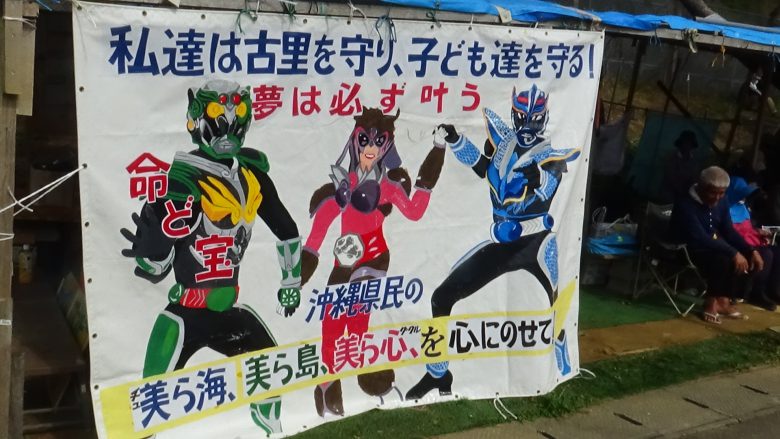 Please see the video:↓

(In front of Ryukyu Cement Pier)
Only a little over 10 people resumed the protest. The belt conveyer that moves dirt and sand did not work for 2 hours in the morning due to a malfunctioning. The conveyer is not fit for carrying small particles like soil which would easily go among parts of the machine and cause malfunctioning. They overworked until 6:00pm as if to recover the delayed work.
A total 504 truckloads of dirt and sand were delivered, and 3 carrier boats left for Henoko.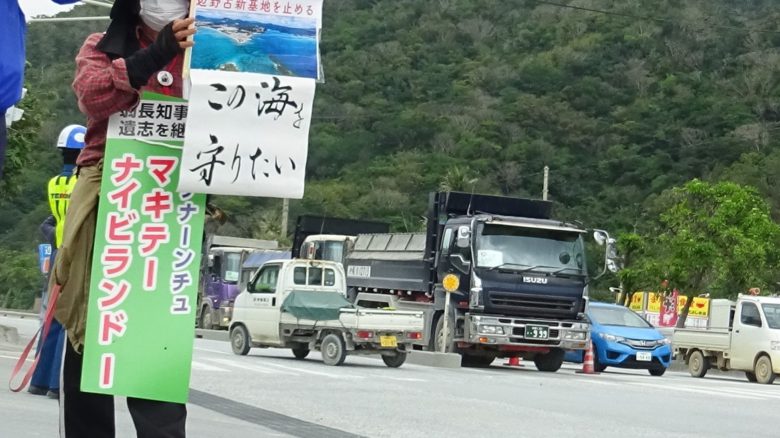 (On the sea in Oura Bay)
Two boats and 7 canoes were out on the sea to protest. All canoes went to N4 seawall which will serve as a new pier. Of the total length of 135m, already 100m is extended. Within several days, the foundation will be completed.
One canoe reached very close to the crane and successfully stopped its operation for a while. The Coast Guard being unable to operate their rubber boats in shallow water, a grim faced Guard man had to walk in the water to reach us.