(In Front of the Gate)
At 9:30 a.m. 55 people resumed the sit-in. People from various districts spoke freely, sung parodies, and called out aloud to the base.
"The will of the people has been clearly presented. Stop the construction immediately!"
"Don't destroy our beautiful sea!"
Before the noon, Mr. Okuma Masanori, a civil engineer with the help of a drone explained how careless the construction work had been conducted. He pointed out that the polluted water leaked out to the sea and that the coral colonies had not been moved out to be transplanted outside the Bay, and appealed.
"The drone regulations that were forcibly established recently by the power of the ruling party require a permit by the US forces to fly a drone within 300 meter vicinity of an American base. That practically forbids flying a drone near a base. In addition, a wide area of water designated for the US forces' training around Camp Schwab will be subjected by the regulations. The regulations are established for nothing but to cover up the careless construction of the new base and avoid the pending criticism.
Three times a day, 169 truckloads that were a bit less than the usual number were delivered today.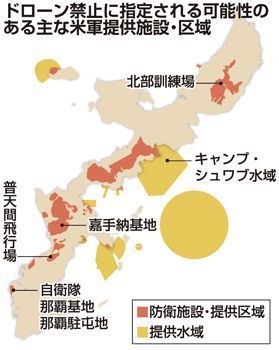 (On the Sea in Oura Bay)
Due to a bad weather, the rally on the sea was cancelled.
(In Front of Ryukyu Cement Pier in Awa)
About 10 people rallied to dump trucks all day long. By 5 p.m. 633 truckloads were delivered, and 3 cargo ships left the Pier for Oura Bay.