(In Front of the Gate)
The candidate supported by All Okinawa, Mr. Takara Tetsumi won the House of Councilors election over the one supported by the ruling party by the difference of 60,000 votes. On the day after the election, Abe administration proceeded on the construction work as if to ignore the will of the people of Okinawa. The riot police force was stationed as if the election had not been held, and dump trucks lined up in front of the Gate. In the heat of the temperature over 30oC, 30 people sat and rallied in front of the Gate with nothing to protect them from the sun.
"The will of the people is declared!"
"Do not segregate Okinawa!"
At about 12:40 p.m., Mr. Takara Tetsumi came over to the Tent Village and gave a speech.
"I won the election because the will of Okinawa people supported me. I will appeal strongly No Go for Henoko at the House of Councilors."
His speech was welcomed by big applauds and traditional whistles with fingers.
Three times the day, 95 deliveries in total were made.
<The Result of the House of Councilors Election in Okinawa>
Takara Tetsumi 298,831 votes
Asato Shigenobu 234,928 votes
Others (2) 24,044 votes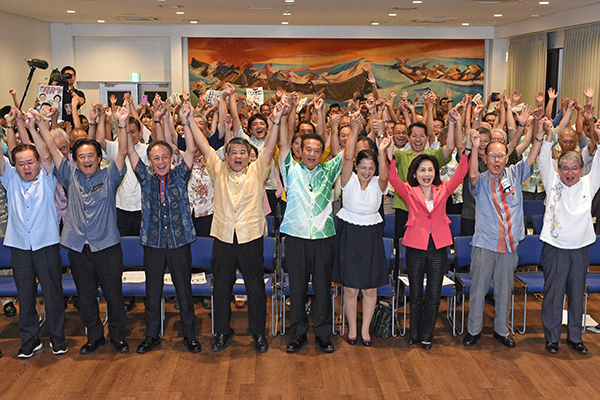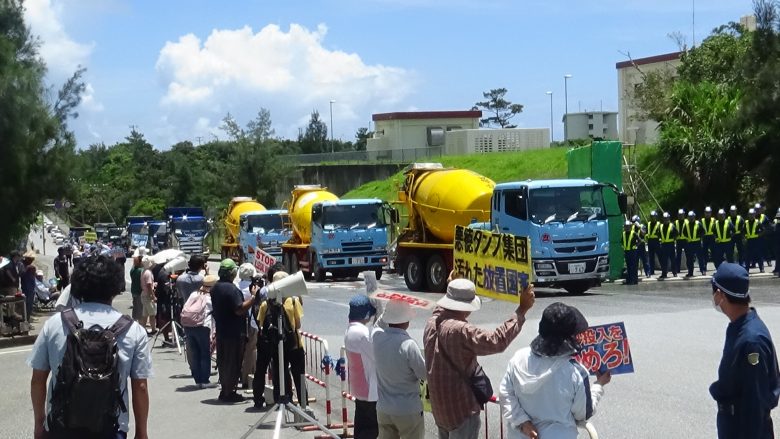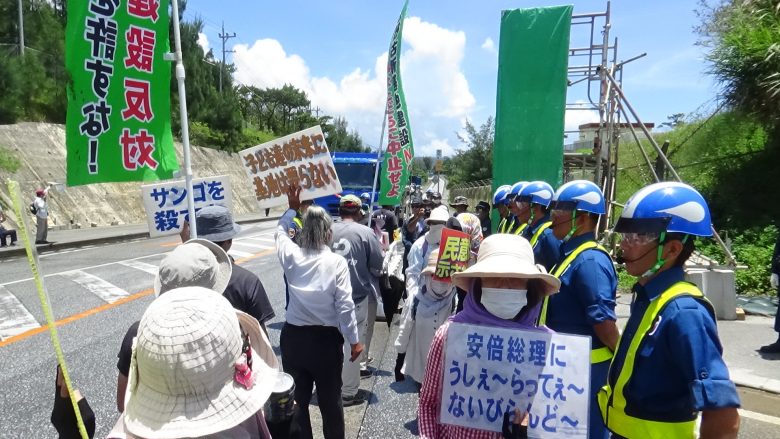 (On the Sea in Oura Bay)
One boat and 9 canoes went out on the sea and confirmed that the oil fences that were removed due to the Typhoon in the last week were being set up again. The boat and the canoes rallied all day long near the opening of the oil fences where the cargo ships go through.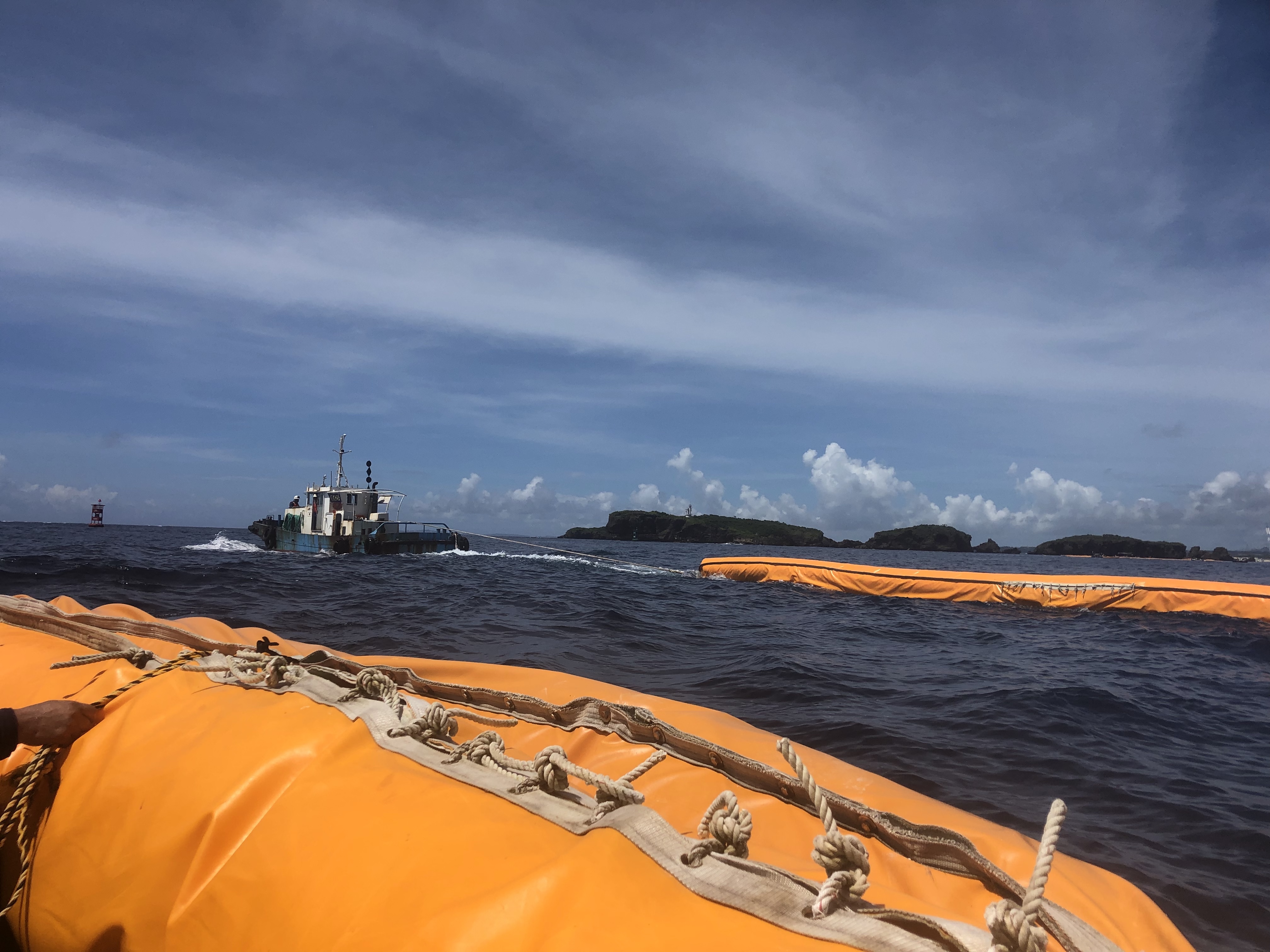 (In Front of Ryukyu Cement Pier in Awa)
Due to the after effect of the typhoon, no loading has been made, and the earth and sand were being piled up in a temporary storage area in the ground of the cement company. In the heat, approximately 30 people kept on rallying. Mr. Yamashiro Hiroji, the leader of the day appealed to the dump truck drivers, Defense Bureau staff, and the ordinary cars passing by.
"The will of the people of Okinawa was declared again. We should not be ignored any longer, and the dumping for the landfill should not be continued."
Taking breaks often, they kept on rallying in front of the Gage.
By 5:00 p.m., 507 truckloads of earth and sand were delivered.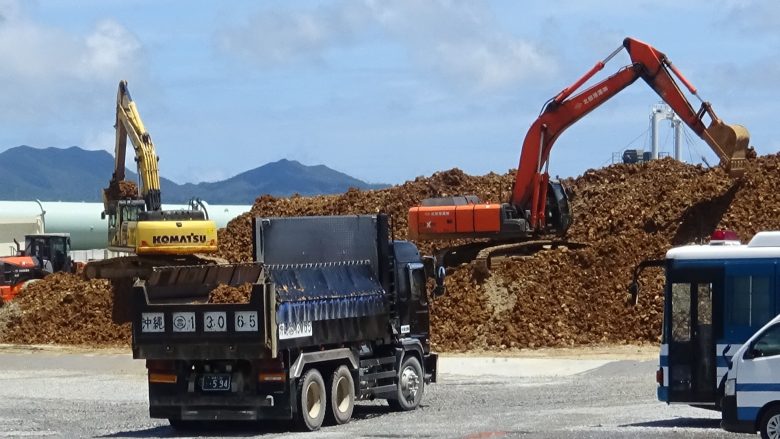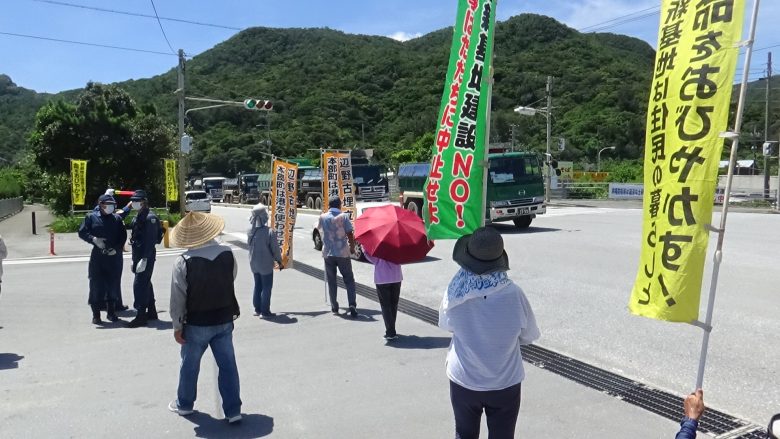 (Shiokawa Pier of Motobu Port)
From 7:00 a.m., loading to the cargo ships began. The administration seems to show off their attitude that the result of the election means nothing to them and that the people of Okinawa should give up their fight. They are imposing a dictatorial method and ridiculing the people of Okinawa.
A smaller number of riot police force attended to watch over the token gesture of loading to the cargo ships. It took a whole day to load the amount equivalent to 137 truckloads.