The work was restarted simultaneously at four sites. Did the Okinawa Defense Bureau want to make up for one-week delay all at once? Tens of people made a protest at four sites, respectively. The riot police was also busy because of their limited number. They had to go to Shiokawa if trucks were blocked there, while they had to go to Awa if trucks could not move forward there. There were more citizens than the police officers. Let's continue our non-violent protest and raise Okinawans' voice to the people in Japan and abroad. We will surely hit a big turning poit some day.
(In Front of the Gate)
Thirty-five members of a welfare activity group in Osaka and 20 members of the Okinawa Peace Tour from Nagoya, total about 70 persons, participated in the sit-in. When 10 or more concrete mixer trucks arrived, the riot police started to remove the protesting citizens. A woman who experienced a sit-in protest for the first time erupted in tears when removed forcibly by the riot police (it is called "Gobonuki" in Japanese and means "pulling out a root crop from the field" ). The U.S. military vehicles with their engines roaring loud passed in front of the citizens many times.
Guarded by the riot police, total of 207 vehicles delivered the material in three times in the morning and afternoon. Are we in Japan or the U.S.?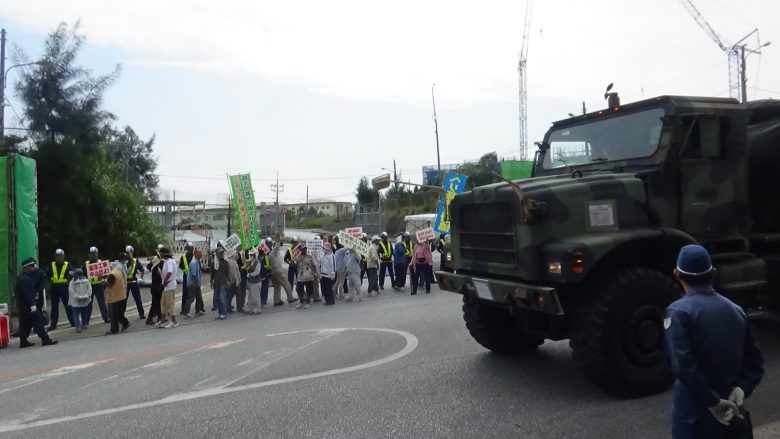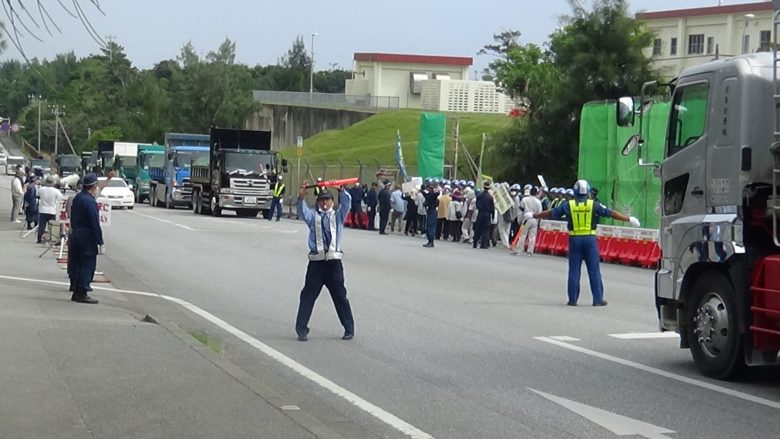 (On the Sea at Oura Bay)
One protest boat and 6 canoues went for protest. In the morning, an emty salvage barge remained alongside the K9 seawall. The barge seemed to have broken down.
In the afternoon, the salvage barges docked at K8 and K9 seawalls started unloading soil/sand which were then carried by dump trucks to the landfill site. Going over the floats, the canoe members went to the K8 seawall for protest, but all were detained temporarily by the Japan Coast Guard.
(In Front of Ryukyu Cement Pier in Awa)
Protest was performed at two sites by the gate to the pier. Eight vehicles of the GOGO Drive Campaign members joined and delayed the progress of the dump trucks. In the pier, 8 dump trucks were transporting the land/soil stored in a pile on the gound to the belt conveyor. The protestors could do nothing about that.
The protest was continued persistently up to 17:00.
Sand/soil of 387 truckloads were delivered , and two ships left the pier for Oura Bay.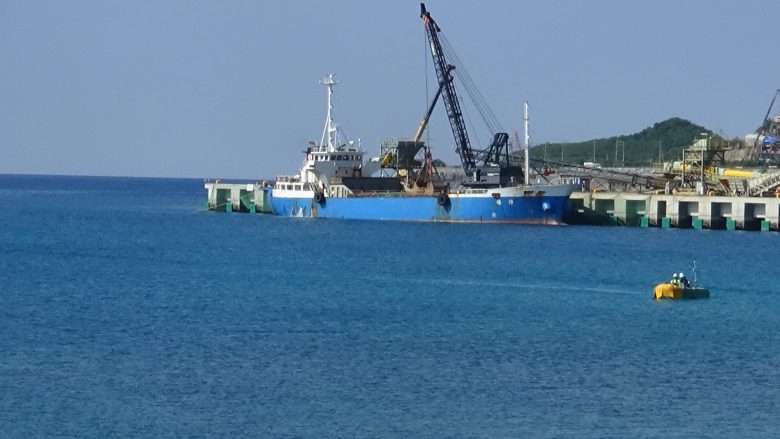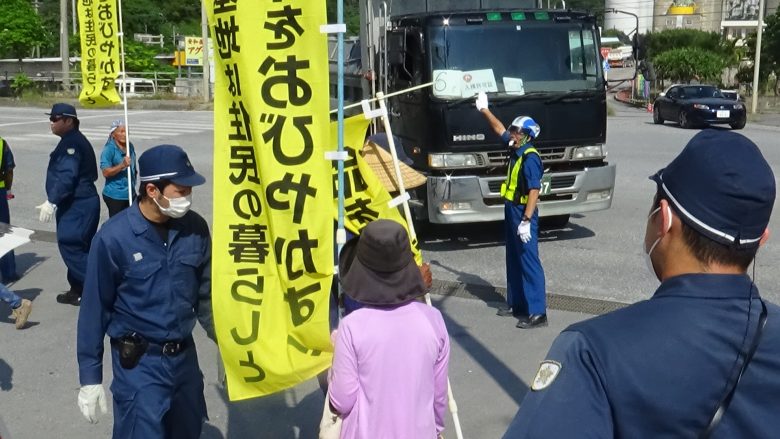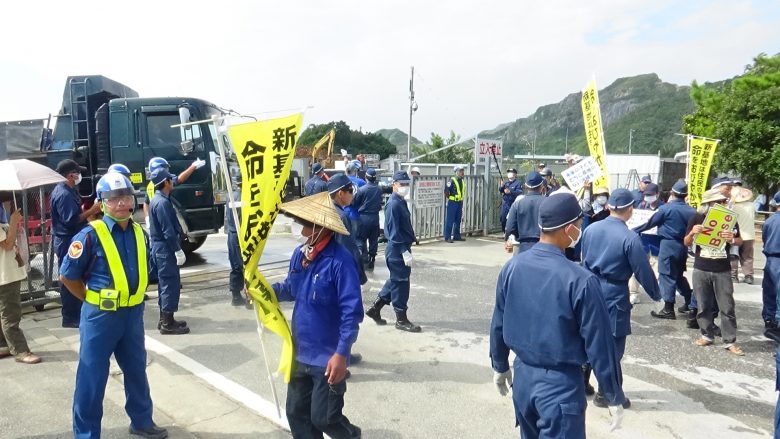 (In Front of Shiokawa Pier in Motobu)
Fifteen members of Shimagurumi "Uruma" started to block the entry of the dump trucks into the pier from 7:30 a.m. They had blocked the trucks on the road almost for two hours, but were removed by the riot police who came to Awa around 9:00 a.m. In the afternoon, about 50 riot police officers and 80 civilian security guards were deployed at Shiokawa. Deliveries of 352 truckloads of soil/sand were made.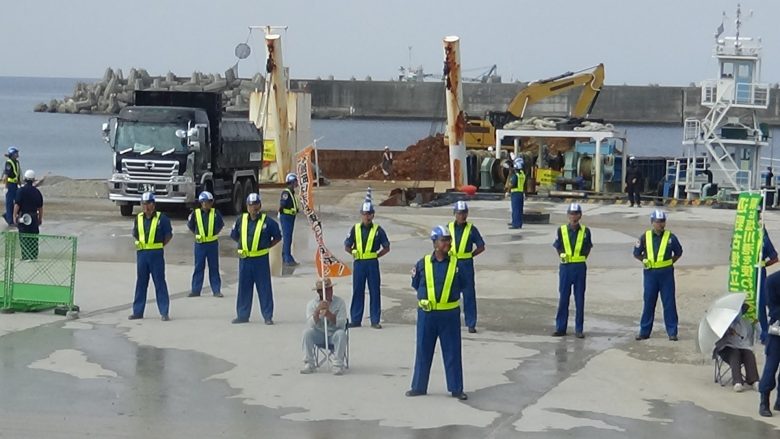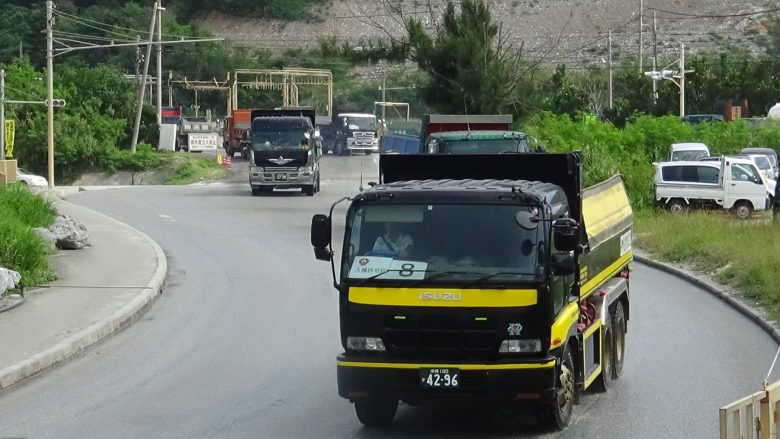 (Others)
On the 27th, 4 heavily intoxicated U.S. soldiers damaged a patrol car and invaded into a private home in Onna Village. All of them belonged to the U.S. navy in Hawaii. Four soldiers went on a rampage in a restaurant just before the closing time, demanding more alcohol and tackling at bystander. Three of them wre arrested on the spot. A woman living nearby was fed up with such actions.
"It seems that U.S. soldiers are allowed to act violently and waywardly in Okinawa."