Due to the inadequate and slow responses of the Abe administration to the Coronavirus outbreak, the virus is spreading all over Japan. On the 28th of February, the prime minister demanded all primary, middle, and high schools to close temporarily, but schools are now in the midst of preperation for the upcoming graduation ceremonies and left in great confusion.
In Okianwa, 3 infected cases have been reported; therefore, all sorts of events are cancelled to prevent further spread of infection. Cancellations are coming in from the people who had planned to participate in the "5-Day Intensive Action" that started on the 25th. Unfortunately, the number of participants dwindled down to half of that held last year. However, the protest actions at Awa pier, Shiokawa pier of Motobu Port, and in front of the Camp Schwab gate are continued more "persistently, aggressively, and flexibly".
This picture was taken on the 27th by a drone to show the current state of the landfill site. Area ②-1 is almost completely landfilled. (curtesy of the Okinawa Drone Project)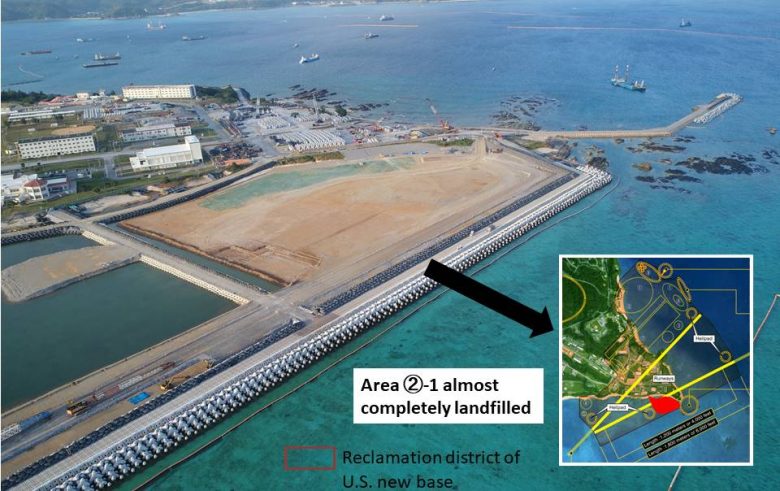 (In front of the Camp Schwab gate)
Only 10 people participated in the sit-in protest. In continuation of yesterday, the protesters strongly demanded to the Defense Bureau staff that they provide respirators to the civilian security guards who are not wearing a repirator. "For safety of your hired hands working in the front line, the Defense Bureau should be more considerate as an employer."
The riot police easily removed the protesters from the rally, and 176 truckloads of landfill soil were delivered.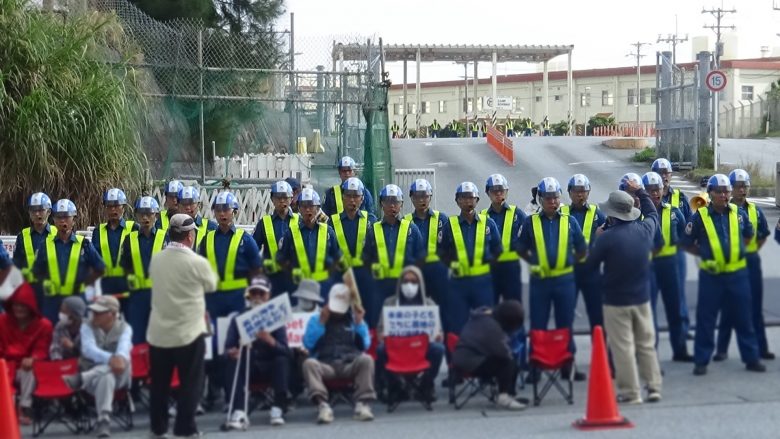 (In front of Ryukyu Cement pier in Awa]
From 7 a.m., the protest action expanded with around 50 people who devided themselves between the entrance and the exit of the pier. Inside the pier grounds, trucks transported earth and sand in the storage pile to a belt conveyer, and 857 truckloads were loaded onto cargo ships. Yesterday was the first time that more than 1000 truckloads were delivered. The only thing that we can do is to keep standing in front of the trucks hoping that, however slightly it may be, it will delay the dump trucks to bring in new material from the quarry.
At sea, the canoe team slipped under the wharf with one rubber boat and 10 canoes in order to delay the departure of the cargo ships. Although the whole crew got restrained by the Coast Guard, they succeessfully delayed the ships' departure for about one hour. In the afternoon the protest actions were cancelled because the waves got too high.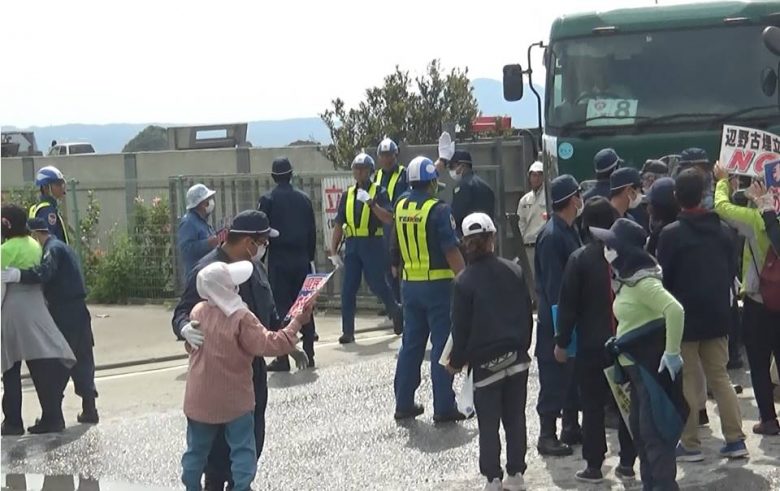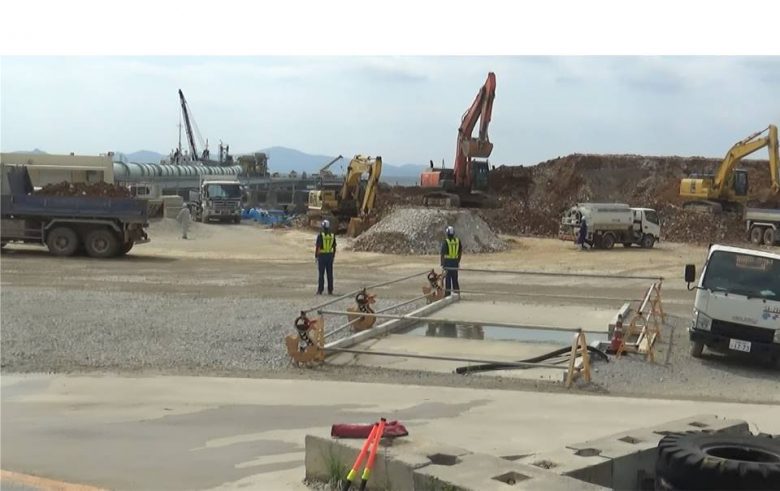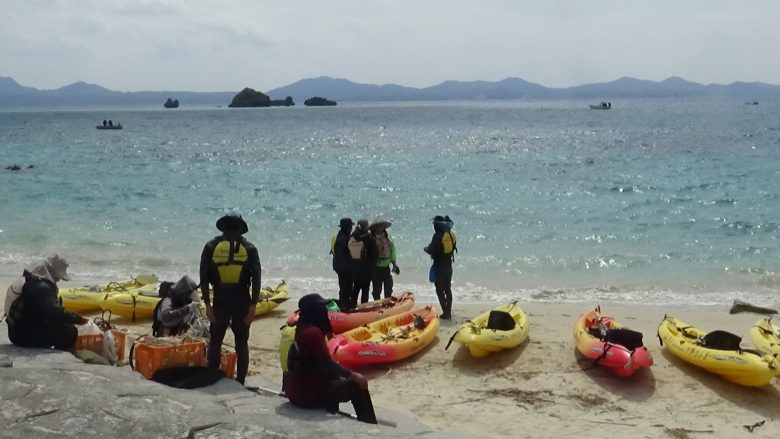 (At Shiokawa Pier in Motobu Port)
In continuation of yesterday's action, 30 people stopped the dump trucks that arrived at 7 a.m., and kept on rallying on the street till 1:00 p.m when they were removed by 30 riot policemen who came from Awa.
The deliveries continued until 5 p.m., and 405 truckloads were loaded onto the cargo ships.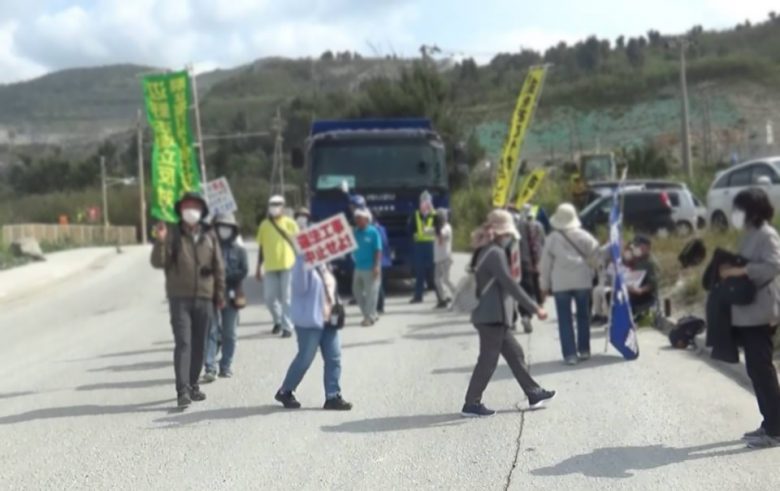 number of dump trucks to date and percentage against the total
The weight and the volume of earth/soil were estimated per experts' advice
Number of dump trucks which made delivery from December 2018 to the end of December 2019 114,601(1.68%)
| | | | | | | |
| --- | --- | --- | --- | --- | --- | --- |
| | 22(Sat) | 24(Mon) | 25(Tue) | 26(Wed) | 27(Thr) | 28(Fri) |
| Awa | 0 | 0 | 797 | 713 | 1026 | 857 |
| Shiokawa | 0 | 0 | 153 | 169 | 187 | 405 |
Number of dump trucks
※
Weightt of earth/sand

※①

Converted to volume

※②

Volume per Total

※③

147,722
886,332t
443,166㎥

2.149%
※ Cumulative since Dec. 1, 2019
※① Calculated by assuming that the average truckload per dump truck would be 6 tons
※② Calculated by assuming that a specific weight of soil/sand set to be 2