Yoshitami Oshiro is known as a "walking dictionary of the new base issue" and a "computerized bulldozer." He is an integral figure for the anti-base movement. In 1996, as soon as the US and Japan Special Action Committee on Okinawa (SACO) agreement referred to a new base at Henoko, Okinawans raised questions. He was one of the first ones who opposed, saying that no US military plane could fly over his ancestors' graveyard. He visited the prime minister's official residence to announce his determination to stop the construction, even sacrificing his life. He declared that the people of Okinawa would rise.
In 1978, Yoshitami became a member of the Nago Municipal Assembly for the first time. This year is his 11th term and the 43rd year as an assembly member. He is a real veteran assembly member at almost 80 years old, which is very rare across Japan.
"In the old days, the sea of Henoko was so bountiful that people said fish sprang there. Right after the War, when food was scarce, fish from Henoko was an invaluable source of protein. Learning that the construction would landfill the sea, grandpas and grandmas got so angry that they rose under the sign of "Nuchi du Takara (A life is a treasure.)," Yoshitami said. In 1998 when the drilling survey began, he published and distributed a newsletter every day to encourage the fellow protesters who went out to the sea to protest. Fishermen in the surrounding areas showed up in their ships. The protest movement got moving at a stroke. After the 560 days of fight, four drilling towers were removed.
During the 42 years as an assemblyman, he has never missed the opportunity for general inquiry. He once escaped from the hospital to attend the assembly to ask some questions even when a doctor ordered him to bed. Encouraging the other assembly members who were reluctant to ask questions, he has changed the assembly. The Nago Municipal Assembly now proudly is the top-ranking municipality where the members make the highest number of inquiries in Japan. He describes himself as "a servant for citizens." He keeps running around the city to listen to people to understand their daily problems. He has advised more than 10,000 cases. Toshimasa Yamashiro, his high school classmate, said, "Yoshitami would pass away in a few days if he should resign. He has dedicated his life physically and mentally to his people. I love Yoshitami so much."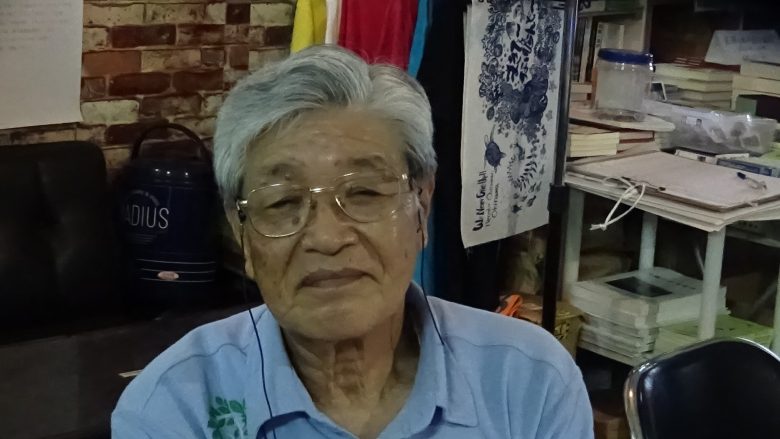 (In front of Camp Schwab Gate)
Hard days continued for the protesters on the field under the scorching heat and the increased threat of COVID-19. The news said that 36 new COVID-19 cases were confirmed at Camp Hansen, a neighboring base.
Despite all these pressures, we should not miss any opportunity for celebration. The other day, a gathering to honor Yoshitami Oshiro, a member of the Nago Municipal Assembly, was organized at the time when he received recognition for his 40 years of service as an assembly member. He is a great veteran who has taken leadership to oppose a new base at Henoko. Nearly 80 people got together. We listened to Yoshitami, who has lived the history of the fight against the new military base at Henoko. We danced Kachashi together and celebrated the recognition that he received in a friendly atmosphere.
A total of 230 heavy-duty vehicles, including concrete mixer trucks, delivered construction materials. For the first time in a while, we saw 2 Ospreys were flying in circles over the base like harassing us.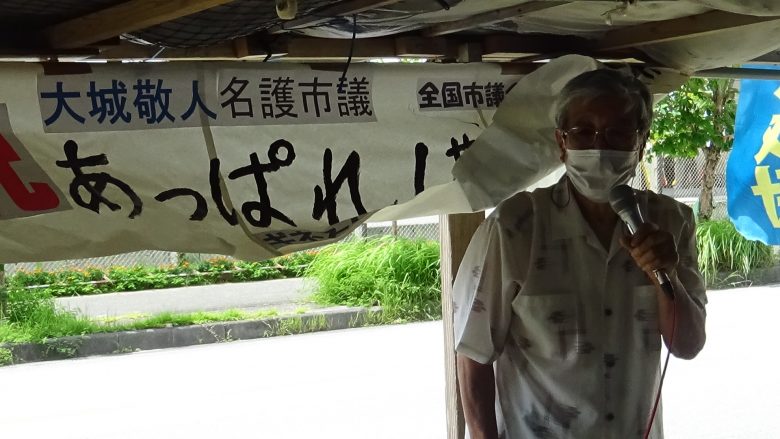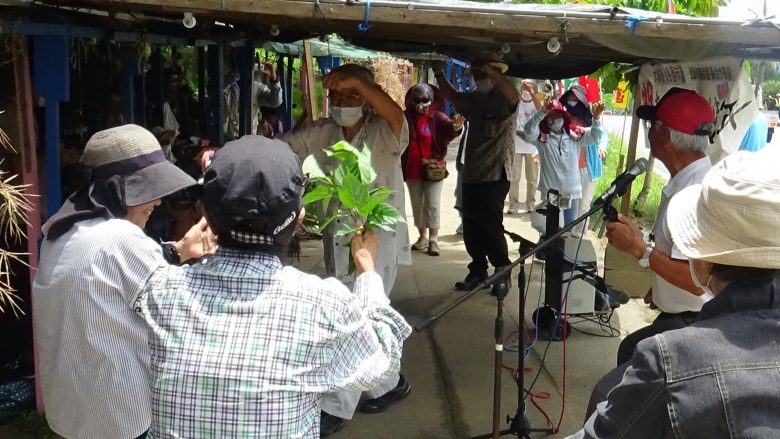 (Ryukyu Cement Awa Pier)
Direct exposure to the sun in summer was hard to bear for elderly protestors on the field. But getting together, their energies got increased in solidarity. Nearly 30 people all together stood both at the entrance and the exit of the pier. They raised their voices to the dump-truck drivers delivering earth and sand, "don't destroy the Oura Bay by dumping earth and sand," "we should leave the beautiful sea to our children," etc. At sea, one rubber boat and 6 canoes hang around cargo ships trying to depart and successfully delayed the departure of 2 ships for 50 minutes. A total of 554 truckloads of earth and sand were loaded to 3 cargo ships.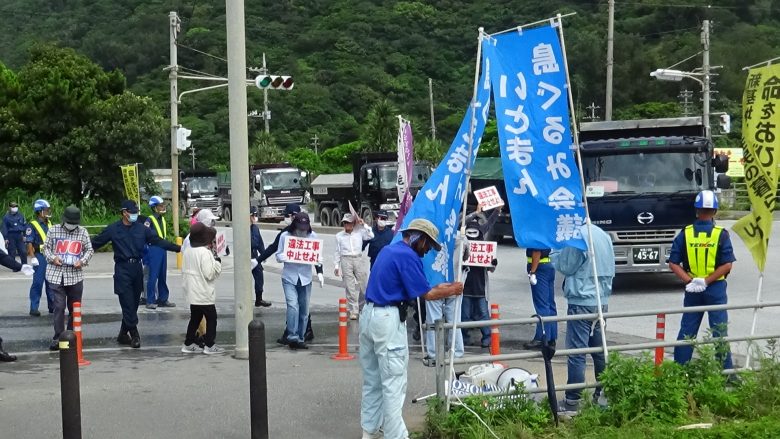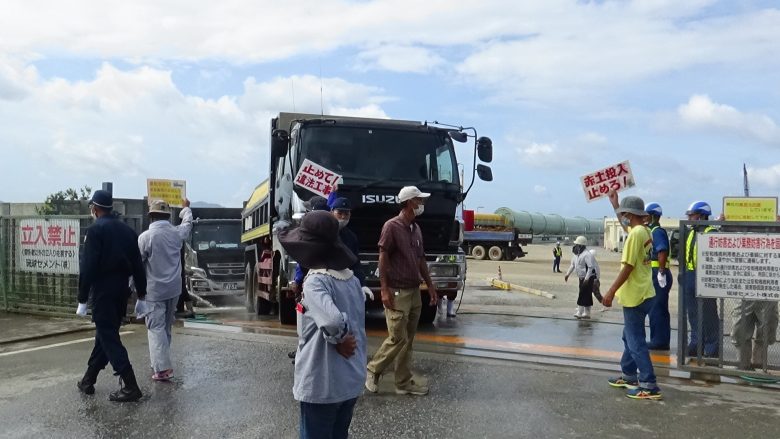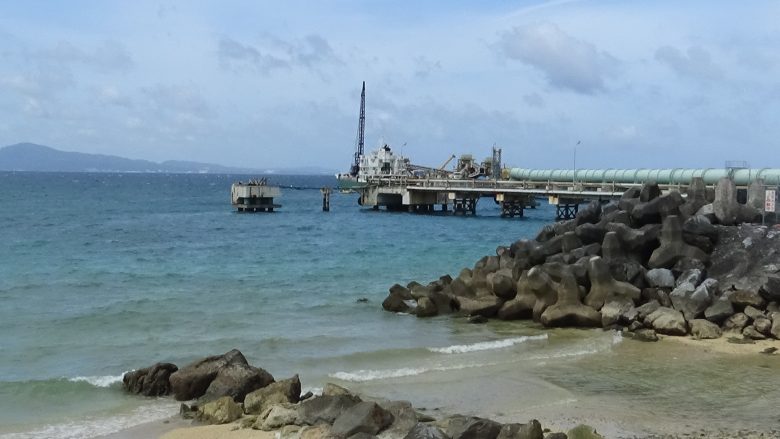 (Motobu Shiokawa Pier)
As there was no barge available to be loaded, the work started around 10 a.m. Then, 2 ships were loaded at the same time. However, as they have only a limited number of ships, the speed of delivery was not up. Although 554 truckloads of earth and sand were delivered yesterday, a slightly decreased number of 538 truckloads were delivered today.Five people kept protesting the whole day.
Number of dump trucks to date and percentage against the total
The estimation calculated on the basis of the number of ruckloads serves only as a reference.
Number of dump trucks which made delivery from December 2018 to the end of December 2019 114,601(1.39%)
| | | | | | | |
| --- | --- | --- | --- | --- | --- | --- |
| | 11(Sat) | 13(Mon) | 14(Tue) | 15(Wed) | 16(Thr) | 17(Fri) |
| Awa | 718 | 769 | 538 | 554 | | |
| Shiokawa | 0 | 526 | 238 | 272 | | |
Number of dump trucks
※
Weightt of earth/sand

※①

Converted to volume

※②

Volume per Total

※③

205,714
1,028,570t
514,285㎥

2.546%
※ Cumulative since Dec. 1, 2019
※① Calculated by assuming that the average truckload per dump truck would be 5 tons
※② Calculated by assuming that a specific weight of soil/sand set to be 2
※③ Percentage against 20.200.000m3, the total volume of earth and sand required for the landfill.