December 22, 2018 Ryukyu Shimpo
On December 21, it came to light that construction of the seawalls on the Oura Bay side of Cape Henoko, planned for FY2018, is to be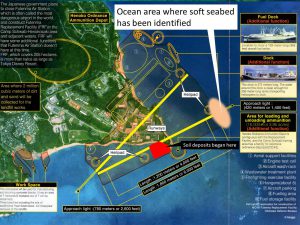 postponed to FY2020 or beyond.
Building the seawalls is part of construction of the Futenma Replacement Facility in Henoko, Nago City.
Approximately 52.5 billion yen appropriated for construction expenses in FY2018 went unused, and on December 21, the Cabinet decided also not to include related expenses in the FY2019 draft budget.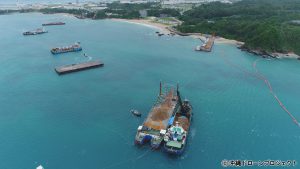 It has been established that there is an area of soft seabed on the Oura Bay side that will need ground reinforcement, which likely means land reclamation work will take longer than initially planned.
According to the Ministry of Defense (MOD), the Okinawa Prefectural Government's (OPG's) revocation of the land reclamation permit delayed construction work, and the geological boring surveys have not been completed.
An MOD official stated that this means there is no way to know when seawall construction on the Oura Bay side can begin.
Now, the plan is to establish concrete caisson-type seawalls to the north of Cape Henoko on the Oura Bay side.
Yet up to this point the MOD geological boring survey of the planned land reclamation site has verified that the hardness of some ground in the depths on the Oura Bay side has an N-value of zero on the penetration resistance scale.
The MOD is conducting additional surveys and is comprehensively judging the results including the firmness of the ground.
Still, the MOD has not yet submitted these results or a detailed design for the Oura Bay side to the OPG.
According to the plan that the Okinawa Defense Bureau (ODB) submitted to the OPG concerning its land reclamation application, land reclamation was to start on the Oura Bay side.
However, this year the ODB first enclosed the shallow ocean area on the south side of Cape Henoko with seawalls, and began land reclamation there on December 14.
In the MOD draft budget for FY2019, 43.919 billion yen has been appropriated for land reclamation in the ocean area on the south side of Cape (based on contracts).
No money was appropriated for the caisson-type seawalls on the Oura Bay side for FY2019, so construction is being postponed until FY2020 or later.
The budget of 52.5 billion yen that went unused due to unexecuted parts of construction this year is being returned to the national treasury.
(English translation by T&CT and Erin Jones)